Yes, Let Kids Make a Mess. Now Here's How to Get Them to Clean Up After Themselves

Keeping the house organized can be frustrating – especially if toys are part of the equation! Here are ways to teach your toddler how to help keep it spic-and-span.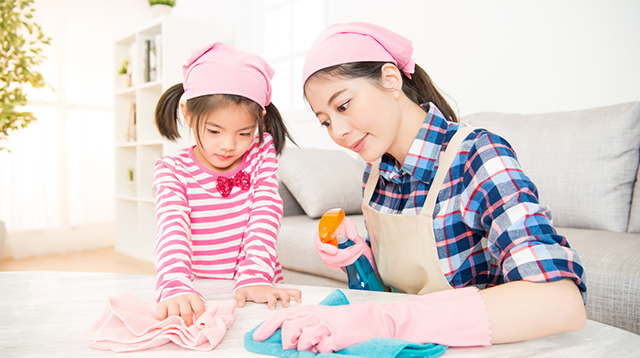 We had mentioned in a previously published article that the mess kids make is believed to be beneficial to their growth and development. It doesn't just engage their senses, it also inspires them to be creative. But it doesn't mean your kids should not tidy up especially when their things are taking over the entire house. After all, the skills and values they learn from doing chores are a crucial factor when they navigate adulthood.

Of course, it's easier said than done. In an article on Psychology Today, Dr. Jane Timmons-Mitchell cited a story on Intellectual Takeout that focused on statistics showing how Americans are "drowning" in belongings.

"A focus of the piece is that parents often complain that it's difficult to get kids to clean up after themselves and that this can cause significant parent-child conflict," Mitchell shares.

How many times have you raised your voice just because your little one can't return his toys to the right drawer? It's easy to lose patience and feel disappointed.

What other parents are reading

"Teaching children to organize their possessions is a parenting skill; like many others, sometimes parents need to learn the skill themselves before they can aid their children. If we want our children to cooperate with us, we are going to have to learn to teach them through means other than bullying and punishment. Fortunately, there are myriad, effective ways to promote child learning based on kindness," explains Mitchell.

This means that threatening to throw away their toys or forbidding them to play for days as punishment won't do your little one any good – physically and mentally.

ADVERTISEMENT - CONTINUE READING BELOW

How to teach your child to do chores

Teaching your kids how to clean up after themselves requires patience, practice, and encouraging reminders. Get started with these tips:

Take into consideration your child's age

Are you expecting too much from your toddler or preschooler? Mitchell suggests setting expectations based on what your child can do at his age. "At older ages, it is appropriate to develop an allowance based on completing expected chores, but preschool children can only be expected to put away the one toy with which they have been playing and often with hands-on help," the doctor explains.

Consider having a centralized bin where he can return his favorite toys after playtime. This can be placed in his bedroom or near his play area.

Set realistic expectations

Similar to the first tip, you need to reconcile your child's age with the tasks you want him to learn. According to an article on Parents, "Preschoolers may not have the coordination or dexterity to neatly make their beds every morning, so a good first effort may be to have them pull the comforter up to the top of the bed."

Aside from asking your kids to return their toys to the proper bin, you can also ask them to keep the bed neat and free from other belongings.

What other parents are reading

Give your child clear and easy-to-follow instructions

When you say "clean up" what do you mean? Mitchell notes the importance of being crystal clear when it comes to giving instructions to kids. If you just say "clean up" without further instructions, your child can easily end up storing his clothes in the wrong drawer or under the bed instead of placing it in the hamper. "He will not know what you expect unless you communicate the details," Mitchell shares.

CONTINUE READING BELOW

Recommended Videos

An article on Parents seconds this by stating that you can "give one simple instruction or direction at a time." For example, instead of saying "store your toys in the drawer," you can say "put all the plastic bricks in one container."

Limit the number of toys at home

In a previously published SmartParenting.com.ph article, licensed KonMari consultant and mom of three Christine Dychiao says that it's easy for kids to let go of their toys (it's the parents who are hesitant to let go surprisingly). Consider donating some of the toys or giving them to younger relatives if your toddler has outgrown them. Decluttering can be easier if you have fewer toys to deal with, too.

Use pictures as guide for organizing

Mom of four boys and parenting blogger Andrea Reiser suggests using pictures as guide when teaching toddlers where to store their toys after playtime. "Visual aids can help ensure their success. Attach a picture of the object that goes inside each bin or box so your child knows where all the little cars or blocks go," Reiser adds.

What other parents are reading

Don't redo your child's finished output after doing chores

Doing so will discourage them and make them feel like their accomplishment is not enough. Reiser explains, "they won't bother to learn how to do the task properly and will rely on you to get it done." This will bring you to our earlier tips – take into consideration their age and what they can do before assigning tasks.

ADVERTISEMENT - CONTINUE READING BELOW

Make chores fun

Cleaning can be fun and enjoyable with a few tweaks. Some parents suggest listening to music while going through household chores to lighten up the mood. Aside from playing music, you can also have a dance off afterwards – giving your kids something to look forward to after the task.

Appreciate their work

Show your support and appreciate your kids' output. "You should thank them for their effort rather than insincerely praising them for a less-than-successful execution, and then practice the task again together and offer helpful hints that will result in more success," says parenting blogger Andrea Reiser. It's important that you involve them in duties related to keeping the house clean to make them feel that their participation is vital and needed as well.

What other parents are reading

Celebrate your pregnancy milestones!


Enter your details below and receive weekly email guides on your baby's weight and height in cute illustration of Filipino fruits. PLUS get helpful tips from experts, freebies and more!

You're almost there! Check your inbox.


We sent a verification email. Can't find it? Check your spam, junk, and promotions folder.
Trending in Summit Network