This Mom Says Math Is Not Something You Study: How She Teaches the Subject to Her Kids

"Math is such a beautiful subject, but we aren't teaching it that way."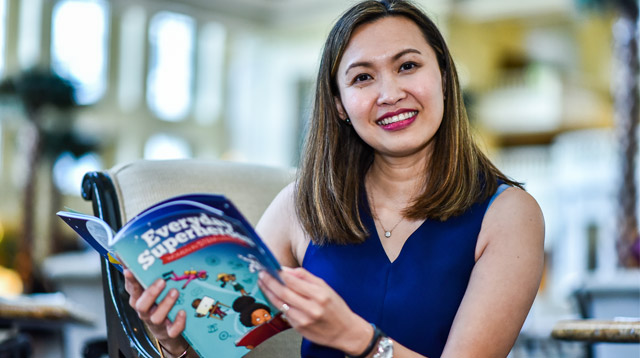 Is your child struggling with math? Or are you struggling to teach your child?

If you answered yes to one or to both questions, you are not alone. Over 100 parents confessed to having these problems during "How to Teach Math to Your Kids" at Homeschool Global Ortigas Hub and SMX Aura where environmental scientist Janice Lao-Noche recently hosted back-to-back workshops.

"When I was in first grade, I struggled with a math exercise. I went to ask the teacher for help. She scolded and humiliated me in front of the class for even asking a question. From then on, I was terrified of math," recalled Janice, whose name appears in lists such as the world's top 25 women working on the corporate climate change movement by the U.S.-based Greenbiz and the "World's Top Female Sustainability Leaders" by Forbes.

Fortunately, one conversation during a car ride with her father changed her mindset. Janice's father, Francis, was a mechanical engineer and a bit of a math genius. He told her that math is not something you study. Instead, one needs to treat it like a language. When you understand the rules and how to use it, all you need is practice because you will never have to study for it again.

Janice worked to re-learn her math that semester in college. She ended up loving it so much that it gave her the confidence to pursue a career in STEM or the male-dominated field of Science, Technology, Engineering, and Math.

ADVERTISEMENT - CONTINUE READING BELOW

During her talk, Janice dished out many tips to the parents, some of which she tried and tested with her 9-year-old daughter Esther and 7-year-old son Isaac. Here are her top three advice.

Make math relatable

Take math out of the classroom and talk about how it can be used in everyday life. "There are numbers everywhere. Ask your toddler what these numbers mean. For example, in a mall when you ride an elevator, ask them what the numbers are on the lift and what each one means?" advised Janice.

Based on your toddler's answers, you can see if she or he can count, even check their understanding of ordinal numbers.

Janice shares, "When we would go out to a mall or a grocery, and my son wanted to buy candies or toys, I would ask him to compute the amount. 'I will give you 100 pesos to buy candies, how many candies can you buy with that money? And would you still have some left to buy your toy? If not, how much money would you need to buy that toy? Would you have that additional money needed by next week?'

"The above teaches independence, decision making, patience, and perseverance. Instead of saying just plain 'No' or 'Yes,' turn it into a learning moment."

Make math fun

Worksheets and doing rote math work can be very dull. Janice's suggestion? "Gamify" Math.

"When my kids are excited about summer or their birthday, they start doing a countdown. I let them come up with different equations for each number in the countdown. For example, if its 49 days before summer, my kids have to write five math equations that equal to 49. My kids also come up with their own funny word problems. The person who comes up with the funniest and hardest word problem wins the game!"

CONTINUE READING BELOW

Recommended Videos

Her daughter is learning multiplication and division, and again, Janice transformed this into a teachable moment. "When we travel abroad, and she wants to buy a souvenir, I ask her, 'How much is that in Philippine pesos?' When I teach division, I then ask her to check how she would fairly divide a box of chocolates bought in London to her classmates. She's learned that division is about sharing, too!"

Adapt math to your child's way of learning

Did you know that we all learn differently? Discover how your child learns best. Is she a visual learner? Then you will need to use images and pictures. Or maybe he is a physical learner? Find a way to use his body, hands, and sense of touch to understand Math better.

"Let math adapt to your child, not your child adapting to it. With my kids, I explain math to them in a way that aligns with their learning personality. For example, my daughter is very visual, so I taught her how to draw out her word problems or visualize patterns so she can easily solve a math question," Janice explained.

In her talk, Janice made learn math look and sound so easy we had to ask why many students (and parents) struggle with Math.

"I believe because many of us grew up not really liking math or even truly understanding it. That's why we either teach Math using only one strategy (the way we were taught in regular school), and we don't usually know any other way. Sometimes this way can be confusing to a child. If we had a better understanding or we could be shown a different perspective of math, then we could see teach those different ways to our kids."

ADVERTISEMENT - CONTINUE READING BELOW

"Teaching your kids to love math also cannot be delegated to an app or a tutor. Its success lies on you as the parent or guardian, and it requires intention, authenticity, and commitment."

Janice also pointed out that it's hard to teach a subject you don't personally like, which is why her advocacy targets parents more than the child. As co-founder of Soulful STEM, which creates learning modules to help parents teach STEM to their kids, she is embracing the mission to unlock the magic of math.

"Math is such a beautiful subject, but we aren't teaching it that way," Janice, who is based in Hong Kong, lamented.

"I noticed in my own work of helping parents and children, how helping them overcome their math insecurities rebuilds confidence. It's like they can now do anything they set their mind to. It's a feeling I want every parent and child struggling with math to have."

What other parents are reading

Celebrate your pregnancy milestones!


Enter your details below and receive weekly email guides on your baby's weight and height in cute illustration of Filipino fruits. PLUS get helpful tips from experts, freebies and more!

You're almost there! Check your inbox.


We sent a verification email. Can't find it? Check your spam, junk, and promotions folder.
Trending in Summit Network