Have Kids Today Changed? This Former Teacher Says It's the Parents Who Are Different

A kindergarten teacher says the parenting style of today has become very different.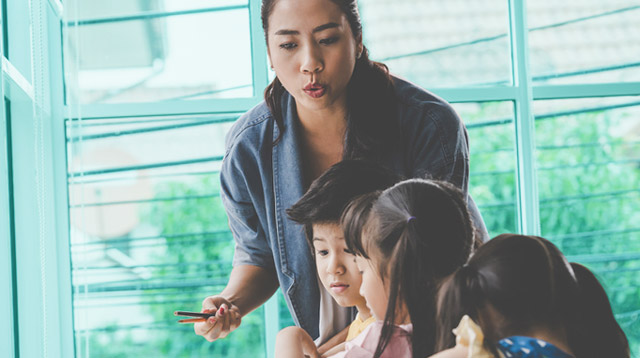 With easy access to technology and social media, we can all probably agree that the childhood of this generation is different from their parents.  "The kids have changed" is often used by adults as they shake their heads in disbelief over the way children behave and act.

But a kindergarten teacher wants to set the record straight: it's not the kids who have changed — it's the parenting style that's become different.

In a viral Facebook post, Jessica Gentry, 34, a kindergarten teacher from Virginia, U.S., shares why she left teaching and quit her job at an elementary school after almost 12 years of service. Tired of people assuming that her resignation was because of the "lousy pay," Jessica took to Facebook to explain why she felt that she had to leave.

Why a child may misbehave at school

"Kids are kids. Parenting has changed. Society has changed. The kids are just innocent victims of that," Jessica writes. "Parents are working crazy hours, consumed by their devices, leaving kids in unstable parenting or co-parenting situations, terrible media influences...and we are going to give the excuse that the kids have changed? What did we expect them to do?"

ADVERTISEMENT - CONTINUE READING BELOW

Jessica points out that kids act out at home because it's an environment where they feel the safest. "They test the water in the environment that they know their mistakes and behaviors will be treated with kindness and compassion," she explains. "For those 'well behaved' kids — they're throwing normal kid tantrums at home because it's safe. The kids flipping tables at school? They don't have a safe place at home. Our classrooms are the first place they've ever heard 'no,' been given boundaries, shown love through respect."

Weighty expectations (sometimes, unrealistic) are placed on teachers to mold the minds and the behaviors of kids. But as Jessica reminds, educating a child doesn't start in school; it starts at home with the parents.

Sometimes kids behave the way they do not because they were brought up that way, but because of what they experience at home. Today's parents are working round the clock and barely have the time or the energy for their kids at the end of a tiring day. So, more often than not, they turn to the most convenient thing they can find to appease and distract their children: the Internet.

For some students, the classroom is the first environment where they're given any attention, compassion, and respect, and it is only here that they're given boundaries and are disciplined for their actions. It creates a disconnect from their experience at home that makes it hard for the child to adjust.

Teaching kids about emotional and social skills have become less of a priority

CONTINUE READING BELOW

Recommended Videos

Another one of Jessica's reasons for quitting was she grew tired of hearing "we need to be a 21st century school," which implied putting soft skills such as reading and understanding social cues, observing proper conduct, and social interaction on the back-burner. Jessica also pointed out kids are already so distracted at home by gadgets, so it's counter-productive to train them to be even more dependent on technology at school.

"Forget the basics of relationship building and hands-on learning. Kids already can't read social cues and conduct themselves appropriately in social settings...let's toss more devices at them because it looks good on our website," she writes.

Teachers have become customer service workers

The moment your child reaches school-age, she is left in the care of teachers who act as second moms or dads. But instead of teachers and parents being partners in raising and teaching a child, Jessica says there is a new mindset: teachers are treated like customer service workers who must please parents, aka the customer.

"I was cussed out by parents who wanted to attend field trips but missed the THREE notes that went home — and when they did attend a trip, sat on their phone the entire time. I've had parents stand me up multiple times on Conference Days then call to tattle on me when I refused to offer an after-school option," Jessica writes. "I've had parents tell me that I'm not allowed to tell their child, 'no.'"

Jessica shares her frustration, adding it's sad that most parents rely heavily on teachers to mold their child into responsible citizens because the former is too busy meeting the demands of his or her own job. The only time the parent will step in is when he or she is not comfortable with the way her child acts.

ADVERTISEMENT - CONTINUE READING BELOW

As a mom herself, Jessica ultimately decided to leave not only for her mental health but because she wanted to "work to help other mommas to be able to show up for their ones at home."

She adds, "I really do believe it starts there."

What other parents are reading

Celebrate your pregnancy milestones!


Enter your details below and receive weekly email guides on your baby's weight and height in cute illustration of Filipino fruits. PLUS get helpful tips from experts, freebies and more!

You're almost there! Check your inbox.


We sent a verification email. Can't find it? Check your spam, junk, and promotions folder.
Trending in Summit Network