How Not to Raise Kids Who Are 'Mahina Ang Loob'

We cannot always shield our kids from problems. This is how to prepare them to be on their own.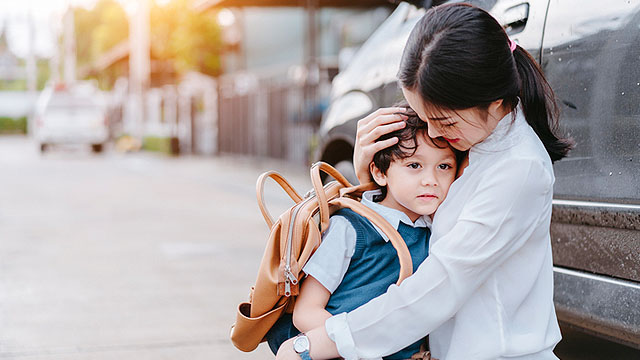 Every parent employs his style of parenting based on how he was raised (or the exact opposite), what he believes to be right, and what works on his child. These factors will naturally dictate how he will raise his own child. 

Surely you've heard of helicopter parents who hover over their child and control his every move. Some people believe in attachment parenting where the parent spends most of her time close to her baby so she could quickly respond to her needs. Authoritative parenting, considered to be the healthiest style, is one where the parents teach and guide their children with rules, allowing some room for their kids to learn and explore. And then there is also permissive parenting where a parent is affectionate towards his child but does little disciplining.

Well, there's another style of parenting that you can add to the list: lawnmower parenting.

What other parents are reading

Lawnmower parents "go to whatever lengths necessary to prevent their child from having to face adversity, struggle, or failure," a blog entry by an anonymous teacher explains in We Are Teachers.

In plain language, this type of parent clears the path (or "mows" it) of any unpleasant experiences to protect his child from going through it at all.

And while the author acknowledges that "most lawnmower parents come from a good place," and that everyone "can empathize with the motivations of a person not wanting to see their child struggle," she says that this method is "creating a generation that has no idea what to do when they actually encounter struggle." 

ADVERTISEMENT - CONTINUE READING BELOW

What is the behavior of a lawnmower parent exactly? A concrete example that the author used in the blog is of a parent who went to school looking for her, the teacher, so he could drop off something for his child. "Thinking it was something like an inhaler or money for dinner, I was happy to go retrieve it," she wrote, but when she got to the front office, the parent handed her a water bottle. 

The teacher recalls the parent saying, "Remy kept texting me that she needed it. I texted back, Don't they have water fountains at your school?, but I guess she just had to have it out of the bottle." Then it was followed with a knowing laugh, as if to say, 'You know how teenagers are.' But the teacher didn't find it funny at all.

What other parents are reading

In another example of lawnmower parenting, the author tells of a mom who called her up on behalf of her son, "Josh," to ask for an extension for a writing project. The teacher said she would gladly give an extension, but wished that Josh himself would bring up the matter with her. 

"If there's something about me that is making him nervous or hesitant to approach me, I need to know about it," she told the mom.

The mom replied, "Oh no, it's nothing like that, he loves you. I just usually handle this kind of thing for him."

And all the teacher could think of was, "What kind of thing? Anything less than perfectly comfortable?"

CONTINUE READING BELOW

Recommended Videos

What other parents are reading

Letting kids learn from experience

There is wisdom in Julius Caesar's line that goes, "Experience is the best teacher," for indeed, a lesson that hurt you or caused you to fall is a lesson that will stick.

Writes the teacher, "If we eliminate all struggle in children's younger years, they will not arrive at adulthood magically equipped to deal with failure.

"Indeed, childhood is when they learn these skills."

She says that a child who has never experienced failure in his early life is likely not able to handle disappointments as an adult well. He instead may blame others or go on thinking of himself as a failure when he encounters bumps on the road called life.

We are aware that we can't always shield our children from the harsh realities of life nor can we be with them forever. Therefore, the best thing we can do for them is to prepare them to deal with situations that are bound to happen so that they won't crumble under pressure. 

What other parents are reading

"If we want our children to be successful, healthy adults, we must teach them how to process through their own challenges, respond to adversity, and advocate for themselves," the teacher further writes. How exactly?

Here are tips how not to raise your child to be 'mahina ang loob'

1. Train your child to be a problem solver.

Individuals who have this kind of mindset will always find a way to improve a situation. "Critical thinkers solve problems more easily, and kids will never be good at coming up with solutions if we don't give them practice," says teacher Lisa Wilson.

ADVERTISEMENT - CONTINUE READING BELOW

One good way to start now is with your child's assignments. Instead of doing the thinking for her (or doing it yourself), help your child through the thinking process — but lead, don't impose just to hasten the process.  

2. Let your child speak for himself.

As in the example cited by the teacher above, a school project should be taken up between the student and the teacher. Parents shouldn't have to intervene. If you want to help out your child, he could practice the conversation with you.

3. Don't instill a victim mentality in your child.

Disappointments and failures are part of life, but the one thing you have control over is your outlook. To let him sulk and make him think that he is "kawawa" will not help. Let him know that he can change the situation if he wills it. Go back to number 1. 

4. Assign your child chores to do.

Doing chores builds a sense of responsibility and self-worth in children. Bestselling author Julie Lythcott-Haims, former dean of freshmen at Stanford University, says this: "The longest longitudinal study of humans ever conducted...found that professional success in life, which is what we want for our kids, comes from having done chores as a kid.

"And the earlier you start it, the better. That they roll up their sleeves in a pitch-in mindset, a mindset that says, 'There's some unpleasant work, someone's gotta do it, it might as well be me.' A mindset that says, 'I will contribute my effort to the betterment of the whole.' That's what gets you ahead in the workplace."

ADVERTISEMENT - CONTINUE READING BELOW

Celebrate your pregnancy milestones!


Enter your details below and receive weekly email guides on your baby's weight and height in cute illustration of Filipino fruits. PLUS get helpful tips from experts, freebies and more!

You're almost there! Check your inbox.


We sent a verification email. Can't find it? Check your spam, junk, and promotions folder.

Trending in Summit Network