Play is a Fun Way to Teach Your Child Math. 8 Games and Activities You Can Do

Any of these activities can both engage and educate your active child.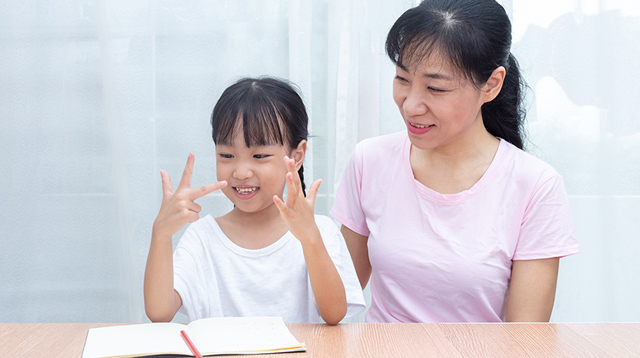 Math can seem like a challenging concept to teach little kids because it's a tricky subject even for us grown-ups. But learning Math is crucial if you want to give your child an edge in the future. To nurture their love for Math, we need to start introducing them to basic concepts even at a young age. Math games for kindergarten can be a fun way to do that!

According to Erica Zippert, Ph.D., a postdoctoral scholar of developmental science at Vanderbilt University, simple games and daily activities can be powerful in helping kids start to learn math. "You can be really impactful doing very informal, playful experiences that are math-related," she tells Motherly. "These skills are important because they predict later academic achievement, and not just math domain, but in reading as well… You have to have a strong foundation in math in order to learn more challenging things."

Zippert's research found that most parents assume all they need to do to prepare their kids for math in school is teach them numbers and counting, but she says that math also involves other concepts such as shapes, patterns, and spatial relations, which are all foundations for more advanced math concepts. Games and daily household activities are fun ways to introduce these concepts to your tot.

Math games to play with your preschooler at home

Teaching your child math doesn't have to be boring or rigid — you can do it by playing games and applying mathematical concepts to everyday life! These activities are not only educational; they can also engage young kids who just want to enjoy and explore the world around them. Here are examples of math games for kindergarten that you can do at home to give your kid a head start in math.

ADVERTISEMENT - CONTINUE READING BELOW

Finger games

Simple finger games can encourage your child's counting skills. Stanford University's Development and Research in Early Math Education (DREME) Network also says that games with fingers focus on skills such as cardinality (the number of elements in a set), subitizing (the ability to immediately perceive the number of items presented), and combining and taking apart sets.

Here's one simple finger game you can do with your child: Hide your hands behind your back, hold up a certain number of fingers with each hand, then encourage her to say how many fingers you are holding up.

Board games

Board games typically involve counting spaces and tallying scores, which make them great resources to help your child practice her ability to count. These can also help your little one learn how to identify shapes and colors, as well as develop her hand-eye coordination and hand dexterity. (Find board games here!)

Books and rhymes

There are lots of books and rhymes with mathematical elements you can use to practice basic math concepts, literacy skills, and even sequencing at home. Early Years recommends letting your child count out different items she sees in the books.

Count things you see every day

One way to make math a less daunting concept for your child is by incorporating it into your daily activities. For example, when you take her with you during an errand and you get stuck in traffic, ask her to count the number of red or blue cars she sees on the road.

CONTINUE READING BELOW

Recommended Videos

When you go to the grocery, ask her to compute how many candies he can get for Php100. This is one tactic environmental scientist Janice Lao-Noche uses with her kids. She shared that these activities teach children "independence, decision making, patience, and perseverance. Instead of saying just plain 'No' or 'Yes,' turn it into a learning moment."

Baking

Here's a tasty way to introduce your child to fractions! Have your child cut a cookie into halves, fourths, and eighths, then use those pieces to teach her how to add and subtract fractions — for example, when you put together ½ of a cookie and ½ of a cookie, you get 1 whole cookie. "The act of visually seeing a fourth created as well as them getting to cut that whole into fourths makes an impression in a child's mind," writes ThoughtCo.

Water play

Another example of math games for kindergarten is water play. You can introduce your child to basic measurement concepts, such as by asking her how many cupfuls of water can fit into a slightly bigger container. It is also through this kind of play where you can help her start to develop mathematical language, with words like "heavy" and "light" and "full" and "empty."

Household chores

Another great reason to let your child get involved in doing household chores is that it can be a simple way to teach her math. When you help her clean up after playtime, ask her to pick up a certain number of toys and available the color of each. You may even ask her to organize her toys according to type. When you do laundry, have her help you sort the clothes into different colors or types and match pairs of socks.

ADVERTISEMENT - CONTINUE READING BELOW

Physical activities

One example of physical activity you can do with your child at home is make beaded bracelets. Aside from developing her fine motor skills, hone her ability to recognize patterns by asking him to follow a sequence of beads: one red bead, one yellow bead, one blue bead, and so on.

Motherly also recommends playing math games for kindergarten like puzzles and blocks, which help children learn spatial dimensions, locations, and directions.

To learn about different ways you can make your child love numbers and math, click here.

What other parents are reading

Celebrate your pregnancy milestones!


Enter your details below and receive weekly email guides on your baby's weight and height in cute illustration of Filipino fruits. PLUS get helpful tips from experts, freebies and more!

You're almost there! Check your inbox.


We sent a verification email. Can't find it? Check your spam, junk, and promotions folder.
Trending in Summit Network