Your Child's Brain Gets Tired. You May Be Missing Out on the Best Way to Make It Stronger

Experts recommend meditation for a few minutes every day for preschoolers.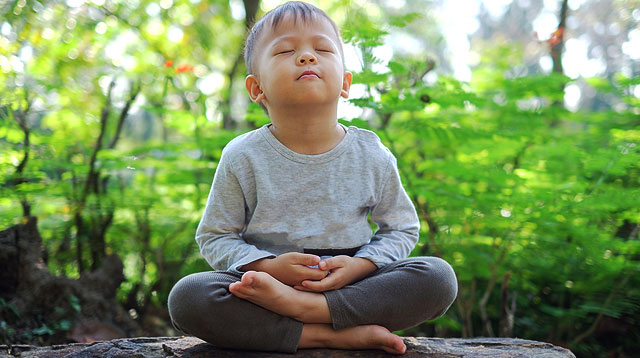 As early as age 5, little kids may already struggle with the pressure of high-stress life, and we are responsbile for helping them cope, as we said in a previous article on raising mentally-strong kids. It's up to us to give them the first tools to make better decisions independently and not be instantly swayed by a peer, threat or bullying. But while mental health awareness starts at home, our schools, the "other parent" working alongside us, can make a big impact to lend our kids a hand to achieve better mental health.

One way to do so is to include mindfulness in the school curriculum. How? Make meditation one of the subjects. (And, honestly, moms we need to our own take on meditation, too!)

In London, England, 370 schools will practice mindfulness as part of a study to improve mental health. It is by far the largest mental health study involving children and conducted in a school setting.

What other parents are reading

Mindfulness and meditation as a subject

According to the U.K. government, the study's mental health experts will teach students relaxation techniques, breathing exercises, and other methods to "help them regulate their emotions." It will also include lessons on reducing the stigma against mental health problems, making the school environment more "literate in mental health." Teachers will also train to hold role-playing exercises and relaxation practices with their students. 

The program comes after a U.K. National Health Service survey showed that one in eight children in England between the ages 5 and 19 suffered from at least one mental disorder at the time of their assessment in 2017. The main culprit behind the decline in children's mental health is high-pressure academic work and social media.

ADVERTISEMENT - CONTINUE READING BELOW

Meditation and mindfulness in preschool

The U.K. program is perhaps more structured for elementary and high school students than for preschooler. But kids as young as age 5 can also benefit from having a mindfulness subject or meditation class.

"Our kids' brains are tired, and children of all ages really need opportunities where they can take time out each day 'unplugged' to relax and focus," the American Academy of Pediatrics (AAP) wrote on its resource website HealthyChildren.org.

The AAP typically recommend meditation for only a few minutes a day for preschool kids. For grade schoolers, they are encouraged to meditate three to 10 minutes twice a day, while teens and adults need at least five to 45 minutes of meditation a day.

What other parents are reading

Teaching kids about mindfulness through meditation

When holistic physician and mindfulness coach Dr. Amy Saltzman is teaching mindfulness to 5-year-olds, she does not use the word mindfulness. Instead, she invites preschoolers to experience it by finding their "still, quiet place." Young kids can better understand the concept by being aware of what happens to their bodies as they experience it firsthand.

"We begin by paying attention to [the] breath," she shared her technique with The Child Institute. "The feeling of the expansion of the in-breath, the stillness between the in-breath and the out-breath. I invite them to rest in the space between the breaths," Dr. Saltzman added. Then she tells the children they can always use it, this "quiet place," and return to it when they're sad, angry, excited, happy, or frustrated.

CONTINUE READING BELOW

Recommended Videos

This simple act of meditation, Dr. Saltzman explained, teaches young kids to observe their thoughts and feelings. "The biggest thing for me is they can begin to choose their behaviors," she stressed. Most of the kids she's worked with become less reactive and more able to handle emotions and challenges by how they choose to act on them.

Benefits of meditation in young kids

Aside from less stress, emotional self-regulation skills, and overall good physical and mental health, meditation and other mindfulness techniques teach kids life skills that will come in handy as they enter big school and eventually help teenagers deal with the challenges of adolescence.

Young kids learn it's okay to feel

"Meditation gives young children the feeling of being quiet and still. It gives them time to breathe and imagine, and lets them know that it is okay to have feelings," according to the Exploration of Consciousness (EOC) Research Institute, an organization that promotes meditation. In this stillness, kids learn that's it's okay to be whoever they are and feel whatever they feel. As a result, they are better equipped to deal with feelings of anxiety, anger, and frustration.

What other parents are reading

Mindfulness helps improve memory and focus

The Mindful Awareness Research Center of the University of California Los Angeles (UCLA) found that meditation and mindfulness in young kids improved children memory as well as their ability to plan and organize. It also teaches the little ones to focus and stay in the moment, so they're not easily get carried away by their fears or emotions, say, for example, they're woken up in the middle of the night. Studies have also linked it with a child's improved attention and behavior, even among hyperactive and sensory-sensitive kids.

ADVERTISEMENT - CONTINUE READING BELOW

Meditation helps a child get to know himself

When kids learn to look into themselves more, they can do self-assessment better. Part of having a good relationship with others is knowing yourself better. With meditation and mindfulness, preschoolers can learn patience, kindness, empathy, and respect for others. These all contribute to making better choices and living more positive lives.

A big school in Baltimore reported that kids have been better behaved and no one has been issued a single suspension since they've started a mindfulness program for their kids.

Mindfulness helps kids to be physically fit

Studies have shown that meditation helps calms the nervous system and decrease levels of cortisol, or the stress hormone. These, in turn, helps improve gastrointestinal symptoms, weight management, headaches, high blood pressure, pain sensitivity, and immune function.

The earlier our kids learn how to stop, focus, and just breathe, the better they function more effectively and clearly — for their physical and mental health.

What other parents are reading

Celebrate your pregnancy milestones!


Enter your details below and receive weekly email guides on your baby's weight and height in cute illustration of Filipino fruits. PLUS get helpful tips from experts, freebies and more!

You're almost there! Check your inbox.


We sent a verification email. Can't find it? Check your spam, junk, and promotions folder.
Trending in Summit Network