Clumsiness, Attention Deficit Often Seen in Kids Who Rarely Play Outdoors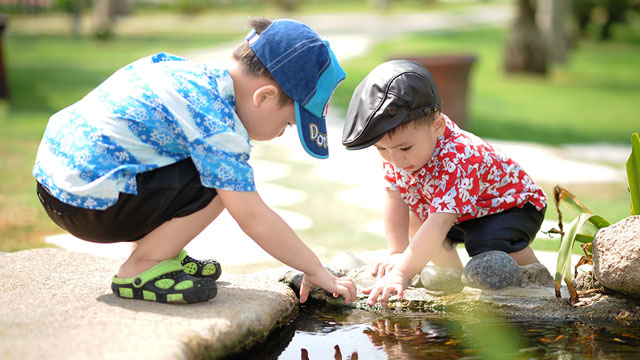 When my son was a lot younger, this time of the year was always a hectic period for me as a mom. The weeks leading to summer break had me Googling for activities he could do while school was out. Would it be music, sports, or the performing arts this time? Of course, it had to be different from what he took last year or the year before that. 

Once we enrolled him, his weekly schedule could rival my own calendar at work: Math enrichment classes thrice a week and summer activity classes at least twice a week. Of course, to avoid summer slide, I'd ask him occasionally to open his textbooks "so you won't forget." It's no wonder he wanted to quit a few months into his final level in the Math enrichment class.

So we did what we should have done in the first place: told him to slow down, take it easy, follow his own pace — but not to quit. Thankfully, he took our advice, and although it took a bit longer, he completed the program. That plaque and medal were more than just a recognition. Not only did they symbolize how my son overcame a personal hurdle, but it was also reminder of a vital parenting lesson I needed to learn.

What other parents are reading

Parents always have their children's welfare in mind, and by doing something like this — presenting our children with opportunities and possibilities — we think, "I'm doing my child good." It's true. It's all good. However, when we become obsessed with our children becoming "advanced" or "excellent," these good intentions backfire.

ADVERTISEMENT - CONTINUE READING BELOW

Pediatric occupational therapist Angela Hanscom writes about going the same route with her daughter.

"I remember wanting to desperately enrich her life in any way possible — to give her an edge before she even got to formal schooling. I put her in a preschool that was academic in nature — the focus on pre-reading, writing, and math skills.

"At home, I bought her special puzzles, set up organized play dates with children her age, read to her every night, signed her up for music lessons, put her in dance, and drove her to local museums. My friends and I even did 'enrichment classes' with our kids to practice sorting, coloring, counting, numbers, letters, and yes….even to practice sitting! We thought this would help prepare them for kindergarten."

What other parents are reading

But she realized soon enough that she was going about it the wrong way when her child's teacher called her attention to something that had escaped her.

"The preschool teacher came up to me and said, 'Your daughter is doing well academically. In fact, I'd say she exceeds expectations in these areas. But she is having trouble with basic social skills like sharing and taking turns.'"

Hanscom was also told her daughter had trouble controlling emotions and playing by herself. And then she knew — like many other kids, her daughter was struggling from sensory and social issues, which are unique to the young kids of today.

The culprit, it seems, is the limited opportunities we, parents, and even the schools give our kids for playtime.

What other parents are reading

Penelope Leach, the author of Your Baby and Child, says there is more to it than just fun when children are allowed to play. "Play is learning and practicing what they have learned. It is anything that stimulates them to use their bodies and their senses and to develop their thinking and their intelligence. When you do play deliberately with your child, you are doing a very important job: you are teaching him," Leach writes.

Hanscom notes that it is the "pre-academic" age — before 7 years old — that playtime is most crucial. 

"[It is] when children desperately need to have a multitude of whole-body sensory experiences on a daily basis in order to develop strong bodies and minds. This is best done outside where the senses are fully ignited, and young bodies are challenged by the uneven and unpredictable, ever-changing terrain," she writes.

Moreover, children have a lot to lose when they aren't given opportunities for unstructured physical play during this stage. 

"If children are not given enough natural movement and play experiences, they start their academic careers with a disadvantage. They are more likely to be clumsy, have difficulty paying attention, trouble controlling their emotions, utilize poor problem-solving methods, and demonstrate difficulties with social interactions," says Hanscom.

When these problems arise, we bring our kids to therapy to teach them "coping skills" and "breathing techniques" – skills which, Hanscom notes, "shouldn't have to be taught, but something that was developed at a young age in the most natural sense — through meaningful play experiences."

ADVERTISEMENT - CONTINUE READING BELOW

So the next time you're thinking whether it's better to enroll your kids to more activities or to buy an expensive toy to develop your child's skills, the answer lies in just four words: Let kids play outside.

 

Trending in Summit Network