Validate Emotions, Establish A Routine, And More: How To Prepare Young Kids For Onsite Classes

Kids can feel a range of emotions now that school is back face to face. Don't make these four mistakes–do these five best practices instead.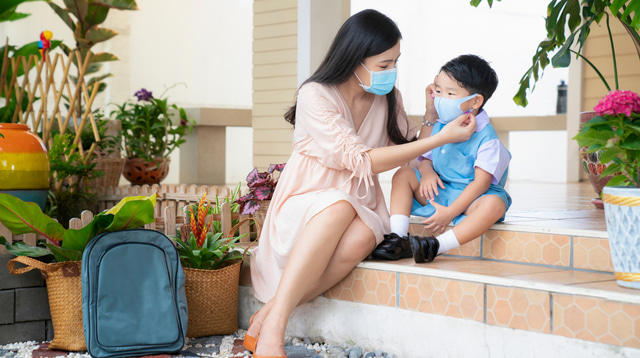 We've heard this in the news: The Department of Education (DepEd) is proposing to open classes on August 22, using blended learning with more face-to-face or onsite classes. By November 2, 2022, all schools are required to return to face-to-face (F2F) classes. Some private schools have started their students' and parents' orientations to ease the transition from a purely online modality the past two school years to a hyflex mode of learning, which integrates in-class instruction with online synchronous and asynchronous content delivery.

As parents of young children, the first thing to do is to check in with the kids on how they feel about returning to their physical campus this school year. Among the common feelings you may get are as follows:

Excited. "Hooray! I'll be with my classmates again," 
Relieved. "That's cool. I'll finally meet my teacher in person." 
Uncertain. "I'm not sure. Do I have to wake up early again?" 
Insecure. "I don't really like it. Some of my classmates talk a lot and I'm not like that." 

Mistakes parents make when a child exhibits anxiety

When children feel uncertain and insecure, parents can do an emotional validation by acknowledging and accepting their child's innermost thoughts and emotions, without trivializing how they really feel about this impending change. Some communication errors that add to the child's school anxiety go like this:

Labeling. "Don't be a cry-baby. You have to be strong." 
Comparing. "Why can't you be like your cousin? She likes going to school, that's why she gets high grades." 
Minimizing. "It's not as bad as you think. You'll be fine." 
Reminding them of their duty. "All kids have to go to school, just as parents have to earn a living." 

ADVERTISEMENT - CONTINUE READING BELOW

The good news is there is enough time to prepare. It is important to prepare them physically, emotionally, and mentally. Collectively, this is referred to as Psychological Preparedness. This is a state of awareness which makes a person internally primed to manage one's response to change. As busy parents, it is best to have a game plan that will help children transition smoothly to onsite classes once again.

Aim for A-I-M: Anticipate, Identify, and Manage

1. Anticipate

Anticipate what your child may need and try to imagine how your child may feel in the first few weeks of adjustment. Some children who have been used to sleeping so late at night will surely find it difficult to wake up before sunrise. This is especially true for those who are picked up very early by their school bus service.

2. Identify

Next, identify distorted ways of thinking that need to be settled so that children can keep themselves calm. If your little child has separation anxiety, always reassure that you will be there waiting when school is over. Needless to stay, be there on time.

RELATED: Don't Rush Through School Drop-Offs! 5 Ways To Help Ease Your Child's Separation Anxiety

3. Manage

Finally, manage not only their thoughts and emotions, but also their behavior as well. Expect them to complain about waking up early or about not having enough time to play online, but instead of controlling their behavior by using force, try to sit them down to reset rules. Focus on health and safety when agreeing on rules.

ADVERTISEMENT - CONTINUE READING BELOW

Recommended Videos

Some rules to agree on can be summarized using R-E-S-E-T

1. Reduce playing time.

The operative word is to reduce and not cut it out completely. Children need to play because this is how they connect with their friends. Determine age-appropriate screen time.

RELATED: Only One Hour On Weekdays, Unlimited On Weekends: Cheska And Doug's Cellphone Rules For Their Kids

2. Eat breakfast.

Skipping breakfast can make a child feel easily tired, sluggish, and irritable. Your child will need food to fuel the body all throughout class time.

3. Sleep early.

Just like having a good breakfast, an adequate amount of sleep improves attention, memory and overall mental and physical function. Young children need about 9-12 hours of sleep for optimum school performance.

RELATED: Here's What Your Child Really Needs For Kindergarten–No It's Not Something You Buy

4. Establish routine.

If you haven't done so, begin today. Use the 21/90 rule in building these good habits. This means going to bed by nine in the evening, if you want your child to be awake by six in the morning. After doing this for 21 days, continue doing it for another 90 days until it becomes a habit.

5. Test your gadgets.

If your child will be asked to bring gadgets to school, make sure they are fully charged the night before putting them inside their school bags. This will reduce the need to charge in school. It also serves as a safety precaution because students can easily trip over cables criss-crossing inside the classroom.

ADVERTISEMENT - CONTINUE READING BELOW

The next few days will be filled with anxiety, but an intentional parent has a way of leading the kids toward a bright start to the new school year. Mindful planning is a necessary skill that children will be needing throughout their lives. It will make them confident, clear-minded, and calm when faced with any challenge.

Dr. Gail Reyes Galang is chair of the Family Studies program of Miriam College where she also teaches under the Department of Psychology. She is currently the associate director of the Center for Peace Education. Follow her on Instagram @gailfrancesgalang.

What other parents are reading




Celebrate your pregnancy milestones!


Enter your details below and receive weekly email guides on your baby's weight and height in cute illustration of Filipino fruits. PLUS get helpful tips from experts, freebies and more!

You're almost there! Check your inbox.


We sent a verification email. Can't find it? Check your spam, junk, and promotions folder.

Trending in Summit Network