Occupational Therapist Shares 18 Activities to Get Your Child Ready for Preschool

Boost your child's confidence before he starts school by helping him master these skills.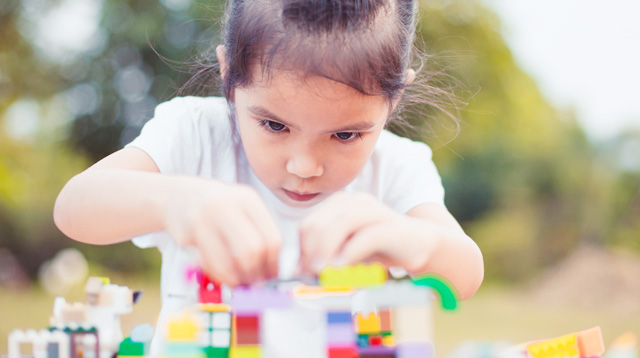 How do you know when to prep your child for preschool? Look for signs of preschool readiness. Dr. Joselyn Eusebio, a developmental pediatrician, describes a school ready-child with the following characteristics or skills: he can recognize letters, numbers, and colors, and know self-help skills such as eating, dressing up, or going to the potty with minimal supervision. And all of these he learns from his first teachers, mom and dad.

Ashley Thurn, a pediatric occupational therapist from Florida, U.S., shares a few activities from her blog, Helping Hands OT to help you and your kids get started. These activities will help build your child's fine motor, self-help, visual motor, and social and emotional skills.

"Learning is not something that should be forced, but rather encouraged through fun and child-led interest," Thurn writes. "My hope is that you and your little one can practice these skills in a pressure-free, natural environment that is fun for the both of you."

How to develop visual and motor skills

1. Identifying basic shapes, colors, numbers, and letters

Thurn's simple advice: read, read, and read some more! Reading is critical in developing early literacy skills and helps children develop listening skills.

You can also practice counting aloud. Get your child to count aloud on her own or with you up to at least 20.

2. Coloring

Thurn suggests letting them "fill in" very small objects first, like stars in the sky, before gradually shifting to larger objects. She notes that when choosing pictures, you should ask kids to color solid objects with no backgrounds. "The background is too distracting for this age group," she says.

ADVERTISEMENT - CONTINUE READING BELOW

3. Connect dots

Ask them to draw a line from one dot to the next. After they've mastered it, you can try drawing a picture with dots. Thurn says this activity helps improve visual tracking for pre-reading skills.

It also develops a child's visual motor control, according to Kidspot. Connecting the dots strengthens their hand and finger muscles and prepares them for writing. It also builds their concentration and focus.

What other parents are reading

4. Trace straight lines then curvy lines

No need for tracing books — draw a line on a piece of paper and have your kids trace it with a pencil. Doing this will also improve their visual attention and tracking skills.

5. Practice writing the vertical letters L, E, F, H, T and I

You may notice that your child will find it easier to write in just capital letters, so practice that first. Start with letters that use straight lines as diagonals and curves can be difficult for children below preschool age, according to Thurn. After your child gets the hang of things, you can move on to attempting writing in lower case.

6. Practice writing their name

Once she's more confident of her skills, you can show her what her name looks like in print, sound it out, and then let her copy it. Remember to practice both upper and lower case. If she gets tired of using pen and paper, Thurn suggests using multi-sensory approaches like writing her name in a sandbox or using clay to make letters and form their name.

CONTINUE READING BELOW

Recommended Videos

What other parents are reading

How to improve hand and grasp development

7. Practice holding crayon or marker

The "tripod grip," where you use the thumb, index, and middle fingers, is the ideal pencil grip for writing as it allows children to write comfortably, according to The School Run. But according to Thurn, it emerges at around 3.5 to 4 years of age, and it is natural for children to "use alternative grasps" first.

Thurn offers a nifty trick to teach proper grip called 'point, pick, and flick': "Have them point the crayon at themselves, use thumb and index [fingers] to 'pick' it up near the tip, then flip the back end of the crayon into their web-space, viola, a tripod grasp!"

8. Play with clay

Playing with clay is great for strengthening the hands. Ask your kids to roll it into "snakes" and then pinch (to develop proper hand arch, which is important to develop control when cutting with scissors or writing) or make small balls on their palms.

What other parents are reading

 

How to teach scissor skills

9. Holding scissors

Learning how to hold and use scissors is important because it helps kids develop fine motor skills and hand-eye coordination, according to Pre-K Pages. It also improves "bilateral coordination" where you use both sides of the body at the same time while each hand is performing different tasks.

Thurn shares that kids who are starting to learn to cut usually turn over their wrists at first so it's important to ask the following questions: "Is your thumb in the small hole" or "Is your thumb on top?" She suggests practicing three times in a row to make sure they are holding the scissors correctly.

ADVERTISEMENT - CONTINUE READING BELOW

10. Learning how to snip

This is a fun activity for the kids! Let them cut play dough, straws or small strips of index card paper. When you feel that they are ready, give them a piece of paper with a straight line traced on it and ask them to cut on the line.

What other parents are reading

How to nurture social and emotional skills

11. How to take turns

Kids in preschool find it hard to share because they are "very egocentric at this stage" and are too young to fully understand the idea of sharing, especially when it comes to their prized possessions — their toys.

Start introducing the concept of taking turns at home by asking them if you can play with their toy, or use their markers. If they say no, you can ask, "Okay, but in 10 counts, can you lend it?"

"Taking turns can be expected as long as there is a guarantee that the toddler will get the toy back," explains Ina Syquia, a preschool teacher in Taguig City.

12. Clean-up and put away

When your kids are finished playing with their toys, have them clean it up before choosing a new toy or moving on to another activity. Picking up their toys themselves and putting it away is a simple chore that helps build a child's sense of mastery, responsibility, and self-reliance.

What other parents are reading

13. Sit and finish an activity

Thurn says that pre-school aged children should be able to sit down for at least five minutes to complete a preferred task, whether it's coloring, building with blocks, or playing with Legos.

"For a 4-year old, when you tell them to sit down, they should stay put for at least 15 to 20 minutes," shares developmental and behavioral pediatrician Dr. Ma. Theresa Arranz-Lim.

ADVERTISEMENT - CONTINUE READING BELOW

14. Learn to ask for help

Thurn writes that this is an important skill that kids need to learn. "If they aren't learning to ask for help at home, then they won't be able to ask their teacher for help opening their milk container, water bottle, etc.," she says.

15. Make eye contact

Teach kids to maintain eye contact when they are greeting someone or speaking to them. "It shows respect and tells the other person you are paying attention to them," says Thurn.

What other parents are reading

 

How to teach self-help skills

16. Take off and put on shoes

If your kid is learning or has learned to go potty, he should also know how to pull pants up and down at knee level for when he goes to the toilet at school. Putting on shoes and taking it off is another skill they would need to learn.

17. Learn to use utensils

"Some toddlers start wanting to use utensils as early as 13 months, and most children have figured out this all-important skill by 17 or 18 months," according to BabyCenter. Hopefully, before he starts preschool eating food won't be as messy!

18. Wash hands

Most kids will be ready to wash their hands on their own by 18 to 24 months (with mom and dad's supervision until he's more competent and able). Thurn suggests breaking the task into simple steps: 1) get soap, 2) rub hands together, 3) rinse hands, 4) turn off the faucet, and 5) dry hands.

ADVERTISEMENT - CONTINUE READING BELOW

While these activities are age-appropriate for kids two to four years old, don't fret just yet if your child has a hard time learning any of these tasks. Take a break and choose another activity that may pique their interest. Good luck!

What other parents are reading

Celebrate your pregnancy milestones!


Enter your details below and receive weekly email guides on your baby's weight and height in cute illustration of Filipino fruits. PLUS get helpful tips from experts, freebies and more!

You're almost there! Check your inbox.


We sent a verification email. Can't find it? Check your spam, junk, and promotions folder.
Trending in Summit Network