Boost Your Child's Literacy Skills by Reading to Him This Way

Reading aloud to your kids is not enough. Discover here how to read "with" them.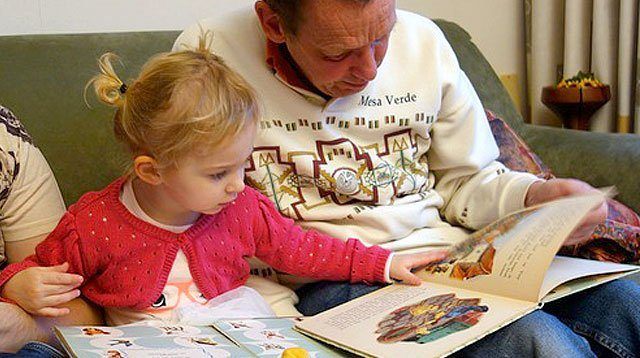 If you don't have a regular bedtime or storytelling session with your children yet, it's time to start now. Reading to them, or, rather with them gives them a head start at success in whatever field they choose, 

Since 2014, the American Academy of Pediatrics (AAP) has advised parents to read aloud to their children at an early age. It introduces them to human communication and serves as a great bonding time activity. Some experts also encourage reading to the baby while still in the womb to stimulate the brain.

But it's not enough that parents read aloud text in a story book. You have to "work" on your storytelling skills (yes, with drama and flair) to engage them, previous research has shown. And there's a new study that links the way you read to your kids and success later on in life.

The study, published in the journal PLOS One, is added proof that reading aloud "with feelings" to kids works wonders for their literacy skills. 

What other parents are reading

Researchers used functional magnetic resonance imaging (fMRI) to scan the brains of 22 four-year-old girls as their moms read to them. The scans of kids whose moms engagingly read to them registered a boost in brain activity, compared to children who were read aloud to in a less participatory way. The increased neuro activity specifically occurred in parts of the brain where "cognitive skill acquisition and refinement via connection to language."

Lead author of the study John Hutton, M.D., a pediatrician at Cincinnati Children's Hospital Medical Centre advises parents to "engage more when reading with their child, ask questions, have them turn the page, and interact with each other."

In a press release, Dr. Hutton said, "In turn, this could fuel brain activation--or 'turbocharge' the development of literacy skills, particularly comprehension, in preschool-aged children."

The study's findings also validate neuroscientist Erin Clabough's recommendation that mimicking the experience when reading to children can have can help kids develop intellectual empathy, or the ability to creatively put oneself in the place of others and understand them. Reading literary fiction where they can relate to the characters and their journey is the best way to let a young child's brain practice the skill.

ADVERTISEMENT - CONTINUE READING BELOW

What other parents are reading

In an article for SmartParenting.com.ph last year, speech language therapist Anthony D. Koutsoftas, PhD., who has over 12 years of clinical experience that includes child language and literacy, stressed the importance of having your kids interact with you while you read to them. 

"When kids interrupt bedtime reading to ask questions or want to touch the book, and then the parent says let's get back to reading, I think that's a mistake. I think it's important to let kids have a dialogue with you even if it doesn't seem to be about the book. When the kid points to a book and says,  'Oh, that red ballon looks like my red truck,' they are connecting it to what they know. They are learning how to be inquisitive when they ask questions." 

The dialogue or interaction Koutsoftas describes can be labeled as "dialogic reading." A child plays a more active role, rather just listening. For tips on how to encourage more dialogic reading sessions, Grover J. Whitehurst, Ph.D., shared on Reading Rockets what he calls the PEER sequence: 

What other parents are reading

Prompt the child to say something about the book you're reading. ("What is the color of the girl's shirt?"). Either you let your child fill in the blank, ask him to recall what happened in the story, say something about the illustration or picture, or answer questions that start what, where, when, why, and how questions. You can also help your child relate the events in the story to her own experiences, and vice versa. 

CONTINUE READING BELOW

Recommended Videos

Evaluate his response. ("That's right!")

Expand the child's response. Rephrase or add information. ("It's a red and white polka dots shirt!")

Repeat your question to see if the child understood and had learned from it. ("Can you say, 'polka dots'?")

Whitehurst encourages parents to have this engagement on every page of the book, if possible. "Sometimes, you can read the written words on the page and then prompt the child to say something. For many books, you should do less and less reading of the written words in the book each time you read it. Leave more to the child," he advises. 

We already know what you're thinking: Dialogic reading would take a lot of time. But the long-term benefits are sure worth an extra 30 minutes of your day. Besides, reading with your child is more fun, makes for making better memories, and forges a stronger bond between you and your kids. Oh, and, yes, it is one of the best ways to improve your child's reading and language abilities.

What other parents are reading

Celebrate your pregnancy milestones!


Enter your details below and receive weekly email guides on your baby's weight and height in cute illustration of Filipino fruits. PLUS get helpful tips from experts, freebies and more!

You're almost there! Check your inbox.


We sent a verification email. Can't find it? Check your spam, junk, and promotions folder.

Trending in Summit Network