Your Child Has to Repeat Kindergarten. What Does This Mean?

There are a number of reasons why kids are sometimes held back to preschool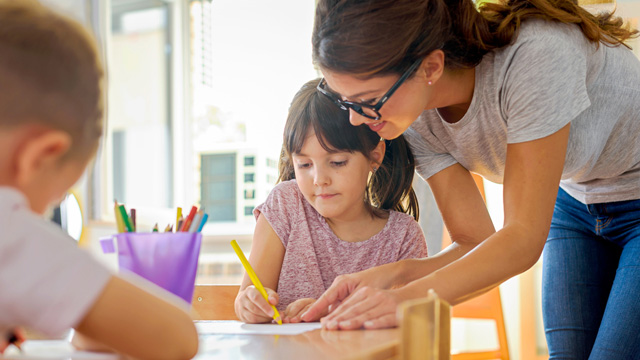 Doreen, a mom of four, was disappointed when the private school she was transferring her daughter to required the child to repeat preschool. "Sayang sa time and money," she felt. At 4 years old, Dana was one of the youngest in her Kindergarten class at a daycare center near their home. 

Since the prescribed age then for a child to move up to grade 1 in the Philippines was 7 years old, Dana had to spend not one, but two more years in preschool — Kinder 1 and Kinder 2 — before she could be admitted to Grade 1 at the private school. (The new age requirement for Grade 1 is 6 years old starting SchoolYear 2020-2021. Read about it here.)

For many parents, a child having to repeat preschool almost sounds like a joke, if you use the same parameters as with high school or college students who have to retake a subject. However, intellectual ability is rarely the reason why preschool-age kids have to repeat a level.

What other parents are reading

Kat Castaneda Tomawis, a preschool teacher in Quezon City, cites two other factors they consider in deciding if a child can move up to the next level or grade: a child's (basic) reading and writing abilities, and emotional readiness. 

"A child must be able to read letters or numbers, and know how to write them in preschool," she says. "Some are also still not emotionally ready for school — naghahanap pa ng Mom, Dad, or yaya," she adds.

"I've seen kids held back a grade level because hindi makasabay sa reading. In one instance, the parent informed the school early on about this, but the school put the child in that grade because of his age.

"For me, age should not be the sole basis for acceptance; it should also depend on the teachers' assessment," teacher Kat said.

However, in the U.S., the requirements are more stringent. According to Marilou Hyson, Ph.D., associate executive director for professional development at the National Association for the Education of Young Children (NAEYC) in Washington, D.C., "In addition to evaluating a child's social and emotional readiness for first grade, teachers now must consider specific grade-level standards instituted by the state or the school district." This could result to more preschoolers not making the cut, and being in danger of retention (being held back to their current grade or level). 

ADVERTISEMENT - CONTINUE READING BELOW

What other parents are reading

Research suggests, however, that when children are made to repeat a grade level, most of them are unable to catch up. "Children who are retained may do better at first, but many fall behind again if their areas of weakness haven't been addressed," Sandra Rief, a resource specialist and author of Ready . . . Start . . . School! told Parents.

There is also the social stigma of being a repeater and being viewed as inferior to the other kids in his batch, even if this wasn't true. This could greatly affect a child's attitude. Those who have had to repeat a level are likely to feel bad about themselves and get into trouble when they enter high school, according to studies.

Basic skills a preschooler must have

According to teacher Kat, in order to avoid repeating a grade level, a child who enrolls in preschool must already have the following abilities:

knows how to read simple words or can create sentences
knows basic colors and sizes
knows how to match objects
can write their names
can do parallel or social play
understands the consequences of his/her actions (if you run holding a pair of scissors, you might get hurt)
loves singing or dancing with classmates
enjoys learning new things, such as reading books, playing with school toys, making mini experiments 

"Aside from routines, a child should also be able to focus on a task, or finish a task independently or with minimal assistance from the teacher," she adds.

What other parents are reading

But the absence of one or a few of these abilities does not necessarily mean a child can't go to school yet, she clarifies.

"You only need to support and encourage the child to do more activities or play, instead of pushing the child to meet a certain standard right away.

ADVERTISEMENT - CONTINUE READING BELOW

"If we put a lot of pressure on them, they might feel stressed out and end up not enjoying learning in school," she said.

What if my child really must repeat preschool?

If, after a thorough evaluation, it was decided that your child has to be held back, look into the following:

1. Switch teachers, or switch schools.

"He needs to have a different educational experience, as well as interventions and support to address his areas of need," says Rief.

2. Address your child's weakness.

If he is unable to hold a pencil properly, it may be a sign of a need to develop his fine motor skills. If so, focus on having him do simple exercises at home that will improve it. Work closely with your developmental pediatrician to get to the root of it.

3. Take the news in a positive light.

Looking back, Doreen now sees the benefits of waiting it out before enrolling Dana to grade school. "[Kung sakali] baka na-stress yung bata with the amount of studying required for Grade 1. I don't think kaya na ng 4 years old mag-Grade 1. Too much, too soon," she said.

ADVERTISEMENT - CONTINUE READING BELOW

Dana also made a lot of new friends when she went to Kinder 1 and Kinder 2, which, in a way, developed her social skills. A positive attitude from the parents will help the child see the good in the situation, and boost her to have a successful year in school.

Trending in Summit Network