11 Ways to Say 'Yes' Even When You Want to Say No to Your Fearless Child

Experience is still, by far, your child's best teacher in life.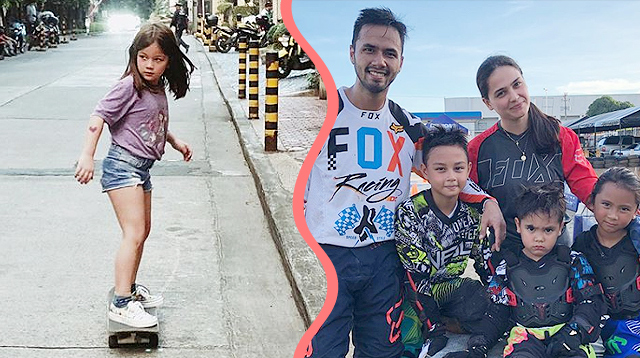 It's a parent's job to worry about their kids' well-being and their future, but it's also mom and dad's job to prepare them for the world. Experience is the best teacher, as the saying goes, which is why parents need to encourage kids to do something new, take risks, and embark on little adventures in their lives. And you're happy and proud when your child isn't afraid to try something new. But sometimes it's also you who end up saying no because you're worried about their safety.

Life is full of risks — some lead to adventure and success while others result in failure and lessons learned. As much as you want to shelter your kids to keep him safe, it's just impossible — and you're not helping his development.

We have to hand it to the likes of Kristine Hermosa and Oyo Sotto who bring their kids to motocross. All their kids Kiel, Ondrea, and Kaleb (save for the youngest, Vin) have tried the sport.

ADVERTISEMENT - CONTINUE READING BELOW

Danica Sotto-Pingris also tried motocross with son Mic.

Ryan Agoncillo and Judy Ann Santos's daughter Yohan has done it as well.

In Andi Eigenmann's case, she has let daughter Ellie trying out surfing and skateboarding.

CONTINUE READING BELOW

Recommended Videos

What other parents are reading

Why kids need adventure

You might be shaking your head with the idea of motocross. But climbing, jumping from heights, rough and tumble play like wrestling and play-fighting, and exploring alone are a few risky activities that can be rewarding for your kids. 

"Play environments where children could take risks promoted increased play time, social interactions, creativity, and resilience," says developmental psychologist Mariana Brusson of the University of British Columbia in Vancouver.

Children are naturally curious. If you were to keep babies sheltered, barred toddlers from exploring their surroundings, prevented children from having new experiences, you are preventing them from learning about themselves, other people, and the world.

"There are billions of receptors in a baby's brain and new ones every single minute," says Ann Pleshette Murphy, the author of The Secret of Play. "The process of developmentally growing up is all about the pruning that takes place in the brain, and that happens based on experience and reinforcement," she explained.

ADVERTISEMENT - CONTINUE READING BELOW

Whether it is motorbiking, ziplining, or less risky sports such as football or swimming, it's similar to a child taking his first few steps. It was scary for your 1-year-old child to learn how to walk, but he did it nonetheless. And you encouraged your child to do so, and he can walk independently now as a result.

How to raise an adventurous child

Encourage your kids to be bold and but not to the point of carelessly endangering themselves. Start as soon as your toddler learns to walk. It will help instill in your child the value of learning through experiences as early as their formative years, ages 0 to 5.

1. Create a safe space for your child.

Babyproofing and creating a safe space for children to play and explore is one way to set reasonable boundaries but also giving the little ones the freedom to do as they like within safety limits. Do a "crawl test," as parenting editor for Offspring Michelle Woo calls it, to help you spot potential dangers and hazards your child may encounter.

What other parents are reading

2. Limit interventions

The point of creating a safe space is to let your little one be. Psychologist Ma. Araceli Balajadia-Alcala advises parents not to swoop every time a kid trips or falls. Give him a chance to get up by themselves before you rescue them from their mistakes.

Resist reminding them to "be careful" all the time. Kids may end up believing they can't do it and discourage them from doing anything physical. It can also instill fear that your child ends up losing his innate curiosity and curtail him from developing grit, one of the essential life skills for success.

ADVERTISEMENT - CONTINUE READING BELOW

3. Praise your kids' efforts.

As parents, you want your child to believe that he can achieve anything he sets his mind on. You need to instill a growth mindset where children learn that, even if they fail, they can do better with determination and hard work. It teaches them that failure is not the end game — it's just another challenge to overcome.

4. Refrain from saying no all the time.

Saying no and not always giving in to your child's demands is a way of setting limits. But when a child expresses interest in a new experience, don't automatically refuse. Assess the risks and explain to your child in terms he can understand why it's not safe or not okay.

5. Have a sense of adventure yourself! 

Be fearless, and let your child see you try new experiences. Your child takes his cue from you. If you're open to it, you may find a way to make an activity or the environment safer for your child to try. Think of it as checking a teacher's credentials and trusting that he has your child's safety and best interest in mind.

6. Teach your child about consequences.

Experience is still by far the best teacher. "By 2 and a half, or 3 years old, kids can understand not to do things that will hurt them," Murphy told Fatherly. Discuss cause and effect and consequences with your child or read a book or watch a video about it.

7. Allow your kids to make his decisions.

ADVERTISEMENT - CONTINUE READING BELOW

"Kids this age are realizing that they can assert themselves and arguing with you is one way they gain confidence," explains child psychiatrist Dr. John Sargent. It helps develop critical thinking and problem-solving skills, which can help them eventually assess risks and consequences independently.

8. Acknowledge your child's fears.

Encourage him to talk about his fear so you can both understand where it's coming from. Asking your child to rate how afraid they are is a good self-evaluation tool. It can also help him think of ways to make them less scared.

9. Teach your child coping techniques.

Taking risks can be scary and uncomfortable for kids, but these moments of hesitation are teaching opportunities to teach them about courage and bravery. Teach our kids how to coping strategies such as counting down, taking deep breaths, and visualization exercises to motivate them to stay on course.

10. Help your child overcome his fears.

"It's important to teach fear to kids so that they don't do crazy things that can harm them or they'll regret in the future," says motivational speaker Michelle Poler. Motivate your child to rise above their fears. Try walking your child through the activity or reading a book about it while guiding her into assessing the situation.

11. Don't force it.

Respect your child's decision not to go through a new experience when he's not ready. Forcing him to take the risk, thinking he'll realize it's okay or fun, may backfire. Instead of being adventurous, your child may be discouraged to take on little leaps of faith. Tell your child he can always try again and make sure to follow through.

ADVERTISEMENT - CONTINUE READING BELOW

What other parents are reading

Celebrate your pregnancy milestones!


Enter your details below and receive weekly email guides on your baby's weight and height in cute illustration of Filipino fruits. PLUS get helpful tips from experts, freebies and more!

You're almost there! Check your inbox.


We sent a verification email. Can't find it? Check your spam, junk, and promotions folder.

Trending in Summit Network