Don't Rush Through School Drop-Offs! 5 Ways To Help Ease Your Child's Separation Anxiety

Now that face-to-face classes has resumed, young kids may be having difficulty saying goodbye. Try these 5 things to make it easier for both of you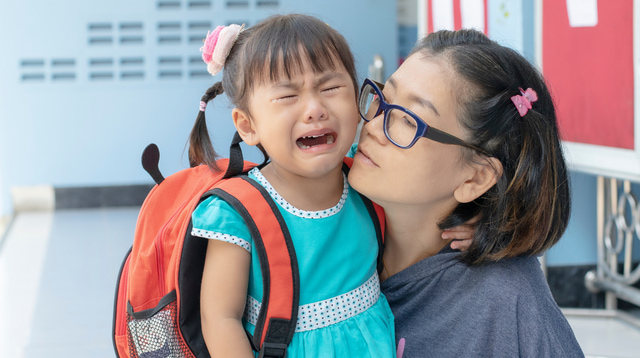 Are you one of the many parents who is getting re-acquainted with the challenges of hatid-sundo? Whether your child is going to school onsite for the first time or it's something they've forgotten because they only experienced in-person learning briefly before the two academic years spent at home, saying goodbye to your child before their school day begins is likely a challenge. Or maybe it's more apt to say it's dramatic because of the tears involved.

Now that face-to-face classes have returned and it is preceded by over two whole years of families being together almost 24/7, it's no surprise kids are experiencing separation anxiety. 

It's not just the little kids who are going to school for the first time who are emotional about returning to in-person learning, even tweens can feel nervous about being separated from their families for most of the day. And all these feelings are normal because of these times.

RELATED: 'Sabi Ng Husband Ko, Masyado Ko Daw Na-Baby Ang 11 Y.O. Namin: Paano Ituro Ang Independence?

Practicing goodbye or even creating a plan for it might sound a bit funny, especially if as a child you experienced your parent disappearing or escaping when it was time to part ways but as some parenting coaches and experts are saying, it is not the best way to part ways with your child. 

We, parents, may be avoiding the difficult emotions by escaping but we may also be causing our kids more pain in the long run. 

ADVERTISEMENT - CONTINUE READING BELOW

Here's what parents need to remember about kids separating from their parents: "Separation is tricky for kids. This is because separation can feel like a threat to their relationship with you," says Our Mama Village, a Canadian-based parenting site founded by registered psychotherapist and mother Jessica VanderWier.

"Your child has always been with you, feels safe with you, and feels known by you. You are their world," it reminds.
When your child calls for you or doesn't want to let go, what do you do? Pry off their arms and push them to their classroom? Here's what experts advise.

5 things you can do to make school drop-offs easier

1. Remember: keep it short and sweet.

Staying longer or lingering when saying goodbye doesn't make things easier for your child, says
"Lingering causes more confusion. It tells your child 'I don't feel confident in my plan.'," captions the parenting resource in an Instagram post on separation anxiety in kids. "When your child cannot feel your confidence, it will lead to much more challenging behavior."

2. Create a goodbye plan or routine.

This is what you are going to do each and every time you drop off your child at school. By doing the same thing each time, your child will understand what's coming next. The familiarity can also help them feel more secure.
Our Mama Village suggests this goodbye plan:

Say, "I love you".
Give your child a kiss on the cheek.
Give one kiss on the palm for later or to "hold in their hand" while you're not together
Remind them that you will be back later.
Turn them over to their teacher (or caregiver if you're practicing separating)
Say "Bye!"

ADVERTISEMENT - CONTINUE READING BELOW

Recommended Videos

You can make your own routine, whatever feels more natural for you and your child. Other family resources suggest singing a "see you later" song if your child is younger or a secret handshake if your child is a bit older. But keep in mind that the routine includes saying goodbye rather than escaping.

3. Remind your child of your reunion.

"It's time for school. I will be back to pick you up later after your last snack of the day. I can't wait to see you again," is Our Mama Village's suggested script.

Keeping your temperament cheerful and upbeat helps your child understand that they are safe and that they can trust that you will be back for them like you said.

If you won't be the one to pick up your child, you can still remind them of the plan once school ends, including who will pick them up and where.

RELATED: Ayaw Bumitaw Kay Mama! 5 Tips to Ease Your Child's Separation Anxiety

4. Hold back from the "rescue".

Try not to look back once you've said your goodbye, advises California family resource site First 5 California. "Even if you hear your child crying. Experienced teachers know how to properly care for your child, and if you run back, your child will think that he needs to be with you all the time."

The site adds that this will make the transition to school harder for your child. If you need reassurance, wait outside the room or area if you are able, and then talk to the teacher about how things went after you said goodbye if he is available.

ADVERTISEMENT - CONTINUE READING BELOW

5. Make sure to show your delight upon your reunion.

Here's the script Our Mama Village suggests: "I thought about you when we were apart. I hold you in my heart when we aren't together." 

If you're still working or managing some household things during pick-ups, try to set it aside for just a few minutes when your child sees you for the first time after her day in school. This lets her know you are present (hold off on those emails or calls!) and you were looking forward to this as much as she was.

On the caption of the same post, Our Mama Village reminds that "Your child needs to know 'my parent cares for me, even when they aren't next to me.'" It sounds obvious to a parent, but remember that it might not be as obvious to a preschooler.

Here are a few more reminders to help you have peaceful drop-offs:

Try your best to be early. This will allow you to execute your goodbye ritual without having to worry that your child will be late. It will also allow your child time to adjust.
Practice your goodbyes at home.
Walk them through what will happen during your goodbyes or dropoffs.
Be open to a comfort object, something small your child can hold on to to remind them of you or home. Depending on their age and the convenience, it could be a small stuffed animal they keep in their bag or a keychain or necklace that reminds them of home or family when they look at it.

ADVERTISEMENT - CONTINUE READING BELOW

What other parents are reading

Celebrate your pregnancy milestones!


Enter your details below and receive weekly email guides on your baby's weight and height in cute illustration of Filipino fruits. PLUS get helpful tips from experts, freebies and more!

You're almost there! Check your inbox.


We sent a verification email. Can't find it? Check your spam, junk, and promotions folder.

Trending in Summit Network