If Your Child Is Shy, This Fun Drawing Activity Will Help Boost His Confidence

This drawing activity allows your child to express herself to so many possibilities.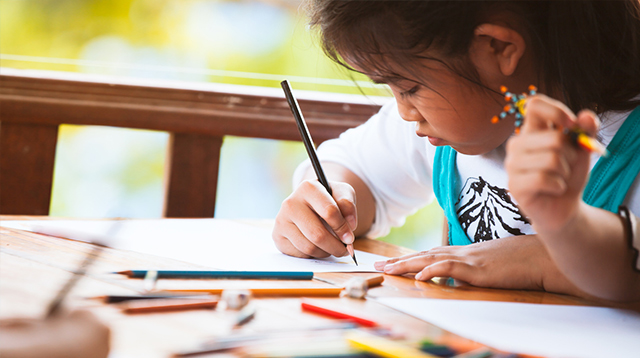 They say art is a form of expression, and it's probably the reason why parents are encouraged to get their kids to draw and doodle as soon as they can grip a marker or play with paint. In fact, Andria Zafiakou, the 2018 winner of the Global Teacher Prize, an annual competition that highlights the most inspiring teachers in the world, believes art is so essential to child development that it may even be life-changing for the kids.

"Students who don't speak English can't write an essay, they can't access any of the other curricula, but in arts, all you are asking them to do is draw and explore materials," she says in a speech at the World Economic Forum in January 2019. "They're free to express themselves; everyone has stories to tell, and through art, we are raising their confidence and self-esteem and allowing them to find and tell those stories."

One of the ways you can get kids to open up about themselves is by asking them to draw self-portraits. Apart from being a fun activity, creating self-portraits has many great benefits for kids.

What other parents are reading

In an interview with The School Run, a parenting and education website for parents of preschool and elementary students, Jeremy Newton, chief executive of The Prince's Foundation for Children and the Arts in London, explains why self-portraits are essential tools for learning and the most introspective of art forms. In creating one, "children learn who they are, how they want to present themselves and what's important to them," he shares.

ADVERTISEMENT - CONTINUE READING BELOW

Heidi Overbye, an early years teacher from Brisbane, Australia who runs the Instagram account @learning.though.play, shares that self-portraits are a "fantastic way for children to explore their sense of self and build their self-identity." In her Medium account, she says she usually does this activity at the beginning of the year so her students can get to know each other. "We learn about ourselves, each other, and they foster a sense of belonging within the classroom."

"Self-portraits enable a child to get to know himself better. Even the adults around them have a better understanding of what they are like," shares Lea Anareta, a preschool teacher at Integrated School for Young Children, a progressive preschool in Marikina. "As teachers, we learn how children feel about themselves or how they are feeling that day. Some kids, especially those who are a little shy, express themselves through drawings."

What other parents are reading

The positive benefits of creating self-portraits

CONTINUE READING BELOW

Recommended Videos

1. Self-portraits give kids a chance to get a good look at themselves in the mirror.

A self-portrait gives children the time to study their eyes, nose, mouth and the rest of their face and body, and to work out how it all fits together, according to The School Run. It also serves to boost their self-esteem.

"By exploring their 'me-ness' (coined by Loris Malaguzzi), whether working with educators or independently, children are learning a great deal about themselves and are enhancing various skills," writes Rosanna Tantalo, a preschool teacher at Acorn School in Toronto, Canada. "[They are] developing their observational, expressive, and reflective skills. In working one-on-one with their educators, they are building positive reciprocal relationships with one another as well as a positive relationship with themselves."

What other parents are reading

2. Self-portraits allow children the maximum amount of artistic freedom.

Since they're doing a portrait of themselves, they can use whatever materials they want and create it in any style they wish.

3. Drawing themselves teaches kids that their personal ideas aren't always the same as everyone else.

It might sound surprising that they can glean all these from an image of their face, but according to The School Run, kids can learn "how diverse society's views, values, and appearances are, and hopefully develop values of respect and tolerance."

"It is my belief that in order for children to grow to love and respect others, they must first love themselves," Tantalo shares. "If I can assist children in the process of building that love and respect for who they are and what they look like, then I feel that I am helping to lay the foundation for them to love and respect others regardless of differences."

ADVERTISEMENT - CONTINUE READING BELOW

What other parents are reading

4. Self-portraits help children think of what they want to be in the future.

When asking them to create self-portraits, don't just restrict them from drawing their face. Ask them to draw themselves in a specific environment or doing an activity that they are interested in, suggests Romper. Teacher Lea notes that whenever they do self-portrait activities, many of her students already draw their future selves. For adults, it allows us to get a glimpse of what it's like to be in their world.

"Drawing pictures of their family insightful," Dr. Kathryn Smerling, a family therapist, tells Romper. "Drawing a picture of their room and friends, drawing the thing they most enjoyed doing that day, drawing what their birthday party might look like can all be incredibly eye-opening to both parents and kids."

5. Self-portraits show kids how they change as they grow.

Educators encourage regular self-portraits as it allows children to document the differences in themselves and for parents to help them understand those changes. Dr. Smerling notes, "[It could be interesting to have the child do a self-portrait year by year to see the child's developing sense of self each year."

Teacher Lea prepares many self-portrait activities for her students. First is an 'All About Myself' activity where kids look in a mirror and draw themselves. They also mark a '100 days in school' milestone with a self-portrait. Lastly, she also asks them to think of how they will look like a hundred years from now. "During our free play sessions, some students choose to draw, and they will usually draw themselves. Through their artworks, we are able to see their fun and memorable experiences."

After letting them create their self-portraits, don't just stop by looking at their output. Engage them in conversation — ask why they created their portrait in that particular style, how they felt while doing the activity, or what they've learned about themselves in the process. By the end of it, we're sure that you'll have a better understanding of your kids and they'll also be able to appreciate their uniqueness as well.

ADVERTISEMENT - CONTINUE READING BELOW

What other parents are reading

Celebrate your pregnancy milestones!


Enter your details below and receive weekly email guides on your baby's weight and height in cute illustration of Filipino fruits. PLUS get helpful tips from experts, freebies and more!

You're almost there! Check your inbox.


We sent a verification email. Can't find it? Check your spam, junk, and promotions folder.

Trending in Summit Network