This Is the Ideal Time Your Child Needs to Be Asleep (It Gives You More Time for K-Drama!)

There are plenty of benefits to sleeping early, both for kids and for their parents.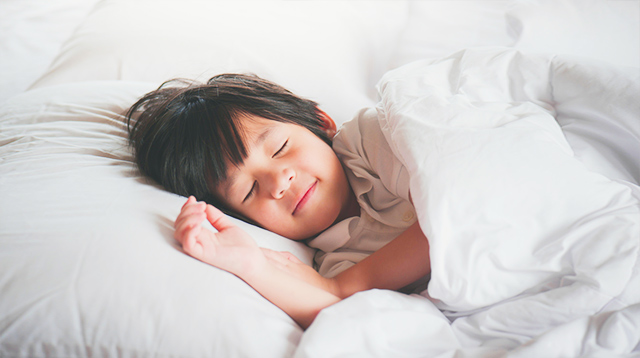 Moms, there's no reason for you to feel guilty for putting your kids to sleep earlier at night — a study showed that mothers whose children go to bed early are happier and healthier and so are their kids!

The findings were based on a "Growing Up in Australia" study, which began back in 2004 when the researchers collected information from thousands of Australian families whose children were around 4 to 5 years old at the time. The team checked in with the families in two-year intervals to evaluate the relationship between the families' mental health with their sleeping habits.

The results showed that sleeping earlier at night — specifically, at around 8:30 p.m. — benefits both kids and their moms. Children who were already in bed at that time reportedly displayed a "better health-related quality of life," and their moms did as well.

We already know the benefits that children get from sufficient sleep. Studies have shown that for kids, going to bed earlier leads to better behavior and brain function; their cognitive functions are boosted, which helps them perform better in school. Kids are also less likely to become obese (although direct links between sleep habits and weight gain have yet to be concretely determined).

Parents, however, also have a lot to gain from putting kids to bed early, as the study's lead author, Dr. Jon Quach, a postdoctoral research fellow at the Murdoch Children's Research Institute in Melbourne, pointed in an interview with TODAY.

What other parents are reading

When kids sleep early, mom gets more me-time

ADVERTISEMENT - CONTINUE READING BELOW

Pediatrician Dr. Wendy Sue Swanson, who also runs the blog Seattle Mama Doc, told TODAY that sleep is an essential and relevant part in shaping not only people's moods but also their mental health. "When we think about mom, it makes a lot of sense to me that if kids are early to bed, mom is going to wind down, get things done and feel like things are under control."

Perhaps the most straightforward answer to why it's good for moms to tuck their kids into bed earlier is because it gives them more time to relax and unwind. Whatever mom likes to do to get some rest — talking to her spouse, watching TV, getting a snack, or just lying down — if she has time to herself that she knows won't be disrupted by anyone, it can help boost her mental health. Not to mention that more time to rest will also help her be better prepared for another long and busy day.

When kids sleep early, they are less cranky

Let's admit it — as much as we love our kids, it can be hard to stay patient and understanding when they are cranky, especially at night. What's worse is when that crankiness carries over to the next day, and everyone it seems just woke up on the wrong side of the bed. One way you can lessen the chances of this happening is by making sure your little ones get as much sleep as they need, so they (and you, too) are in a good mood the next day!

CONTINUE READING BELOW

Recommended Videos

What other parents are reading

How you can start better sleeping habits in your kids

If you are surprised that your preschool-age child needs to be in bed ideally at 8:30 p.m., then it means you may need to establish consistent bedtime routines. These consist preferably of activities that help calm and soothe your child down in the minutes leading up to bedtime, so it is easier for them to fall asleep.

Another benefit of bedtime routines in children is it reduces late-night awakenings and tossing and turning at night, according to Dr. Keith Aguilera, a sleep specialist and the head of the Comprehensive Sleep Disorders Center at St Luke's Hospital. "Children are easy to teach," Dr. Aguilera says. "Basta maayos mo yung kanilang sleep time, they automatically sleep through the night."

The ideal bedtime routine starts at 20 minutes or so before bedtime, beginning with the most energetic activity, then leading down to the most calming activity. You can start by giving your child a bath or reading a storybook aloud to them, or even letting them play quietly for a while, then finish off by cuddling with them, giving them a kiss, then tucking them into bed. This routine needs be done consistently to be effective.

Bedtime routines ideally consist of activities that help calm and soothe your child down in the minutes leading up to bedtime, so that it is easier for them to fall asleep.

ADVERTISEMENT - CONTINUE READING BELOW

However, experts give parents some tips to remember when it comes to establishing bedtime routines at home. Dr. Agnes Tirona-Remulla, head of the Sleep Laboratory at Asian Hospital and Medical Center, says that the best time to start bedtime routines is when your child is still a baby. "Research shows that sleep rhythms begin to develop at around 6 weeks, and most babies are developmentally capable of regular sleep-wake cycles by 3 to 6 months," she said. "As your baby begins to understand the difference between night and day, it's the perfect time to help improve his sleep routine."

Another tip is that parents need to provide an excellent example for their kids — meaning they sleep early too. Dr. Aguilera points out, "Children will likely follow your sleep pattern. The change has to start with you."

Celebrate your pregnancy milestones!


Enter your details below and receive weekly email guides on your baby's weight and height in cute illustration of Filipino fruits. PLUS get helpful tips from experts, freebies and more!

You're almost there! Check your inbox.


We sent a verification email. Can't find it? Check your spam, junk, and promotions folder.

Trending in Summit Network