These 5 Tried And Tested Lessons Can Teach Your Kids To Be Money Smart

'Good money habits start in childhood': A financial literacy advocate shares how her parents did it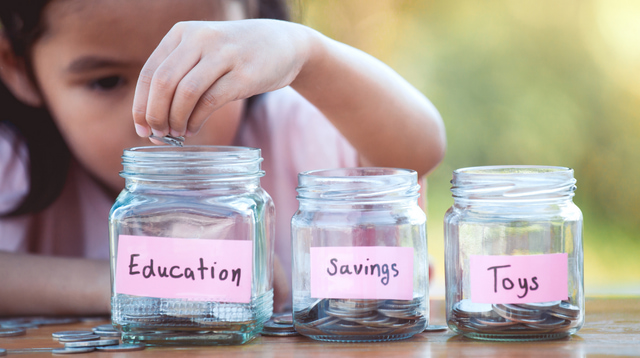 Ryan Kaji, a 10-year-old who does toy reviews on You Tube, earned $29.5 million in 2020 alone. Nyla Hayes is a 13-year-old artist who, this year, sold one of her digital portraits as non-fungible token or NFT for a whopping $6,621.70 (Php 343,401.36).

"With the digital age, there really is no more excuse not to earn money," says financial literacy advocate and children's book author Clarissa Seriña de la Paz. However, without parents' guidance, kids who are making money at such a young age may not be equipped with the right smarts to handle their earnings.

"The basics [in handling money] should be well ingrained," Clarissa advises parents. "Kids should be equipped with the discipline to scrutinize each investment opportunity and see how much they can make and what the possible losses are, and from there, figure out if the rewards outweigh the risk."

5 ways to teach kids good money habits

Clarissa says she grew up developing good money habits, thanks to her parents "who subtly engineered' her experiences around its most basic principles—earning, spending, saving, and budgeting. "My mom and dad never sat us down with numbers and figures, but they taught me and my siblings important principles through everyday circumstances," she shares.

The mom of two said it was her experiences as a kid that also inspired her to co-author two books on financial literacy, "I Wish They Taught Money in School" and "Money Grows on Trees." She also recently launched a series of children's books on financial literacy under Saffi Squirrel, an independent publication she founded together with business partner Monique Leonardo Carlos.

ADVERTISEMENT - CONTINUE READING BELOW

RELATED: Start Them Young! This Local Children's Book Series Will Teach Your Kids To Be Money Smart

Here, Clarissa shares the ways in which her parents taught her and her siblings how to develop important values around money as kids which stuck with them throughout their adult life. 

1. Don't go beyond your budget.

"Clarissa's parents taught her and her siblings how to budget by giving them a weekly allowance in grade school which became a monthly in high school and college. If they overspent beyond the given period, they were not allowed to ask for more. This taught them how to live on a fixed quantity for a given period. "I not only learned how to budget, but also to have discipline toward spending beyond my allowance," she says.

2. Expand ones means.

"Our parents didn't teach us to live within our means, they taught us to expand our means instead," shares Clarissa.  As a student from grade school to college, she says that her allowance was always 'sizably' smaller than that of her classmates but she's learned that 'depriving' her of an allowance they want versus what they need, her parents forced her to find ways to augment her allowance and develop a drive to earn money independently.

RELATED: The Best Ways To Teach Your Child The Value Of Money, According To PH's Top Educators

3. Practice delayed gratification.

As kids, Clarissa's dad would make them a 'piggy bank' out of bamboo.  "Our parents would match the amount of whatever we saved by the end of the year." If, say, they were able to save Php1000.00 by the end of the year without dipping in their 'banks', their parents would double that amount.

ADVERTISEMENT - CONTINUE READING BELOW

Recommended Videos

"The sight of the bamboo bank sitting in the room was always a reminder that we had a choice. Either we spend all of our money now, or we stash some into our personal banks and have it multiply later on."  

4. Invest in stocks.

Clarissa first invested in the stock market at age 12, thanks to her dad. "When our family went to Disneyworld, my dad explained that he was able to fund it by earning extra money from the stock market. Using the simplest terms he could, Clarissa's Dad explained how stocks worked by saying that it was lending money to a  group of people and that if they earned, she would earn as well.

"My brain rewired: Stock Market equals Disneyworld equals Happiness." By pooling her cash with that of her Dad's, Clarissa was able to make her first investment in Petron. 

5. Save by recycling.

Every summer, Clarissa would get Php 2,000 from her Dad to buy new school supplies. But, he gave her a better idea: If she was willing to use some of her previous years' school supplies and materials, she could keep the money as a bonus for other things.

By recycling, Clarissa gained money to use for things she wanted to buy.  "A new uniform pitted against the top I'd been eyeing for weeks, or the latest Lisa Frank trapper keeper, didn't seem so fancy anymore," she says. 

There are many ways to earn these days but one's habits and values around money spells the difference no matter what age one starts earning. Start them young, is a key message Clarissa wants to impart to all parents.

ADVERTISEMENT - CONTINUE READING BELOW

"Our mindset towards money are deeply rooted in the values and habits we had growing up and the best time to impart these values and habits are during our childhood years," she says. 

READ MORE STORIES RELATED TO TEACHING KIDS FINANCIAL LITERACY:

Celebrate your pregnancy milestones!


Enter your details below and receive weekly email guides on your baby's weight and height in cute illustration of Filipino fruits. PLUS get helpful tips from experts, freebies and more!

You're almost there! Check your inbox.


We sent a verification email. Can't find it? Check your spam, junk, and promotions folder.

Trending in Summit Network