These Are The Family Movies We Loved in 2018!

From animated features to inspiring superheroes, these films got us lining up for tickets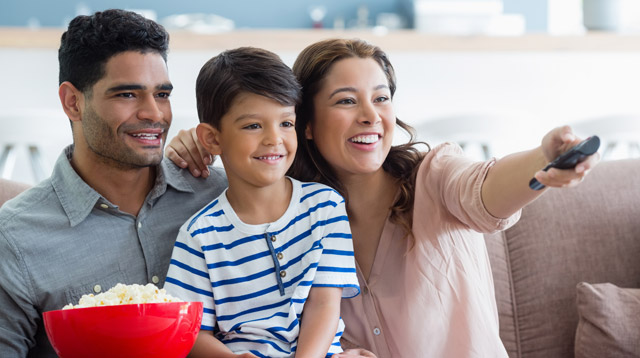 Whether it's watching in the cinema or gathering in the living area with a bowl of popcorn, watching movies is a no-fail family bonding activity. This year, we saw a variety of films that catered to kids, teens, and families. From superhero adventures to eagerly anticipated sequels to groundbreaking role models and representations, these movies entertained us, made us think, and gave us plenty to talk about. At the same time, they offered worthwhile messages, modeled important character strengths, and left us oohing and aahing at their big-screen spectacle. Here are some that we loved:

Mary Poppins Returns

Whimsical and playful, this sequel follows in the original's footsteps with its catchy songs and strong messages about imagination, gratitude, empathy, kindness, looking past the surface, and—of course—being close to your family and believing in yourself. (For ages 6 and up)

Paddington 2

This delightful sequel to 2015's Paddington will charm audiences of all ages with its silly hijinks and physical humor, not to mention messages about compassion, empathy, kindness, and the importance of families. (For ages 6 and up)

What other parents are reading
Pandas
Sweet and educational, this nature documentary about a conservationist teaching a clever little panda how to survive in the wild is packed with adorable animals and themes of conservation and cooperation/teamwork. (For ages 6 and up)
Pick of the Litter
This easygoing, upbeat documentary about all the time, effort, sacrifice, heartache, hope, and love that go into training guide dogs for the blind is a treat for dog lovers, with messages of the value of empathy, teamwork, and community service. (For ages 6 and up)
ADVERTISEMENT - CONTINUE READING BELOW
Smallfoot
Looking for a charming mix of positive themes, physical comedy, and a few catchy songs? This star-studded animated adventure is it. It strongly promotes the ideas of appreciating traditions but questioning the status quo, thinking outside the box, staying true to your ideals, and giving those unlike you a chance—in other words, curiosity, communication, and integrity. (For ages 6 and up)
What other parents are reading
Incredibles 2
Fourteen years in the making, this eagerly awaited sequel lives up to expectations, delivering a satisfying story that combines intense superhero action with themes of teamwork, courage, communication, and perseverance—as well as how easy it is to be manipulated by the screens that are all around us. (For ages 8 and up)
Mary and the Witch's Flower
This magical fantasy adventure based on Mary Stewart's classic children's novel The Little Broomstick, a great pick, for Harry Potter fans—has messages about believing in yourself, being courageous and generous, and more. (For ages 8 and up)
Ralph Breaks the Internet
Disney's colorful, clever sequel to Wreck-It Ralph fully explores how the internet can be both wonderful and terrible and has strong themes of empathy, courage, perseverance, and self-control. (For ages 8 and up)
Science Fair
Brilliant teens compete in the Olympics of science fairs in this fascinating, inspiring documentary about the International Science and Engineering Fair (ISEF). It's likely to inspire science-loving kids to find ways to think big, pursue research, and make getting to the fair a goal for their STEM interests. (For ages 8 and up)
CONTINUE READING BELOW
Recommended Videos
What other parents are reading
Spider-Man: Into the Spider-Verse
Laugh-out-loud funny, filled with teachable moments about courage and teamwork, and appealing to parents and kids of all ages—this rousingly entertaining superhero adventure is everything a great family movie should be. (For ages 9 and up)
RBG
With clear messages about the importance of integrity and equality, this riveting, surprisingly touching documentary reveals how the quiet, intense Ruth Bader Ginsburg became one of the most iconic Supreme Court justices in American history. (For ages 10 and up)
Won't You Be My Neighbor?
This poignant documentary about Fred Rogers is a touching, triumphant tribute to a children's TV icon. He was a remarkable man who reminded generations of young children that they mattered and were loved. (For ages 10 and up)
Liyana
Powerful and unique, this documentary about a group of African orphans who create a story as a form of creative therapy is an extremely effective tool for building empathy and opening perspectives. It also emphasizes the importance of courage and perseverance. (For ages 11 and up)
Black Panther
Not only is this the first film in the Marvel Cinematic Universe to center on a superhero of color, but it also has deep characters, a strong storyline, and outstanding acting. Viewers get all that plus strong, smart female characters and clear themes of integrity, courage, and teamwork. (For ages 12 and up)
Common Sense Media is an independent nonprofit organization offering unbiased ratings and trusted advice to help families make smart media and technology choices. Check out its ratings and recommendations at www.commonsense.org and sign up for its newsletter to read more articles like this.
ADVERTISEMENT - CONTINUE READING BELOW
Trending in Summit Network