5 Warning Signs You're Raising A Spoiled Child And How To Turn It Around

Your child will grow out of his bad behavior with positive discipline.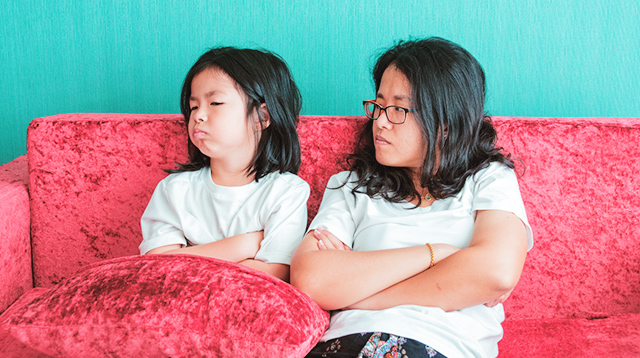 "Your child is spoiled," is a phrase parents dread to hear but more often than not, they are also the ones guilty of indulging their kids too much. Always saying yes to his whims, being overprotective, and giving in to avoid drama are just some of the ways you are doing it.

"'Spoiled' is a term used to describe kids (even adults) who seem to always want to get their way without any effort to earn it," shares Christopher Franz A. Carandang, a psychology teacher at the University of the Philippines Diliman, told SmartParenting.com.ph in a previous article. These are the kids who feel like they "can get away with anything."

5 warning signs your child is spoiled

If you're worried that your little one is growing up to be a spoiled brat, watch out for these warning signs so you'd know how to turn things around.

What other parents are reading

1. Your child whines all the time.

There are many reasons for your preschooler's whining behavior: he's trying to get your attention, he is feeling anxious, or expressing his feelings. But if your child whines all the time, it's probably because they can use it to get what they want. A whiny child can get annoying so parents give in just to get their kids to stop.

How to turn things around: Be consistent when saying 'no.'

It will test your patience, but you have to avoid caving in. "Avoid reinforcing whining by being consistent and not giving in 'once in a while' to your child's demands," advises family counselor Erin Leyba, L.C.S.W., Ph.D., in an article by Mother.ly. You should also check your attitude toward your child's whining, according to the book Dr. Spock's Baby and Childcare. You may be using some expression of evasiveness, hesitation, submissiveness, or guilt that you child can detect and take advantage of.

ADVERTISEMENT - CONTINUE READING BELOW

2. Your child is rude or disrespectful, even to adults.

Kids are naturally self-centered so parents think that their child will eventually outgrow their disrespectful phase. But if you just let them continue with this kind of attitude without correcting, they will take it with them when they grow older. Worse, they might start being rude to older people, too.

How to turn things around: Start teaching manners and instilling empathy early on.

A child with a strong sense of empathy will be more considerate of other people's feelings and do something about it — for example, saying sorry when they've hurt a classmate's feelings or saying "thank you," when receiving gifts.

If you hear your kids being bad-mannered, gently correct the behavior. Dr. William Sears, a renowned pediatrician, shares a strategy that he practices with kids: He keeps his voice modulated, maintains eye contact, and he puts a hand on the child's shoulder. "These gestures reflect that I am correcting the child because I care," he explains. "My politeness showed him that I value him and want him to learn from his mistakes."

3. They refuse to share.

During the toddler stage, kids are "not selfish but rather egocentric," says Brian Vincent Calibo, an occupational therapist, in a previous Smart Parenting article. "At this stage, kids' only reality is themselves. Everything is directed at themselves."

If they are old enough however and still refuse to share, it may be a sign that they are growing up spoiled. They think everything belongs to them, even if is not theirs to begin with.

CONTINUE READING BELOW

Recommended Videos

How to turn things around: Give gentle reminders.

Strict rules, such as forcing a child to take turns and share may backfire, but this doesn't mean that you can't start introducing your child to be considerate and kind.

You can say something like, "You're angry because you wanted to play with that toy. I understand — it's okay to feel angry, but it's not okay to throw things," suggests psychiatrist Dr. David Sack in an article for Huffington Post. This way, your child will know that what he's feeling is anger and, as an extension, be able to know what other children are feeling when they show the same emotion.

4. He is mean to other kids.

A spoiled child has a tendency to be mean to other kids even when unprovoked. They can hit or push other kids out of frustration or even destroy another child's belongings.

How to turn things around: Call out the behavior right away.

Your child's violent tendencies may be a result of pent-up emotions that they are trying to release. But the moment you see your child hitting someone else, you have to draw the line and end the hostility abruptly. Take his hand, place it by his side and say in a calm but firm voice, "Hitting is not allowed. Do not hit anyone."

5. They refuse to do anything themselves.

As parents, we want our kids to grow up independent. But if you're still feeding, dressing, or cleaning up after your child even when he's at an age where he can do it by himself, then you might have ended up overpampering and spoiling your little one.

ADVERTISEMENT - CONTINUE READING BELOW

How to turn things around: Provide them opportunities to be independent. 

When your child makes a mess, it's easier — and faster — to clean it up yourself. But this is a missed opportunity to give your child a chance to learn independence. Guide him on how to tidy up and encourage him to do it by himself next time.

Instead of rewarding your kids for accomplishing tasks, provide consequences if they refuse to take action. Giving consequences reinforces rules and helps parents control behavior. So for example, if she does not clean up after playing with his toys, you can put it away for him — but he will not be able to play with toys for the rest of the day.

Remember: just because your child is showing you attitude doesn't mean that you can't correct their behavior. By instilling positive discipline, you can teach them to grow out of their bad habits.

How do you discipline a child who is 'matigas ang ulo?' Click here for expert tips.

What other parents are reading

Celebrate your pregnancy milestones!


Enter your details below and receive weekly email guides on your baby's weight and height in cute illustration of Filipino fruits. PLUS get helpful tips from experts, freebies and more!

You're almost there! Check your inbox.


We sent a verification email. Can't find it? Check your spam, junk, and promotions folder.

Trending in Summit Network