7 Warning Signs That Your Child's Hand Strength Is Weak (How Are Her Scissor Skills?)

According to a study, gadgets may be preventing today's children from developing hand strength.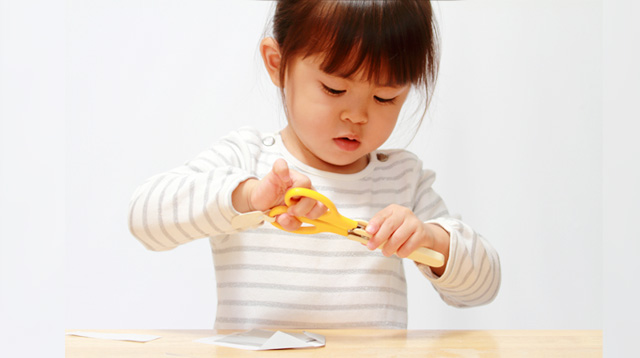 If your child is using smartphones and tablets starting in infancy, it may be preventing him from developing the necessary hand strength to hold pens and pencils, a recent study has found. When a child has weak hands and finds it difficult to control their grip using fingers, it may affect his ability to write, as well as perform tasks like cutting with scissors or zipping up jackets, simple tasks that other same-age children can easily do.

"My mind is blown thinking about a typical day in the life of a kid and how much of it is spent using their hands," says Claire Heffron, a pediatric occupational therapist who blogs at The Inspired Treehouse. "For a child who has weak hands, these daily tasks can be difficult and frustrating."

What other parents are reading

7 signs your child has weak hands

How can you tell if your child has weak hands? Heffron lists down several red flags on her blog, which you can use to observe your child.

1. Pencil grasp

Preschoolers tend to grip pencils with their fist, called the "fisted" grasp, instead of a "tripod" grasp, which makes use of the thumb, middle, and index fingers to hold the writing tool. Heffron says a child with weak hands will switch between grasp patterns frequently when writing, drawing, or coloring, and tend to use both hands when doing the activity. This may be due to fatigue.

Tracy le Roux, a pediatric occupational therapist who runs the blog OT Mom says switching between grasps should happen less as your child's shoulder and arm muscles become stronger and steadier.

ADVERTISEMENT - CONTINUE READING BELOW

What other parents are reading

2. Handwriting

Heffron says a child with weak hands has difficulty controlling pencils, so their writing become messy or illegible. They also apply very light pressure when writing, so marks on the paper are not dark enough to read.

3. Scissor skills

Learning how to hold and use scissors is essential in developing fine motor skills and hand-eye coordination. If scissors appear to "fall off" the fingers instead of being firmly secured, or if your child struggles to open the scissors to snip the paper, it may be a sign of weak hands.

4. Clothing management

Having self-help skills determine whether your child is school-ready or not so weak hands can significantly affect his learning. Red flags include the inability to open socks to get their foot inside as well as finding it difficult to hold shoes open to slip into it. They may be able to tie their shoelaces, but it may often come undone because they are unable to tie it tightly. Children with weak hands may also find it hard to grasp the waistband of their bottoms and pull it up and down.

Weak-handed kids may also have trouble with buttons and zippers. It might be hard for them to put a button through a buttonhole, or zippers may become disconnected because the two sides weren't fastened properly. They might also struggle to unbutton pants, which can result in potty accidents.

What other parents are reading

5. Mealtime

Kids with weak hands may have difficulty eating their baon because, for one, they might be unable to open the lids of containers or tear open food packages. They may find it hard to unscrew water bottles, or frequently drop their eating utensils or finger foods.

CONTINUE READING BELOW

Recommended Videos

6. Self-care

If your kids are unable to open toothpaste or other toiletries, have difficulty pushing the pump of a soap container, or cannot turn the faucet to wash hands, it might be a red flag for weak hands.

7. Playtime

According to Heffron, kids with weak hands may have decreased interest in toys or games that need fine motor skills. They'll frequently drop small objects or toys, and become bored with arts and crafts, or playing outdoors, especially when it involves climbing and using playground equipment. They might become frustrated or sad that they are unable to do all these things.

What other parents are reading

Fun and easy activities that strengthen the hands

It may be worrying to see your child exhibiting weak hand strength, but the good news is there are lots of activities you can do now to make his hands strong. Here are some activities, as suggested by Le Roux.

1. Paper crumpling

Gather scrap paper and ask your child to crumple it up into the smallest, tightest ball he can. As his hand strength increases, the ball will get tighter, says Le Roux. If you think his hands are strong enough, challenge him to crumple the paper using just one hand.

2. Water spray bottles

This will not only improve his hand strength, but it's also a fun water play activity. Let your child water plants or use it during bath time. Or add some watercolor and let him create artworks while spraying!

What other parents are reading

3. Scissor cutting

The whole hand benefits and gets stronger with scissor cutting, according to Le Roux, so make sure your child doesn't miss out on this fun activity. Let him cut play dough, straws, or small strips of index card finger. When you feel that they are ready, give them a piece of paper with a straight line traced on it and ask them to cut on the line.

ADVERTISEMENT - CONTINUE READING BELOW

4. Play with clay

Playdough is an awesome tool to strengthen a child's hands. Ask your child to roll it into "snakes" and then pinch or make small balls on their palms.

5. Outdoor play

A little bit of risky play may be needed to strengthen your child's hands because it can improve gross motor skills. Let him climb and pull stuff at the playground and just let him explore his surroundings. He'll have strong hands in no time!

What other parents are reading

Celebrate your pregnancy milestones!


Enter your details below and receive weekly email guides on your baby's weight and height in cute illustration of Filipino fruits. PLUS get helpful tips from experts, freebies and more!

You're almost there! Check your inbox.


We sent a verification email. Can't find it? Check your spam, junk, and promotions folder.

Trending in Summit Network