Yelling, Name-Calling, Physical Punishment Are More Likely To Cause Mental Health Problems In Kids

Children who face harsh discipline is 50% more likely than their peers to have mental health symptoms according to a new study in Ireland.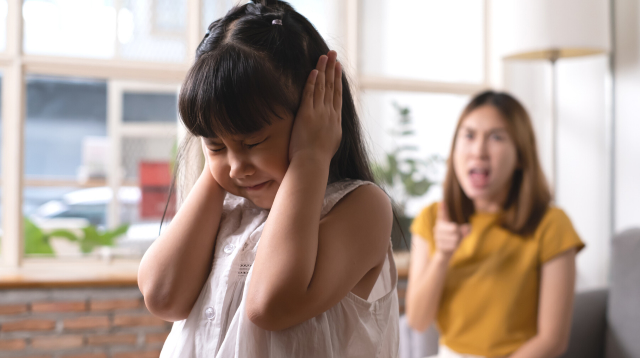 Harsh discipline of young children may put kids on a path "toward lasting mental healthy symptoms," suggests a new study in Ireland. The study followed 7,500 children from ages three to nine years old and 10% of the group fell into a "high risk" category with mental health symptoms ranging from persistent sadness to acting out,which worsened over the years.

"And children whose parents often used harsh discipline, including yelling or physical punishment, were about 50% more likely than their peers to end up in that group," reports United Press International on April 3, 2023. The results were published in the journal Epidemiology and Psychiatric Sciences which suggests that parents need to find a better way to manage their kids' behaviors.

The study found that 84% were consistently on the low end of the spectrum for emotional symptoms. They also grew out of early-childhood behavior issues. 10% "showed a pattern of worsening internalizing or externalizing symptoms over the years."

ADVERTISEMENT - CONTINUE READING BELOW

Internalizing symptoms relate to one's emotions such as persistent sadness, anxiety, or being withdrawn. Externalizing symptoms relates to aggression, impulsivity and defiance.

UPI reports "A small percentage of kids had a higher-than-normal level of symptoms, but did show some improvement over time."

'A parent's management of their child's behavior at three years old was important in their child's mental health trajectory.'

But what's interesting to note in the article is that a parent's management of their child's behavior at three years old was important in their child's mental health trajectory. The study asked parents to evaluate their own parenting,and when they scored high on the "hostile parenting" scale, it showed that their child was 50% more likely to belongto the high-risk group compared to a child whose parents scored low on the same scale.

Hostile parenting in the research was defined "frequently yelling, unpredictably doling out punishment, name-calling or physically punishing a child."

Gregory Fosco, a professor of human development and family studies at Pennsylvania State University who was not part of the study said that the findings are no surprise. Report and studies on parenting style sand child discipline in the recent years have consistently emphasized on the harmful effects of yelling, inconsistentparenting styles, name-calling, and physical punishment. "These harsh, over reactive parenting strategies put kids at risk," said Fosco.

RELLATED: Yell Less: How To Raise Respectful, Confident, And 'Drama-Free' Kids

What parents can do to lessen or elimintate harsh discipline techniques

1. Keep your cool and be consistent.

It's easier said than done, especially when parents are faced with pressure from all fronts: at home, in the workplace, financially, and even with extended family. But remember that speaking calmly to your young child is better than yelling and issuing empty threats like "makakatikim ka sa akin!"

Consistency refers to the rules and consequences in your family. Parenting experts have repeatedly said that clear rules and expectations benefits a child versus doling out consequences that is arbitrary or dependent on your mood or stress level at the moment.

2. Assess: does it really need to be addressed?

Fosco said to UPI that not every misbehavior needs a response. Much drama can be avoided if parents distinguishif it is a major or minor incident, and then let go of the latter.

ADVERTISEMENT - CONTINUE READING BELOW

3. Choose reasonable consequences.

When you do choose to respond to your child's misbehavior, consider a reasonable consequence like a time-out, quiet time, or a loss of privilege. The last technique might work better for children six years and older, according to Raising Children, an Australian website. A time out is more suite for younger children, ages three to six years old, and can last from two to three minutes.

4. Find ways to manage your own stress.

Accepting that being a parent comes with a large amount of stress will force you to find ways to manage your own stress in order not to pass it on to your child. It might mean having time to yourself every day, engaging in your hobby once a week, or cutting back on the things that are causing you stress. "You'll be able to respond to your children more calmly if you're also taking care of yourself," said Fosco.

ADVERTISEMENT - CONTINUE READING BELOW

Read this story if you want to know more about time-outs.

Trending in Summit Network