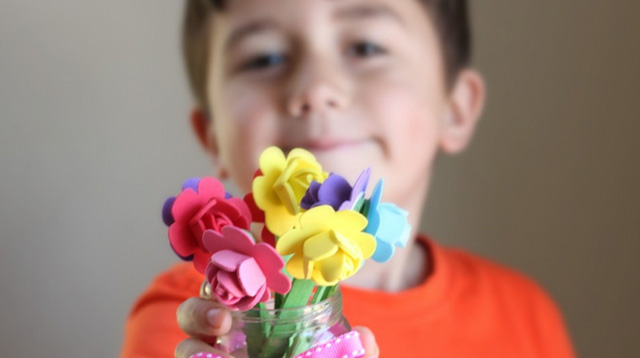 Photo from frogsandsnailsandpuppdogtails.com

They say that boys will be boys – but whether you are a mother, a wife, a girlfriend, or a sister, you'd wish more times in your life that this simple saying is not true. It is amusing to note that while it is quite rare to hear of men looking for 'good women' in their lives, many women feel that there is a lack of 'good men' for the taking.

For sure, the transition from being boys to good men does not automatically happen. Parents of little boys have very important roles in making them grow up to be respectful and loving men that women in their future will feel grateful to even just go out with.

Here are some tips for parents to help them in raising their boys to be good men.

1. Set an example.
The best way to make sure that your boys turn out to be good men is for parents to be good examples. For dads, this means consistently showing your sons how to treat everyone respectfully and with kindness. Be expressive of your love for your wife and kids to help your sons learn to appreciate the people they love. Admit mistakes when you make them and apologize. For moms, aside from also being a good example, this means helping your husband model the kind of behavior that you'd want for your son. Make kindness, respect, love, and care be bywords in your household.

What other parents are reading

2. Do not tolerate bad behavior.
Whether you have a son or a daughter, bad behavior shouldn't be tolerated. However, when it comes to boys, some bad behavior can easily slip through especially with the adage 'boys will be boys'. It is important to remember that bad behavior is never acceptable. Try to do some processing and gentle correction if your son displays bad behavior.

3. Give equal treatment to your sons and daughters.
How boys see themselves in relation to girls starts with what he sees at home. It is vital not to treat your son in such a way that would make him feel that he is better than girls. Treat both your sons and daughters equally and they will learn to look at other girls as their equals. You may also constantly mention examples of gender neutral stories such as that of a dad who chooses to stay home while the mom works in an office or those of many distinguished females who have accomplished a lot.

4. Do not spoil him.
This involves not giving him everything he wants, even from a very young age. Spoiling kids can breed a feeling of entitlement, as if they are entitled to anything they want. Instead, help him learn the value of hard work and persistence – values that every girl would want to see in a guy she's going out with. You can do this by letting your son work through difficult tasks or by letting him earn things that he wants.

ADVERTISEMENT - CONTINUE READING BELOW

What other parents are reading

5. Let him make his own decisions.
Decision-making is an important life skill that needs a lot of practice. Help prepare your son to make well-thought and reasonable decisions by letting him do a fair amount of it. These don't have to be huge, important decisions; they can be simple choices such as the clothes he wants to wear and what he wants to do for a school project.

6. Help him deal with his emotions.
Most young kids have to deal with different emotions that can put them in a meltdown or make them bottle these up.  Help him identify and name the emotions that he is feeling for different circumstances. Let him know that it is normal to have these emotions and he can deal with them in a positive way. Discuss acceptable ways of dealing with these emotions, including how to express his anger.

7. Highlight good role models.
Although you and your spouse are your son's most important role models, it is also good to highlight other good male role models. Help your son develop and nurture relationships with other men such as an uncle or a family friend. You may also talk about movies and stories that feature good male role models such as the How to Train Your Dragon movie and the Harry Potter book series.

What other parents are reading

8. Give him responsibilities.
Being responsible is something that also has to be learned early. You can help your son by giving him small age-appropriate chores around the house and making it clear that he is responsible for those tasks. Put importance in fulfilling his responsibilities by acknowledging when he is doing a good job at them and giving firm but gentle reminders when he is forgetting them. Doing household chores will also help avoid the male-centric way of thinking that females are the ones who are supposed to do the chores around the house.

9. Be affectionate and listen.
One of the most neglected aspects of raising sons is the emotional aspect, as boys are sometimes taught to be unemotional. Go against this notion and instead raise your son to be sensitive and emotionally-aware. One way of doing this is by being affectionate with your son and by listening to him talk about his feelings. This lets him know that it is okay to express how he feels and helps him learn to recognize these emotions in other people too.

10. Teach him to be a gentleman.
Chivalry's not dead and the only way to teach your son to be chivalrous is to show him how. It can be quite tricky balancing chivalry and gender-neutrality so make sure to accompany your lessons in chivalry with reminders that these are nice things to do that many women will appreciate and does not, in any way, mean that women are the lesser gender.

Trending in Summit Network