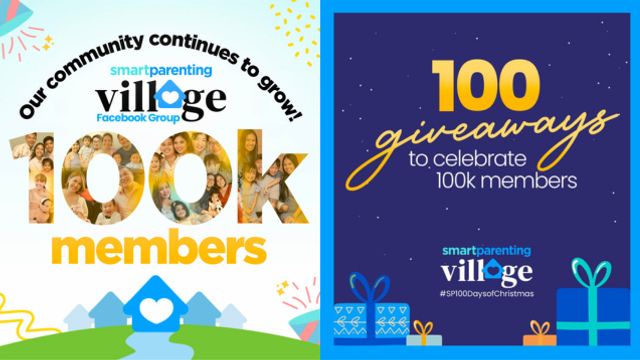 I can vividly recall the moment when my mommy friend, Freda Agustin, invited me to join the Smart Parenting Village Facebook group in 2019. I was pregnant with my first child and knew nothing about the path that lay ahead.
Within this Facebook group of Filipino parents, you can be yourself and ask anything. You can be a silent reader and pick up a lot of gems from other parents just by scrolling and reading the comments section. You can also be an active member, ask your questions, and share your reviews.
'It takes a village to raise a child; Smart Parenting Village was mine'
When I finally had the courage to post my first question, I was 30 weeks pregnant and asked what snacks I can eat. I received amazing suggestions, which led me to post another question. When I finally gave birth, I would answer questions from other parents and share my baby's milestones. It was a journey of needing and giving back, of comforting and being comforted, of sharing and listening, until you realized you were already growing in your parenting with the village.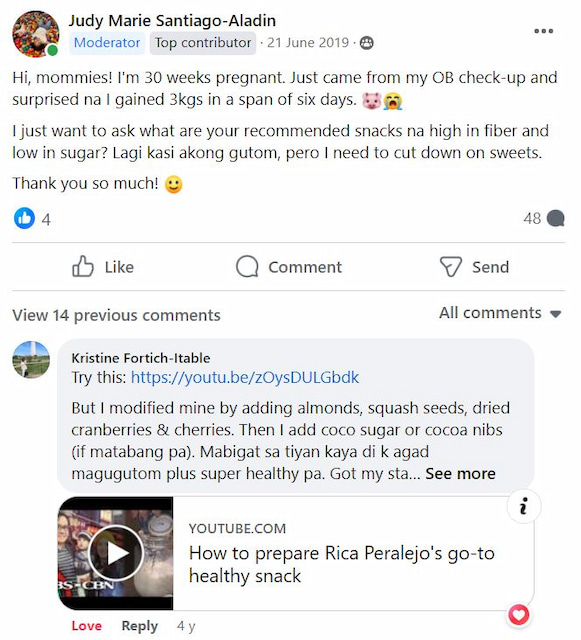 Recently, the Smart Parenting Village Facebook group hit a new milestone: 100k members. Imagine, there are 100k moms and dads who are navigating their parenting journeys together!
From being a member of the Facebook group, I'm now one of the editors of Smart Parenting. I can attest to how Smart Parenting Village is a gold mine for parents, whether they have one child or 10.
What goes inside the Smart Parenting Village
Most of the time, parents share funny anecdotes about their "lutang" or "nalingat lang ako" moments with their toddlers. Worth mentioning is when a mom shared that their toddler caught her and her husband during sexy time! These would draw laughs from the community, a breather every parent needs.
Issues discussed here are not limited to parenting. Moms can also share their thoughts and feelings about how they feel less sexually active after giving birth or how they feel about their mother-in-law who sleeps in the same bedroom.
In the group, a dad was able to comfortably ask for recommendations on trusted developmental pediatricians where he can bring his daughter. A dad was able to ask for help for his wife who is suffering from postpartum depression.
READ ALSO: Mom Of Boy With Autism: 'Pinarusahan Ko Ang Sarili Ko, Pero Tinuruan Niya Akong Magpatawad'
Product reviews, recommendation in Smart Parenting Village
Product reviews and recommendations from the mom and dad members are also considered top-tier, may it be "pampaputi ng puchikels," tracking devices for kids, and the best liquid foundation!
Members generously shared their "tipid" hacks in throwing birthday parties, do-it-yourself projects, and more. I remember flexing my husband's DIY walker for our daughter. While some members patronized me, some also expressed their concern about the walker's safety. It's the balance that Smart Parenting Village is known for. It is unbiased, it is authentic, and it cares. The group cares deeply for each other; they would even share notes on what razor they use for their pubes!
Behind the village is an indomitable mother figure named Sara Palma, who is a mom who serves as the gatekeeper, arbiter, and an enabler. The members are carefully filtered. The posts are moderated, carefully considering the headspace of parents. There's an abundance of giveaways and contests. One time, I won a package of laundry detergent products that we used for months!
Why parents love being a member of the Smart Parenting Village
Recently, Sara Palma asked the Smart Parenting Village members which posts helped them a lot in their parenting journey. It's touching to see moms tagging moms whom they've never met, yet made a huge impact in the upbringing of their kids.
For instance, Mommy Kathleen Faith Mendoza Agno cited the post of fellow mom Jan Heather Muro Aguila in 2020, on how she disciplines her child by setting a "quiet place."
"That time kasi super relate ako. Nahihirapan ako turuan ang anak ko, wala pang school kasi pandemic, may newborn pa ako, naffrustrate na ko. Naging eye-opener ang post na yun para mas maging matiyaga pa ako sa anak ko. Maraming post si mommy na binasa ko at very helpful talaga," Mommy Kathleen said.
Mommy Jan's post was featured as an article on Smart Parenting, helping more parents outside the group.
Mommy Cecile Vergel Balais meanwhile shared that as a silent reader, the group became her support system during the pandemic when she experienced mental health struggles.
The group also opened her up to understanding the conditions of other children, "May isang post na napapahanga ako sa mga magulang [kung] paano tanggapin ang anak nila na nasa Autism Spectrum Disorder (ASD)."
Mommy Melody Ang Tomelden meanwhile felt validated and less alone when she read a post from an anonymous mom who felt guilty about not being able to prepare a bento box and make nice craft things for her kids.
She said, "It helped me be reminded that I am still a great mom."
Mommy Mona Verdida likewise gave credit to an anonymous mom who warned about Roblox, "After reading this post, my husband and I decided to let her stop playing Roblox altogether."
After a few weeks, her 9-year-old daughter began to lessen her screentime, "Mas nakakausap na namin siya, and she gets to be more talkative. She learned sewing when she was super bored."
"Thanks to the post of the concerned mom, we were made aware of the bad effects of Roblox and 'saved' our daughter. Thank you po whoever you are," Mommy Mona said.
Mommy Mavic Eugenio meanwhile shared that as a working mom, she got reminded to find time for her son through a post by Mommy Ann Chim.
These and more are the conversations happening within the Smart Parenting Village. As we countdown to the holidays and in gratitude for the 100k members, Smart Parenting is holding the biggest giveaway exclusive to the group!
They say it takes a village to raise a child. Since 2019, I can proudly say that Smart Parenting Village is the village that helped me raise mine. If you are already a part of it, see you around! If you're not yet a member, join us here.