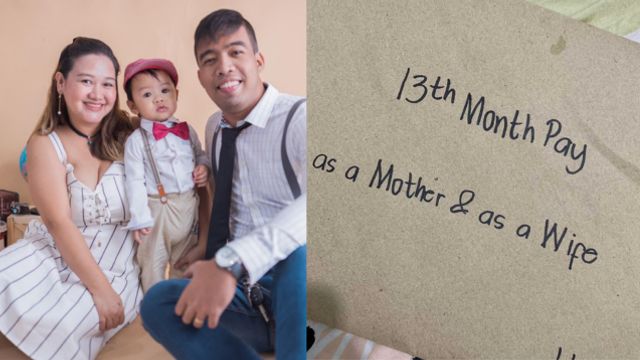 It's the most wonderful time of the year! Christmas season is upon us, and for some, it's more exciting because of a particular reaseon--13th month pay!
But for stay-at-home mommies (SAHMs), there's not much difference. We don't have 13th month pay--we don't even have monthly salary in the first place! The 13th month pay season will only mean longer queues in the mall, traffic, and watching others shop for Christmas presents. 
That's why this mom's Facebook post about her husband's gift went viral. Prell Agno's post was shared by over 27,000 netizens as of writing and it was of her husband's gift of an envelope with a note, "13th Month pay as a mother and as a wife, I love you, Labs."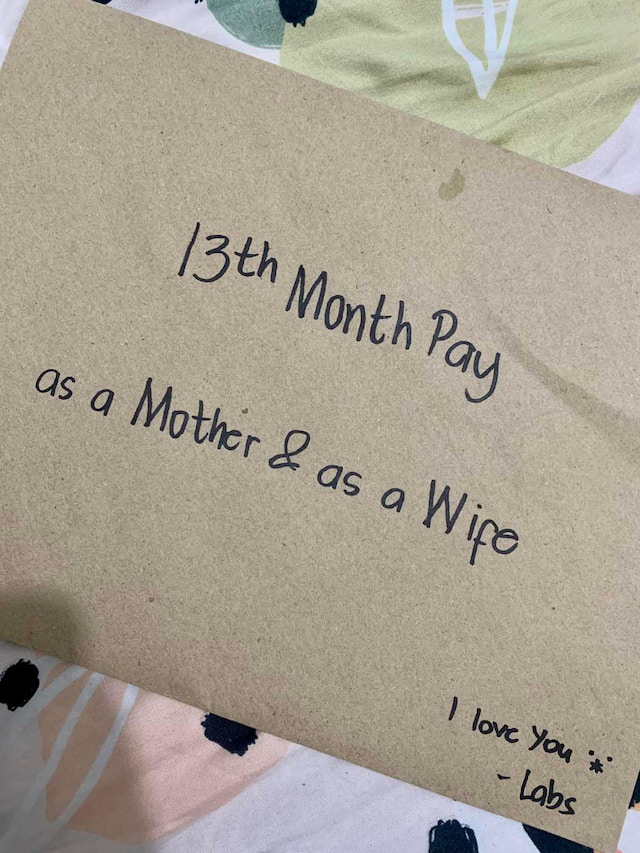 "Sana all," most of the comments said. And yes, from all of us, "Sana all!"
RELATED: A Letter To The Stay At Home Mom: What You Do Is Not Easy, But It's Valuable
Prell Agno wrote in Facebook, alongside the photo of the envelope, "Hooy! Grabe! Ang swerte ko sa asawa ko Lord. Thank you daddy, though hindi na kailangan pero thank you pa rin. Hindi dahil sa pera kundi dahil sa thought na ginawa mo ito. Sorry if may times na pagod ako to serve you pero please know na pag naka rest ako at kahit may sakit ako I will make sure to do my best to perform my duty as wife and mommy. I hope I did! I love you so much, kayo dalawa ni baby. Becoming a full time mom and wife was the best decision I ever made because of you two. 
She adds, "To all full time mommy [sic]: okay lang walang ganito basta happy kayo na na serve nyo yung family nyo best Christmas ever na yun! You got me mommy! Merry Christmas to all full time mom! The best ka!"
RELATED: Motherhood Is a Full-Time Job Already. Asking for Help is Not a Sign of Weakness
Smart Parenting reached out to Prell through Facebook messenger to talk about her viral post. 
"Oh no, I never expected this," was her first reaction when she was to be featured in an article. She didn't expect that her Facebook post would gain so much attention from netizens, she just wanted to share her happiness.
Prell is a stay-at-home wife and mom to their only son, who is a year and 9 months old. Her husband works as a Licensed Real Estate Consulant at Hanep Buhay, their own real estate business. 
"My husband just wanted me to buy anything for myself," Prell shared, when we asked her the reason why her husband gave her 13th month pay. 
RELATED: Masayang Mahirap Maging Stay-At-Home Mom, Narito Ang Mga Natutunan Ko
It may sound simple but for many SAHMs, it is rare to get the chance to buy anything for themselves. We always prioritize the child's needs, new clothes for them, or something to decorate the house. Prell's husband understood that, and went out of his way to make sure that her wife is able to buy something for herself. 
Prell shared that her 13th month pay as a mother and wife will go to her personal needs like new clothing, as well as Christmas gifts for her loved ones. 
She said that she was really surprised by her husband's gesture, and cried when she received it. As she wrote in her Facebook post, it was not only the 13th month pay that she appreciated, but the thought that came with it. 
More than the money, what made the gesture special was the thought. Her husband showed her that he fully understands what it's like to be a stay-at-home mom and wife, and showed her that he appreciates her sacrifices.
RELATED: Why I'm No Longer Embarrassed To Say My Dream Is To Be A Stay At Home Mom
Prell has a short message for other stay-at-home moms. "Hi mommies, especially to all stay-at-home mommas, please know that you are cared for, valued and appreciated. I know it's tiring but always remember to rest and have time for yourself, sometimes. We may not have our dream careers now but our little ones (babies) and our big boss (our husband) is the best company to serve and to work for. It's priceless! Salute also to all working moms, you are extraordinary!!! Merry Christmas and God bless you all!"
Prell, Alexis (her husband) and their son are currently based in Cagayan De Oro. 
Enjoy your 13th month pay as a stay-at-home mom and wife, Mommy Prell!