5 Ways to Protect Your Child When You Post His Photos Online

Hayden Kho was right to put Scarlet Snow's Instagram account on private mode.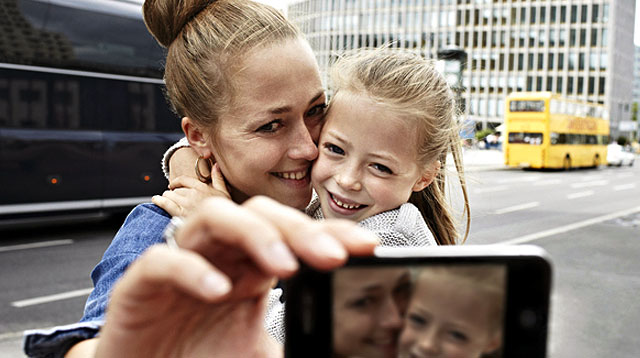 While we love checking out Scarlet Snow Belo's Instagram account, we understood when her dad Hayden Kho decided to switch her Instagram account mode to private a little over a month it was created. (You now need to be "approved" to be able to follow her feed.) The move would make it more challenging to repost or embed her photos on social media networks and websites.

On Hayden's mind is the online safety of his daughter, but it should be on yours, too, with your kids even if you or your child are not a celebrity.

Internet predators do not discriminate--they don't care whether your child is famous or not.

To protect our kids, the first thing we need to do is be aware of how much of our children's lives are we putting out there for our family and friends to see. Online predators use the searchable profiles of today's social media and chat sites to pick and stalk their targets, and they have a lot to choose from. A 2015 study by internet company Nominet found that parents would have shared around 1,000 photos of their children on social media by the child's fifth birthday. A 2016 survey from the University of Washignton and Michigan found that kids as early as aged 10 to 17 "were really concerned" about the ways parents shared their children's lives over the internet. 

ADVERTISEMENT - CONTINUE READING BELOW

Facebook is already working on an algorithm to ask you twice before posting your child's photo on their site. And in France, privacy laws now allow kids to sue their parents for posting intimate photos of them on social media without permission, and it comes with a huge fine of up to 45,000 euros (around P235,000) and up to a year of jail time.

What other parents are reading
Here are other things you need to do for your child's online safety. 
1. Limit your posts about your kids.
This is hard, we know, but it has to be done for your child's safety. You or friends close to you may not have had experiences with the dark side of the internet, but never think it cannot happen to you or your child. Identify theft is real; celebrity mom Maricel Laxa-Pangilinan fell victim to identity theft recently. Most alarming is digital kidnapping, wherein some role players act out their sexual fantasies children's photos, is real, too (read all about it here).

2. If you have to post, first check your privacy settings. 
Social media sites have these to protect you and your child's privacy, so use it. Understand it or let someone tech-savvier than you to explain it to you and/or adjust your settings for you. The safest is set it that only your family and closest friends can see your posts. Be strict as well on who you add to your network--never add anyone you don't know. Also limit tagging other people. The more you tag, the less control you have of who sees the post because once you tag other people, their security settings will then be applied to your post as well. 

3. Choose the photos you share. 
Predators are not just targetting photos of kids all made up, swimming or bathing. It can even be the most innocent looking photo of a child in their sports jersey can help a stalker target them. Posting photos of when your child is sick or having a tantrum is also frowned upon; so does prodding them to perform for a video is also not good (as opposed to capturing a school performance). Always put a watermark on your photos, too. It's like a signature that you add to photos, so that other people won't be able to use them for any other purpose. 

What other parents are reading
4. Don't give away sensitive information. 
We get it. It's exciting to share your child's milestones with your friends that you connect to via social media. But stop yourself from oversharing information such as her school, her schedule, or routine. Taking photos of them at every part of your house, or in areas that reveal your address is a no-no. Checking in at a certain place or adding a location tag on your photos is considered giving out your whereabouts. Also refrain from posting pertinent documents such as their school ID, passport, or birth certificate. Again, always think twice before you post.

5. Control what other people post about your kids. 
If somebody else, say a grandparent or a relative, posts photos of your child on your behalf, ask them kindly to take them down if you feel that it doesn't meet your security standards. You can also offer to tweak lolo or lola's security post's security settings. Facebook and Twitter also has a function that helps you take down unwanted photos. In the same way, if you're posting a photo with other kids in it, make it a point to always ask the child's parents if it's okay to do so.
ADVERTISEMENT - CONTINUE READING BELOW
As parents, we'd never want any harm to come to our kids, whether that's physical or emotional. Add to that the dangers social media and other online threats that can affect our kids' development. The Internet is agift of connectivity and convenience. But as community, we should all be vigilant in protecting our children in this not so new but still largely unexplored space called the World Wide Web. 
What other parents are reading

Trending in Summit Network