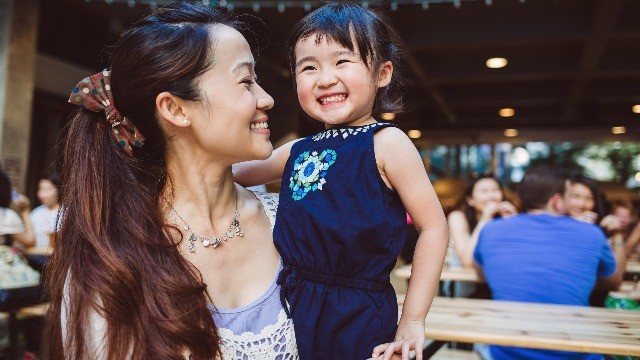 You take one look at another mom's story on Facebook and you think, how can her story be so different from mine? Well, each mom's story is different—after all, we each face a unique set of challenges every day! That alone makes moms every bit a superhero. But whether you're doing it right or wrong is not for anyone to say—except you. Hey, we do the best we can, don't we?
[ads:2]
Beyond giving up the last remaining piece of fried chicken for your child or foregoing new shoes to pay for after-school music lessons, here's how else you know you're doing a great job being mom:
You're the first one up in the morning
Sleep-deprived you makes sure you're up in the morning ahead of everyone else so you can prepare breakfast for the kids and send them off to school with homemade baon in their lunchbox. It's just not the same if mom's not the first one the kids see in the morning.
You're an info-generating machine
When your child is sick and the symptoms are confusing, you're up all night Googling about it and exchanging messages with your pediatrician. You just won't give up until you make sense of what's going on with your child—even if it means scrolling through pages upon pages of Google search results.
[ads:7]
You screen what your kids see
You're currently binge-watching the latest season of your favorite dark comedy drama or the PG-13 movie you missed during its regular showing at the cinema. But of course, you don't turn on the TV until the kids are asleep. By that time, you're likely pooped but that's the price you pay for making sure your kids watch only age-appropriate shows.
You're your kids' teacher and cheerleader
Your child's grades are out and they're not what you expected—instead of dwelling on the outcome, you give your child a pat on the back for doing his best on that grading quarter instead. You make sure he doesn't get too down about it and you reassure him that you would be there to help him make it better.
You're resourceful
Your grade schooler's science project is due soon and you both haven't gotten started on the paper mache planets you planned to do. Rather than waste time worrying, you head over to the bookstore to get ready-made styro balls. That's what moms do: we make do!
[ads:13]
You make sure you choose only the best for your family
We're not just talking about big decisions but more importantly, the basics. Like drinking water, for instance. You've pored through several brands in the market before deciding on one that meets the strictest standards: your standards. You're one of many mommies who have made Absolute Pure Distilled Drinking Water their choice for the family. As the first water brand in the country to receive a National Sanitation Foundation International certification, it should get your approval, too, right?
Absolute Pure Distilled Drinking Water is the perfect way to show a mom's absolute love. Make sure he has a bottle in his lunchbox today and let him feel the love! And remember, you're an absolutely awesome mom for doing what you do every day. Whatever challenges you face or choices you make, know that you're doing a great job. Let no one tell you otherwise!
[ads:16]
Find out more about Absolute Pure Distilled Drinking Water and the amazing ways it helps moms handle the challenges of parenthood: https://www.facebook.com/AbsoluteDistilledWater
This article was created by
Summit Storylabs
in partnership with Absolute Drinking Water.