7 Survival Tips for Working Mothers

So much to do, so little time? Here are tips to help you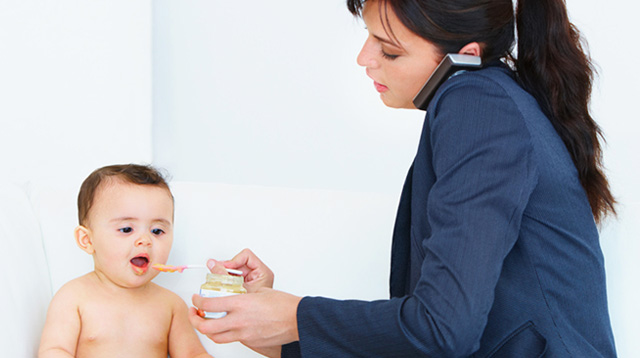 Photo from ericayitzhak.net

When I was a single young professional, I honestly thought that succeeding in my career and climbing the corporate ladder was the best thing that could happen in life. But when I got married and became a mom, everything changed. Even though I am still working and doing my best to accomplish things in life, success, titles and recognition are no longer my motivation; rather, being able to make a difference in my job and at the same time fulfilling my role as a mother is what keeps me going.

Most working mothers strive to maintain a successful career and manage a family at the same time. Some are able to do it seamlessly, while others struggle to keep a sane lifestyle. But the reality is, having a perfect balance between your career and motherhood can be quite a challenge.

What other parents are reading


May Bautista, 40 years old and a marketing professional, feels that being a working mother is a huge challenge.  Despite having only one daughter, time is still an issue in balancing career and motherhood. "I am working against time and am hoping for a lot more of it.  But I still try my best to manage the daily routine and care for my daughter. The joy and fulfillment that I gain from being a mother and enjoying my job keep me going."

It may sound easy, but we all know it isn't so. Here are a few tips to help us working mothers survive the pressures, the stress, and the guilt:  

1. Redefine your personal definition of "success".
Identify what's important to you -- what your priorities are, and what gives you satisfaction in life. Often, our definition of success is being able give our best in all aspects of our life – family, career, and everything else.  But sometimes, you need to focus on a few important things. Eventually, you will come to a point where you will attain a more realistic definition of success which perfectly fits into your current state of life.  

2. Focus on being productive.  
Moms often carry the pressure of having to do so many things in so little time. That is why it's quite easy to get overwhelmed by all the things that you need to accomplish. Sometimes, trying to get everything done all at the same time and spreading ourselves too thin is counter-productive. It is important to identify the things that cause you to be distracted and keep away from them. Try to focus on accomplishing one task at at a time, instead.

ADVERTISEMENT - CONTINUE READING BELOW

What other parents are reading


3. It's okay to say "no".
Do you feel guilty when you say "no"? Whether it's at home or at work, most of us may feel uncomfortable doing so. However, before making a decision, consider the amount of time you need to commit to a certain task. Take a moment to think if it will come into conflict with certain priorities at home or even at work. Saying yes to everything and everyone can be stressful and exhausting. Give yourself a break and try not to overcommit.  

4. Break free from mommy guilt.
As a working mother who works long hours, there is a tendency to feel guilty about a lot of things, such as, missing a school activity, coming home late from work, and being too tired to play with your kids. There is also a certain amount of guilt when you have to leave work early to attend to your family, come in late for work because you have to prepare breakfast, or feel really exhausted in the middle of the day because of lack of sleep. Most of us have been programmed to believe that if we are not with our family 24/7, we are not being a good mom. It definitely won't hurt your children if you were away for a few hours to work or spend time alone. Lose that guilt and focus on the quality time you spend with your loved ones or that wonderful feeling of accomplishing something at work. When you feel good about your work and family, the less you'll feel guilty.  

5. Refocus your energy.
Spend more of your time and attention in the present moment. Worrying will deprive you of precious moments spent with loved ones or even being productive at work. Rather, ask yourself what makes you happy and refocus your worries on the things that make you feel good.  If you're too overwhelmed with your workload, be thankful instead that you have a job that supports your family. If you're worrying about your children's future, think about what you are able to provide them right this very moment – love, care, basic needs – and be grateful for what they are enjoying now because of you. Live in the moment and enjoy the simple things you have in life.

CONTINUE READING BELOW

Recommended Videos

What other parents are reading


6. Pursue your passion.
"Choose a job you love, and you will never have to work a day in your life." – Confucius

I honestly live by this rule.  Although earning big and getting recognition can promise a good life, pursuing what you are passionate about will definitely make your life more rewarding. If you will be working for the rest of your life, shouldn't it be something you really love doing? Though there will definitely be a lot of factors to consider in relation to financial stability and security, there will be ways and opportunities out there to find your dream job without sacrificing your family's future and your role as a mother. All you need is patience and commitment to discover where you are truly meant to be.  

7. Love yourself.
With the demands of your career and rethe sponsibilities of motherhood, sometimes you will feel that all you do is work and care for everyone else, with no time left for yourself! In the midst of all your responsibilities, it's important to have a few moments to reconnect with yourself and rediscover your self-worth as a woman. This will make you feel good about yourself, your loved ones, and your situation in life.  

Being a working mother is actually a blessing as it gives your life more balance. You have the opportunity to accomplish things, and build your confidence through your career. At the same time, you can be a mom who will do everything to give your children a better future. Keep in mind that your family, most especially your kids, are the very reasons why you keep striving for the best in life. All it takes is the proper motivation to enjoy the best of both worlds.  

ADVERTISEMENT - CONTINUE READING BELOW

Celebrate your pregnancy milestones!


Enter your details below and receive weekly email guides on your baby's weight and height in cute illustration of Filipino fruits. PLUS get helpful tips from experts, freebies and more!

You're almost there! Check your inbox.


We sent a verification email. Can't find it? Check your spam, junk, and promotions folder.

Trending in Summit Network