9 Ways Parenthood Changes Your Relationship With Your Husband

Being mom and dad is fulfilling, but can be very tiring, too.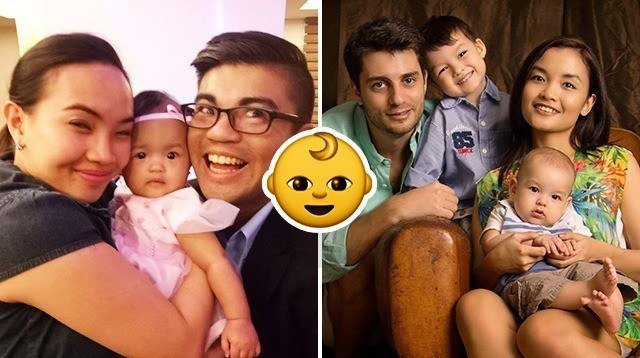 Having kids is undeniably a sign of commitment on a deeper level between you and your partner. That's all good -- but you should know that having a baby will also change your lives in big ways! If you aren't a parent already, or are expecting your panganay in a few months, know what to expect once the baby is born:

1. You'll think about money differently.
Do you splurge on payday? Or are you super kuripot?

Vicente, 44, husband to Lucci and father to Luc:
"It made my wife realize that toy collecting is a good investment. Now we go toy shopping together—for our son and for ourselves."




Regina, 35, wife to Oneal, mom to Lucas:
"Sometimes we need stuff for ourselves, like vitamins, new clothes, and toiletries. We forget about all that because we need to get new pajamas for the baby, diapers, wet wipes, or vaccinations. Our needs can wait!"

ADVERTISEMENT - CONTINUE READING BELOW

2. You'll think a little less about "me, myself and I."
In fact, sometimes you might be your own last priority.

Paolo G., 30, dad to Fionna and husband to Maanne:
"I spend more time with my girls. It's time I would normally spend on video games and board games, and I don't regret it one bit. I look forward to talking to them both every night, and I help more around the house because I've seen how hard it was on my wife. They both shamed me to become a better father, and I'm happier for it."




Paolo F., 38, husband to Roma and dad to Gabriel Paolo and Giana Paula:
"Parenthood made us more responsible—keeping us on our toes to make sure that our kids are okay."




3. Say goodbye to movie dates, and hello to Netflix.


CONTINUE READING BELOW

Recommended Videos

Regina:
"We used to watch movies a lot. But now, going out to see a movie takes so much planning! We have to get the right schedule, figure out where to watch, and calculate how long we'll end up being away from the baby. We usually take turns watching a movie so that one of us will be with the baby! Now we just watch things on Netflix. And no, we don't get to Netflix and chill!"

Rej, Oneal and Lucas: 


What other parents are reading

4. You'll feel closer as a couple.


Gutch, husband to Rory and dad to Hadouken:
"Our team dynamic has definitely leveled up. We survived the first six months of bringing up Hadouken by ourselves, and now we work a lot better as a team. This is great because not only do we work together as parents, but also for our creative work and as volunteer mentors for the young adult community in our church."

ADVERTISEMENT - CONTINUE READING BELOW




Aris, 29, husband to Ria and dad to Llorde Revan:
"Parenthood made us even stronger. The challenges of raising a child together are so different from just taking care of an adult who can do anything for themselves."





Lorie, 33, mom to one boy:
"We've been married for only a little over two years, but we matured a lot as a couple in just a matter of months since our baby was born. My husband and I are the best of friends, and I can say that we became even closer since then. We definitely learned to have great teamwork from the first time we changed our newborn's poopy diaper together! We both adore our son a lot, and we love watching him grow."

ADVERTISEMENT - CONTINUE READING BELOW

Katrina, 34, mom to Cassidy and wife to Dan:
"Parenthood has, so far, made some things better and reaffirmed our relationship. I love watching my husband  take care of our baby. And I love that he appreciates me even more than before—because carrying a baby for nine months, giving birth, then becoming the primary caregiver, is really hard, and he gets it (for the most part)!"





5. But you'll probably have much less sex.
For some time, you're going to be more like roommates instead of husband and wife or partners.

Trina, 34, mom to Selena and wife to Jim:
"We're a lot less intimate. We're still affectionate toward each other, but admittedly we don't cuddle as often. At first, it was post-pregnancy stuff. My body needed time to heal, but now I'm usually tired and rarely in the mood. I feel so busy trying to get other things done, and it's just fallen low on my priority list. If I can get one more item off my to-do list, it's to take a nap, or an extra half hour of sleep—that's more important. I know it's been tough on my husband, and I feel incredibly guilty, but he's been so patient and understanding, so I'm very lucky. I do know that we need to fix this or things could get tough."

ADVERTISEMENT - CONTINUE READING BELOW

Jon, aged 50, father of three, husband to Jeni:
"Before the kids, the wife would look after my needs. After the kids, I'm back to being a married bachelor."




Rory, 34, wife to Gutch and mom to Hadouken:
"I feel a little guilty that Gutch is living with a mom more than a wife."

Lorie:
"The first few months were tough. Nothing kills romance like the combo of a crying newborn and the perpetual lack of sleep! Feelings frequently changed from "We-made-a-beautiful-thing-together-I-love-you-so-much" to 'I-already-got-the-little-human-cut-out-of-my-body-after-carrying-him-for-nine-months-please-do-the-four-a.m.-feeding.'"

6. Sometimes you'll feel like parenthood sucks.
Okay, your baby is really cute, but this parenthood thing is exhausting!

Katrina:
"There was a recent study that shows how relationships have a tendency to go downhill and couples are less happy after having kids. I'm ten months in, and considering the sacrifices we've made and the challenges we've faced, I can see how that might be the case. We haven't even hit hard stuff, like the terrible toddler years, the teenage mood swings, or big financial woes."

ADVERTISEMENT - CONTINUE READING BELOW

What other parents are reading

7. You might fight more often, or discover things you don't agree on.


Katrina:
"More stress, less sleep and rest, and more intense emotions that led to disagreements, frustrations, and resentment. As much as we appreciated each other more, we also kind of felt a little extra frustration with each other, and, on my end, some resentment. Ultimately, I am still the one who does more to take care of the baby and run the house. I also work full-time, and, more often than not, I put in extra hours at home. During the first several months, sleep levels were low, and stress and emotions ran high. I was always tired, stressed, and easily frustrated. That meant that I was sometimes moody, and whatever might set me off would, in turn, set my husband off. The few precious hours we had together, we sometimes spent in frustration. I spent a lot of time sitting and breastfeeding the baby or trying to put her to sleep at all hours of the day and night, which left a lot of time for my frustrations and stress to brew. I felt like the whole world was on my shoulders."

Noelle, 34, wife to Guillaume and mom to Elliott and Lucas:
"In some areas, my husband and I have very different ideas about child-rearing, I guess, primarily due to the cultural gap. However, there are things we both feel very strongly about, such as nutrition and instilling what we consider to be the right values."

ADVERTISEMENT - CONTINUE READING BELOW




Lorie:
"From time to time, we'd find ourselves having little fights over things we'd never fought about before. But afterwards, we'd be able to adjust to our new normal."

8. But you'll learn to be more patient with one another.


Joy, 38, mom to Vivi and Vanna, and wife to Bong:
"[My husband is so hands on, and] it made me more forgiving of whatever habits he has that are irksome, haha!"




ADVERTISEMENT - CONTINUE READING BELOW


9. You'll discover new things about each other.


Joy:
"Nothing prepares you for that overwhelming feeling when you see him making the kids laugh, giving them a bath, and cradling them in his arms while they sleep."

Big and Paola, parents to Hunter:
"I didn't think he would enjoy changing diapers as much as he does. The baby is priority, but he still surprises me with bags and dates occasionally. It's been so much hard work, but it's been fun being in it together. Of course, having such an adorable and loving little man makes everything worth it."

Noelle:
"I am always blown away when I see just how strong his commitment is to our boys and their welfare. When I see how in love he is with them, I feel my heart swelling with pride and love for my husband. While it is true that having kids presented a lot of new challenges for our relationship, parenthood also gave our relationship a depth and connection that I had never expected."

Vicente:
"My wife enjoys playing Lego with our son!"

Katrina:
"I think parenting has really kind of led us to surprise each other and be more impressed with each other, and not just appreciate. I am impressed by Dan embracing diaper duty. This is a guy who wouldn't touch any form of dirty diaper until it was his own baby!"

Celebrate your pregnancy milestones!


Enter your details below and receive weekly email guides on your baby's weight and height in cute illustration of Filipino fruits. PLUS get helpful tips from experts, freebies and more!

You're almost there! Check your inbox.


We sent a verification email. Can't find it? Check your spam, junk, and promotions folder.

Trending in Summit Network