This Mom of Eight Couldn't Say No to an Abandoned Baby. She Was 53 at the Time

She had four biological children and fostered four siblings. She asked God why she had to find this baby.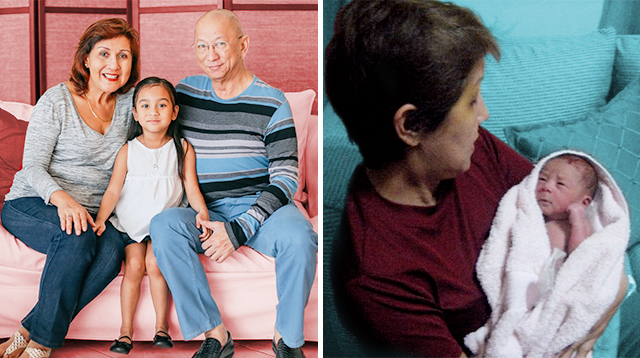 When Lollette Oliva-Alipe, 61, wrote to us with her intent to share her family's story, we first fixated on her marriage. She has been married to her husband Em for 38 years, but they separated for five years during those almost four decades. 

As we read through her essay, however, we slowly grew curious about her family. Those who know her call her "mom of multitudes" — she fostered four children and adopted a baby when she was 53 and Em was 58. And the circumstances behind each child were overwhelming, inspiring and worth sharing.

What other parents are reading

A fateful kind of love

Lollette and her husband, Em, went through a five-year separation in their 38 years of marriage.

PHOTO BY

courtesy of Lollette Oliva-Alipe

Lollette and Em separated just before their seventh wedding anniversary in 1987. He went back to Cebu to set up his business while Lollette stayed in Manila with their two kids, Gabby and Monica.

During their time apart, the couple became closer to their faith. Though Em achieved success as an entrepreneur, he felt empty because he didn't have his family. "He prayed that we would one day reconcile," Lollette shared in an email interview with SmartParenting.com.ph.

Throughout the separation, they maintained a civil relationship because they didn't want it to affect their children.

ADVERTISEMENT - CONTINUE READING BELOW

"On November 1991, he was driving me to visit my father who had a bypass in Makati Med. We were stuck in a two-hour traffic jam, and we began to talk about what had happened in our marriage," Lollette says. "By the time we got to the hospital, we were able to tell my father that we had decided to restore our relationship."

Lollette decided the whole family join Em in Cebu and start their marriage over. Their recommitment bore two more children, Josh and Sarah. 

What other parents are reading

Becoming foster parents

Only a strong and committed relationship could bravely take on what was coming next: foster parenting.

In 2007, Maurice, Nana, Savina, and Luigi, came into the lives of Lollete and Em. They were siblings whose father left for Italy for medical treatment but unfortunately passed away while in that country.

Maurice, who was 21 at the time, was a fellow church member of Lollette and Em. It was how they found out that with their father's death, the four siblings had no one. "While arranging a memorial service, we met their relatives and thought they would be taken care of. A couple of months later, we out that no one was taking care of the kids, who were at that time between the ages of 13 and 21. Em and I began getting more involved with the children's welfare and decided to let the youngest two, Savina, 15, and Luigi, 13, to live with us," Lollette shares.

A Spanish couple, who were friends of the children's father, planned to adopt the other two, but it did not push through. Em and Lollette then decided they should all just live under one roof their family — they now had eight children.

CONTINUE READING BELOW

Recommended Videos

What other parents are reading

From left (front row ): Jacob, Maki, Jolo, and Reka. Second row: Luigi, Josh, his girlfriend Adi Abad, Gabby's partner Erica Hocson, Gabby, Savina, Lollette, Em, Sarah, Monica, her husband Carlo, Maurice, and his wife Jang.

PHOTO BY

courtesy of Lollette Oliva-Alipe

Throughout this ordeal, Lollette did not hear a word of complaint from her four biological children. "They had to give up so much. They shared rooms, our limited resources, even our attention to making the others feel part of the family," she says. "I am most proud that until now they all remain close and love each other as siblings.

The next two years passed with Lollette embracing her role as a mom of eight. She was now raising teens and adults. Gabby was 28 and was based in Manila with his band, Urbandub. Monica was 23, Josh was 17, and Sarah was 15. They didn't need mom at their beck and call, so to speak. 

Little did Lollette know, however, that another child would fall onto her lap and put her family's lives into a frenzy.

ADVERTISEMENT - CONTINUE READING BELOW

What other parents are reading

A new mom at 53

On October 4, 2009, Lollette and Em were about to go to bed when they heard a commotion outside their home. A security guard was asking for help — he found an abandoned baby at the vacant house across their street.

"Our housekeeper told us that the guard thought the persistent crying was coming from a stray kitten, or maybe even a ghost," Lollette writes on her blog, Mom of Multitudes. "But when he went over to check, it was a baby!"

The couple hurried out of the house. When Em saw the baby, he let out a sound of pain — the baby, a girl, was lying on the muddy grass, naked. She had been inside a plastic grocery bag, with only a torn blue cloth covering her legs. Her lips, arms, and legs were already blue from the cold, and she was crying pitifully. Lollette rushed to the baby's side.

"As soon as I picked her up and cuddled her to make her warm, she suddenly stopped crying, as if she knew that she was already safe."

What other parents are reading

A security guard found Maki abandoned inside a plastic bag.

PHOTO BY

courtesy of Lollette Oliva-Alipe

ADVERTISEMENT - CONTINUE READING BELOW

They wrapped her with a thick towel and rushed her to the nearest hospital. Em was worried of a head injury since the baby's head was covered with blood.

At the emergency room, they learned the baby was only a few hours old because her umbilical cord was still fresh. She was suffering from hypothermia but was fine otherwise, according to the doctors.

The next couple of hours passed like a blur. Lollette's husband called the Department of Social Welfare and Development (DSWD) to report they found an abandoned baby, but the organization could not shoulder the expenses unless they moved to a different hospital. The agency also did not have anyone who could take care of the baby while she was under observation. Lollette and Em then decided that they would watch over the baby for the time being.

What other parents are reading

Lollette believes that God brought them to Maki.

PHOTO BY

courtesy of Lollette Oliva-Alipe

ADVERTISEMENT - CONTINUE READING BELOW

While they were in the hospital, Lollette had a thousand thoughts running through her head. "We were angry at the one who did this to an innocent baby, we were aching for the baby who could have died, and we were unsure of what we were going to do with her. But Em said that the very first priority was to make sure that she was healthy," Lollette writes.

She also questioned God. "I asked Him, 'Why us, Lord? You already gave us four additional kids!"

Most importantly, Lollette wondered whether she even had to energy to become a mother to a newborn in her 50s.

What other parents are reading

"Can we raise a child from square one all over again?"

"Em had just retired and started a foundation to give livelihood to women in poor barangays, so how will I be able to do the work required if we have a baby?" Lollette shares with us.

But it seemed everything was going according to God's plan. During the five days they cared for the baby, the whole family fell in love — there was no question they were taking the baby home. "We named her Faith Makana. Maki for short," Lollette writes. "Makana in Hawaiian means gift — she is a precious gift from God."

What other parents are reading

Maki takes over

Lollette's husband, Em, is completely enamored with their youngest daughter, Maki.

PHOTO BY

courtesy of Lollette Oliva-Alipe

ADVERTISEMENT - CONTINUE READING BELOW

It turns out a maternal instinct never really fades. "The advantage of having raised eight other children is she is the beneficiary of our tested and refined parenting skills. No hits and misses anymore," Lollette shares.

But it was all hands on deck for the family. "During the first month, the kids made a schedule as to who would take care of Maki at night, while I took care of her during the day," Lollette shares.  "They learned how to make her milk, sterilize the bottles and change her diapers. They learned how to burp her and lull her to sleep."

Maki's arrival turned Lollette and Em's world upside down.

PHOTO BY

courtesy of Lollette Oliva-Alipe

At 53, Lollette was juggling monthly checkups and vaccinations and was back to reading children's books. "Formula milk fights for space with my bottle of red wine," she shares. "Maki's routine had become our routine."

ADVERTISEMENT - CONTINUE READING BELOW

Even Em's world changed when Maki came along. "No matter how busy Em is, whether he is texting his business partner or crouching over his laptop, the moment he hears Maki squeal, he rushes out of his room to check what is happening to her," says Lollette. "His usually stern expression immediately softens when she beams at her 'daddy.'"

What other parents are reading

Borrowed time

Lollette with Maki who is now 8 years old.

PHOTO BY

courtesy of Lollette Oliva-Alipe

Lollette's youngest is growing up as a bright and active grade school student. "[Maki] keeps me young," Lollette explains. "I have to keep up with her activities like family fun runs, mother and child activities, swimming lessons, ballet, and art classes."

Lollette has entered her 60s, and she has become more mindful of the time she spends with Maki. "We are very aware that we may not be around for her, so we are more conscientious about building memories and teaching her the values we want her to have," she shares.

Those values include teaching her the "3 Rs" that, Lollette believes, are essential for raising a well-rounded child. "We want her to learn to be respectful, responsible, and reverent," Lollette shares.

With their borrowed time, Lollette wants to shower her daughter with all the love that she can offer. "I want her to grow up never ever feeling that she was not loved and accepted. God planned her life, and she was meant to be where she is and that she has a greater purpose in life, just like in the story of Moses," Lollette shares. "I pray that she will always remember her worth through my eyes, and through the eyes of Jesus."

ADVERTISEMENT - CONTINUE READING BELOW

As much as possible, Lollette and Em want to make Maki always feel loved and accepted.

PHOTO BY

courtesy of Lollette Oliva-Alipe

What other parents are reading

Celebrate your pregnancy milestones!


Enter your details below and receive weekly email guides on your baby's weight and height in cute illustration of Filipino fruits. PLUS get helpful tips from experts, freebies and more!

You're almost there! Check your inbox.


We sent a verification email. Can't find it? Check your spam, junk, and promotions folder.

Trending in Summit Network