'Every Bad Day Is Better Than No Day': Breast Cancer Warrior Arms Daughters For The Future

"We freely talk about breast cancer at home and I encourage them to ask me questions any time."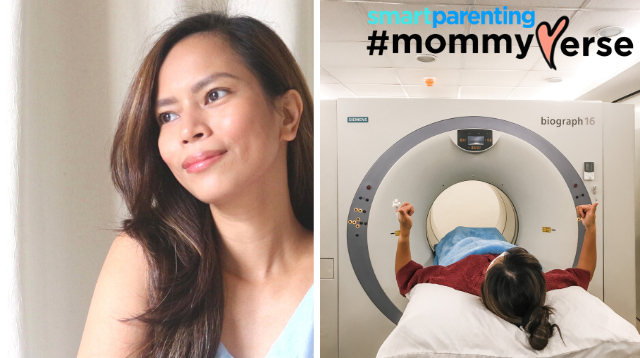 It was just the size of a monggo seed. April Perreras, mom to two girls, found a lump in her right breast late last year.

She was no stranger to cysts though. The former ER nurse turned stay-at-home mom has a history of benign cysts in her mid-twenties which all disappeared when she became a mother.

So after successfully breastfeeding her now nine-year-old and four-year-old daughters for a little over a year each, "I thought it was just my hormones acting up," says April. After April informed her OB-Gyn, she went for a mammogram early December 2021.

The results were normal. But in January 2022, "I felt the same lump was getting bigger so I got scared." It was also during the Omicron surge so April was hesitant to step outside her home.

The Perreras have two girls.

The diagnostic tests

After an ultrasound at the Asian Breast Center, "they already saw that my lump did not look normal." A spot mammogram was immediately done on April's right breast and she was told it could be one of two things: benign or pre-malignant.

ADVERTISEMENT - CONTINUE READING BELOW

A molecular breast-imaging was also suggested and April returned to the clinic the next day to have it done immediately. In just a few minutes, the procedure confirmed that it was a highly suspicious mass.

April went through a series of diagnostic tests.

"I remember the days when I was getting tested and did not know what the problem was, the fear took a toll on my mental health. It was a very hard period for me."

Once she finished the diagnostic tests, the best option to confirm April's condition was an excision biopsy which she did immediately.

READ OUR OTHER #MOMMYVERSE STORIES: 'Basketball Helped Me Bond With My Son,' Solo Parent Celebrates UP's Historic Victory, And Says It Helped With Her Mental Health Struggles

The two words that changed her life

Everything happened within a few days and April admits that she was anxious and could not sleep during the weeks leading up to her diagnosis. 

CONTINUE READING BELOW

Recommended Videos

"I was hopeful and prayed hard for it to be a benign finding. I also prayed hard for strength and acceptance if ever the results were not in my favor.

A week after April's biopsy, the results came in.

"The second I saw the words 'carcinoma' and 'invasive', it was like my world fell apart. I was devastated.

"I could not believe it because I worked so hard to have an active lifestyle to be healthy for my family. April has been actively staying healthy and is now on her fourth year of strength training with normalized blood chemistry results.

Healthy momma

"I was at my healthiest and fittest," April says. "I asked, 'Why me? Why is this happening to me, to us?'

"I felt scared and angry. I thought about my two girls and worried about their future because it automatically puts them at high-risk.

This mom of two is on her fourth year of strength training.

ADVERTISEMENT - CONTINUE READING BELOW

On the day she received her diagnosis, April broke the news to rest of their family and she and her husband Duanne visited their church in the evening.

April moved quickly. The next day, she told her eldest of the news. "I casually explained to her that the booboo in my breast that was taken out has cancer. She already knew what cancer is because my eldest brother is a cancer survivor.

April says, "She cried and I saw how scared she was. I held back my tears and told her, 'Mommy is strong, we will all fight this together so the booboo will never come back, and Papa God will heal me. I am okay!

April was anxious and sleepless when she was going through a series of tests.

Sharing the news to family and online

April found support in her family. "They listened and made space for my feelings. I realized that talking about my experience helped me process it better.

ADVERTISEMENT - CONTINUE READING BELOW

"The morning after receiving my diagnosis, I called my dearest friends in the US and one of them said 'It is what it is. Go ahead and grieve, but don't stay there.

She adds, "That morning conversation lifted my spirits up. After that, I washed my face, curled my hair, and got dressed. I was smiling and ready to beat cancer!

RELATED: This Triathlete Mom Was At Her Fittest When She Was Diagnosed With Breast Cancer

While there are warriors who choose to go through their battle in private, April used her social media platforms to spread awareness. She started sharing the news a week after and received love, prayer warriors, and "breast friends".

"I was surprised when messages from strangers and from people whom I know started pouring in. Some of them were silently battling the disease or have recently felt a lump and were scared. But because they saw my post, they decided to take action.

"I did not want this to affect my role as a mother because I didn't want my kids to feel that I won't be the same Mommy anymore just because I had cancer."

April is glad to have also encouraged her own friends to get checked. "Friends messaged me that they're going to have themselves checked too because they were encouraged by my story that early detection saves lives. I felt a renewed sense of purpose."

RELATED: Need More Reasons to Continue Nursing? It Lowers Your Breast Cancer Risk

Fighting as a team

The lump in her right breast is now gone, but April still has another surgery to go to remove the three lymph nodes that are nearest to the tumor site. Then April will start her treatment.

ADVERTISEMENT - CONTINUE READING BELOW

"Being diagnosed with cancer strengthened my bond with my husband, my children, and our families. We're fighting this as a team," she says.

"I did not want this to affect my role as a mother because I didn't want my kids to feel that I won't be the same Mommy anymore just because I had cancer.

April plans to teach her two daughters how to perform a breast self exam in the future.

A week after her surgery and once April got her clearance, "I went all in and mothered hard!" April spent her 39th birthday "in high spirits", organized an Easter egg hunt for the girls, and tries to make every day with them special "especially now, before my next surgery and treatment starts."

The Perreras openly talk about breast cancer and she encourages them to ask questions any time. "I make sure that I answer in a positive tone and not overwhelm them with unnecessary details.

ADVERTISEMENT - CONTINUE READING BELOW

MORE STORIES ON BREAST CANCER AWARENESS:

"I don't want them to fear cancer, but I want to arm them with awareness about the risks of the disease, and the actions they can take to protect themselves in the future.

One of the preventive measures April plans to teach her daughters is how to do a breast self exam.

Letting go of negativity

"Cancer changed my outlook and strengthened my faith. I started letting go of all the negativity and the little things that used to bother me.

Today she's also able to be positive about her fight. "Cancer made me want to radiate good vibes and a positive attitude. I choose to be happy, and say yes to more things that make me happy.

When things are challenging, April says it's a matter of mind over matter for her. "Whenever I'm overwhelmed, I pray, cry it out, and I immediately call my safe people to share my feelings.

Duanne, April's husband, has been her source of strength.

ADVERTISEMENT - CONTINUE READING BELOW

"My husband is my rock, he has been amazingly strong throughout and I'm grateful for his unending patience in reminding me to trust in the Lord.

April says spending time with herself is also key in coping. She dines out on her own or enjoys a cup of coffee. "Even if it means giving the kids extra screen time for my sanity," she says. And working out, of course, is part of April's me time.

RELATED: 'Kami Naman!': Isabelle Daza, Anne Curtis, Solenn Heussaff And It Moms Reunite For Moms Night Out

I am stronger and braver

April hopes that her journey continues to inspire people to take charge of their health. For many, the pandemic has shifted their mindsets into understanding what "Health is wealth" truly means, and April echoes the same reminder.

She stresses to do what we must to ensure we are healthy. "Make time to get yourself checked. Go and take that leave to get a blood test done. If you haven't had a checkup because of the pandemic, now is the time to do it.

For women, April advises to learn how to do a breast self examination and perform it once a month. For those over 35 years old, you can do an ultrasound and mammogram even without a lump. "Early detection saves lives. Breast cancer is not a death sentence, it's curable!"

April says "I learned that I'm braver than I thought and stronger than I believed. And most importantly, Christ is the big C, not cancer."

ADVERTISEMENT - CONTINUE READING BELOW

What other parents are reading

Celebrate your pregnancy milestones!


Enter your details below and receive weekly email guides on your baby's weight and height in cute illustration of Filipino fruits. PLUS get helpful tips from experts, freebies and more!

You're almost there! Check your inbox.


We sent a verification email. Can't find it? Check your spam, junk, and promotions folder.
Trending in Summit Network