Their Mom Has Dementia, And They Will Never Forget Her Advice: 'Don't Make Your Child Owe You'

The heartwarming videos of their mom's dementia journey are getting millions of views on TikTok.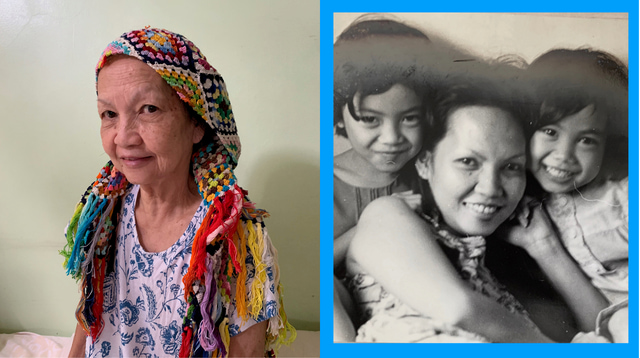 Caring for a parent who has a condition that affects their memory is never easy. At first, it would be hard to understand what's going on in them, and being patient with them may not be enough. Sometimes, there has to be a deeper purpose for children to gain the strength and willingness to care for and live with a sick parent.  

To sisters Oya Arriola and Ina Arriola, caring for their 79-year-old mom Fe Maria Arriola has been relatively easy. Their mom was diagnosed with dementia in 2017, a year before their father passed away. Their mom raised and empowered them to become the independent and strong women they are today. They are showering her with the love that she didn't ask for, but with one that overflows from what she has given and continues to give them. 

In an exclusive interview with Smart Parenting, the Arriola sisters shared what inspired them to start a video journal to document their mom's dementia journey and how they didn't expect that it would help them as well. 

Documenting their mom's dementia journey

Every day since November 22 last year, Oya, 53, has been taking videos of her mom, and uploading them to her account on the social media platform TikTok.

"We have been advised to make her keep a diary, but she couldn't do it because she keeps forgetting to fill the pages, much less remember the details of her day," Oya explained. She is the eldest sibling and is living with her mom in Las Piñas.

ADVERTISEMENT - CONTINUE READING BELOW

"So we thought a video journal would be easier. That way, we could document the progression of her disease (there have been ups and downs) and, at the same time, preserve the memories she still has," Oya explained. 

One of the most popular videos now with over 2.4M views, was about convincing their mom to take a shower. 

Ina, 52, meanwhile, has a 19-year-old daughter and lives in Cavite. She said the videos somehow give her an insight into what her mom experiences day to day.

"Actually, ako in the beginning, I was very impatient with her, to be honest, I didn't understand it. When I started putting myself in her shoes, I realized it must be confusing, and you see that in the videos. So it's very affirming, you see what she's feeling, how she's acting, how she perceives the world, and it helps you kind of also better understand the disease," Ina told Smart Parenting.

Ina shared a glimpse of their life, "My mom - she's always living like it's always the first time she's asking the question, so you have to respond like it's the first time you're responding because she needs to understand it like it's the first time."

"She empowered us to not look to her like we owe her anything or we have a debt to be paid, but because we love her."

Their mom knows about the TikTok account they created. "She likes watching herself, she laughs at herself. It helps her remember, kasi she reviews the conversations we've had eh," said Oya.

Focusing on moments

According to the CDC, dementia is a general term for the impaired ability to remember, think, or make decisions that disrupt a person's everyday activities. Alzheimer's disease is a type of dementia.

"Give them moments of happiness, even though you know those moments won't be remembered."

At this time, the stage of their mom's Alzheimer's is affecting her short-term memory. "Her long-term memory is still there, the difficulty is the immediate past. It can be as fast as five minutes ago, and she'll ask you the same question she asked three minutes ago," said Ina.

Meet Fe Maria Arriola, the mom featured on her daughter's TikTok page oya.ayoya

PHOTO BY

COURTESY OF OYA ARRIOLA

She added, "She won't remember what she did last week or yesterday, but she remembers what she did when she was in high school."

Therefore, Oya said, they are focused on giving her happy moments. "When we go out, and she's entertained or she sees friends, it's really for that moment only, we know when she gets home she probably won't remember it, but hopefully the feeling that she got from that experience lingers."

'Don't make your child owe you'

When asked what Ina considers her mom's best parenting advice, she shared something that all of us parents can learn from. "After giving birth, I went through postpartum depression. My mom came to my house, stayed with me for a while, and I remember I was tied to the baby, I couldn't leave the baby. I was so guilty and obsessive, I had to breastfeed the baby, not go out of the house."

ADVERTISEMENT - CONTINUE READING BELOW

And I remember she told me, "Ina, that's not the way to do it, don't make her owe you. Don't make her indebted to you. You have to take care of yourself first and the baby will take care of herself also when she knows her mom is okay."

PHOTO BY

COURTESY OF OYA ARRIOLA

"That's how I tried to raise my daughter, she doesn't owe me anything. I do this because I love her. She's my child, and she doesn't owe me anything. I think that empowers her as well as it empowered me to be my own person," she added.

Ina shared how grateful she is to her mom. "She empowered us to not look to her like we owe her anything or we have a debt to be paid, but because we love her, and that's the way she also raised us not to owe her anything but to live our lives."

Therefore, it became easier for them to care for their mom because it is not out of the obligation of a child to her parent, but it was born out of love. 

"We are proud of her. We are happy to care for her," Oya added.

Still the same person

Their mom Fe Maria or Peng used to be a very accomplished writer. She co-authored the book "History of the Burgis," with Mariel N. Francisco, which the sisters proudly shared has been reprinted seven times and was hailed "Book of the Year" by the Manila Critics Circle National Book Award for History for 1987.

"She was a feminist, she raised us to be feminists," said Ina. She revealed that their mom was also the founding chairman of the feminist organization Gabriela during the Marcos administration in the 80s.

PHOTO BY

COURTESY OF OYA ARRIOLA

"She always told us we could be whatever we want to be. She empowered us as young girls to not limit ourselves just because of our gender, just because of what we perceive we couldn't do as girls," Ina continued.

ADVERTISEMENT - CONTINUE READING BELOW

A supportive wife to their late father and an empowering mom, Mommy Peng now enjoys crocheting shawls and bedspreads, weeding their garden, and picking flowers. 

An inspiration

Ina and Oya said they were surprised that their mom would gain a following on TikTok, and receive overwhelming care and empathy for her. "I realized you can establish a genuine connection with people you've never met just because you realize that we all go through similar things. Some people tell us that they feel mom has become their friend, and we actually feel the same way about them," Oya said.

(L-R, standing) Oya, Ina, (center, seated) mom Fe Maria Arriola

PHOTO BY

COURTESY OF OYA ARRIOLA

Rest assured, they will continue documenting their mom's journey. "If at least one family gets some sort of comfort from the way they deal with the sickness, that it's nothing to be ashamed of, it's just an illness. I think people should still celebrate them. It's still the same person, the person you love. She's still inside, she's still there. Be patient."

Oya then tells those who have family members who are living with dementia to hang on and keep the faith, "Just be patient with them, and give them moments of happiness, even though you know those moments won't be remembered."

Follow their mom's journey on TikTok here and on Instagram here.

Trending in Summit Network