Over 40 Women Provided Breast Milk for This Foster Parent Who Is Single

She never desired to have a child of her own, until this little girl came along.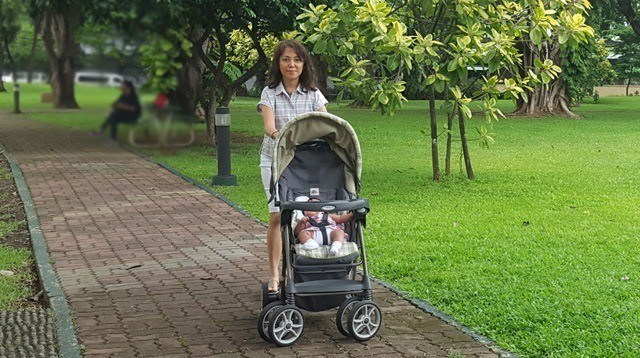 At 53, restaurateur and environmentalist Chiqui Mabanta had thought that motherhood already passed her by. "I never really had a burning desire to have my own child," she admits. Besides, while she was open to adopton, she had been informed that the maximum age of a person who adopts a baby is 45 years old. But as they say, motherhood finds each woman in a different way. 

Two years ago and out of the blue, a good friend sent Chiqui a message asking if she would be interested in fostering, a term for providing substitute family care for a child who had been orphaned, abandoned or neglected, for a planned period of time. Chiqui, who had in fact considered this option many years ago with an ex-boyfriend, said yes.

"But I didn't really give it much thought. I didn't believe it would happen because it sounded like a long, arduous process," she says.

What other parents are reading

As it turns out, fostering was an easier process. "Anyone who's 25 or over with 'good moral character' can foster," Chiqui says. Her application was conducted by DSWD-accredited organization Norfil Foundation, a non-government organization established by a Norwegian couple in the 1980s. 

"[Norfil] gave me a list of requirements — medical record, recommendations from others, etc. They conducted some interviews in my home to see if I would make a fit guardian. They then matched me with a baby in their care." (NORFIL Foundation's website lists the other qualifications: You have to be emotionally mature, physically fit and healthy, and financially secure; you should be genuinely interested in parenting a child not related to you; are able to provide a wholesome family atmosphere and nurturing environment to the child; and you are able to provide a safe, clean, and healthy environment for the child.)

Just a year after her application process began, Chiqui officially became a foster parent to a 2-month-old baby girl named Ghera in May 2017. When the news came, Chiqui felt overwhelmed and anxious. "Being completely responsible for a human is very scary," she says. "If she gets sick, or, hurt, or lost, what do you do?"

She also feared attachment. "Of course, that will be inevitable, so how do you deal with that loss?"

ADVERTISEMENT - CONTINUE READING BELOW




But Chiqui had to set aside her fears — a baby was in need of love and care. The first thing she had to address was getting breast milk for Ghera. The problem was she didn't know where to get it. "My friend who runs a breast milk bank said they prioritized premature babies. Hospitals sell breast milk but at a very high cost," she says.

Chiqui knew she had to be resourceful. So she turned to Facebook and asked the mom groups if anyone could donate breast milk. Over 40 women heeded the call. "Ghera has been thriving on their milk up to this day."

Moms on Facebook also saved the day when it came to Ghera's basic needs, including clothes, diapers, bottles, and other baby essentials. Chiqui was once again feeling overwhelmed, this time with the generosity of other people.

"I'm a strong believer in recycling stuff and knew I would rack up new expenses (like paying for a nanny, doctor's fees, etc), so I asked in the groups if anyone would like to help me out. I knew with baby stuff, once people were done with them, they would just be lying around in storage — so there would be no sense in buying new stuff," Chiqui explained, adding, "Many were thankful they finally cleared their closets."

CONTINUE READING BELOW

Recommended Videos

What other parents are reading

Chiqui isn't ashamed to say she's raising Ghera with a little help. "Foster parenting is difficult, but when you ask for help, many are willing. Ghera is being raised by a community. The people in my apartment building love her; my friends and family, too. She has the milk of over 40 women. It's beautiful to see a community wanting to be involved in her life," she says.

Chiqui is grateful for the opportunity to be a parent to her. "Apart from getting a shot at motherhood, being able to take care of a baby and all the cute perks that come with seeing a human being transform so quickly…You know you are making a difference in this person's life," she shares.

This is also why she encourages other people to take a shot at foster parenting. "The most important stage of development is from newborn to 18 months old. If a baby is just in an institution waiting to get adopted and isn't fostered, she may lack one-on-one care, which is essential in [a child's] social, mental, intellectual, and emotional development. If the baby doesn't get any close attention during this period, the window is lost and the baby may be forever damaged in some of those faculties."




ADVERTISEMENT - CONTINUE READING BELOW

In the six months they've spent together, Chiqui is glad for the positive memories that she and Ghera have made. "I like the fact that I was able to give her a good start in life. I've encouraged her to be curious and socially engaging. All my family and friends love her and many have even made 'appointments' just to see her. She is great with people, even crowds," she shares.

Like any mom, Chiqui is also proud of the fact that she was able to raise Ghera without the help of gadgets, she has exposed her to "cool" music ("She likes banging on the piano!"), and developed her love for animals. "I like that I am finally able to practice how I feel a good parent should be."




The thought of adopting Ghera did cross Chiqui's mind. "Part of me wanted to, but part of me wanted to stick to the agreement. I signed up to foster, not to adopt," she says. "I also thought that if I did try and go through the adoption process and it doesn't work out, it will be even more difficult to part with her. So I decided to stick to the program because there is a need for fostering. There are many who want to adopt, but not enough foster parents."

ADVERTISEMENT - CONTINUE READING BELOW

Ghera is now 8 months old, and pretty soon, Chiqui will have to say goodbye to her baby girl. "I am not looking forward to that day, but I know it will come," she says. "I am comforted by the thought that she will be raised by a couple who have been waiting for her, and that part of me is in her, whether she remembers or not."




If you are interested to be a foster parent, visit Norfil Foundation's website to learn more about their foster care program or inquire with the Department of Social Welfare and Development.

What other parents are reading
Celebrate your pregnancy milestones!

Enter your details below and receive weekly email guides on your baby's weight and height in cute illustration of Filipino fruits. PLUS get helpful tips from experts, freebies and more!
You're almost there! Check your inbox.

We sent a verification email. Can't find it? Check your spam, junk, and promotions folder.
Trending in Summit Network