Budget-Friendly Bonding: Eye-Opener, May Aral, At 'Pang Adults Din' Family Movie List (Toddlers To Tweens)

It includes award-winners, family-centric stories, and movies that teach kids about managing emotions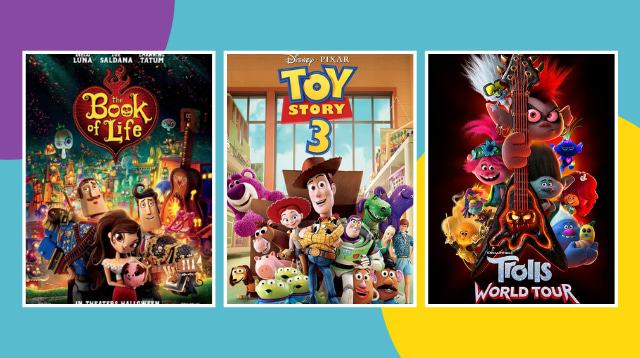 Welcome to Real Parenting, a space where parents can share the joys, pain, and the mess of parenthood. Want to get something off your chest? Share your parenting journey? Email us at smartparenting@summitmedia.com.ph with the subject "Real Parenting." Click here to read more 'Real Parenting' stories.

Spending time as a family doesn't always have to comprise of big moments and vacations, many times our kids are happy with spending time together free of school, work, and other distractions and obligations.

Family movie marathons and movie nights are budget-friendly options for quality time. Just add snacks!

Over at Smart Parenting Village, parents listed their favorite movies and highly recommended family-friendly picks. We put together a list based on the village's comments and how much their kids loved it.

It includes award-winners, family-centric stories, and movies that teach kids about managing emotions. Here's the countdown to the top!

ADVERTISEMENT - CONTINUE READING BELOW

2022 Family Friendly Movies Recommended By Parents and Kids From Toddlers To Tweens

6. The Land Before Time (1988)

We were once kids too and parents admitted in the Facebook community that introducing childhood favorites to their own kids is part of the fun of becoming a parent. The Land Before Time was a hit for us as kids and now our kids are enjoying it too.

For children who are fascinated by dinosaurs, this movie might be a fun one to try. A more recent film was released in 2016, The Land Before Time XIV: Journey of the Brave.

5. Toy Story series

Here's another childhood favorite we can enjoy with our kids, starting with the first installment from 1995 all the way to the fourth released on 2019.

ADVERTISEMENT - CONTINUE READING BELOW

This is what mom Carline Maranan-Baltazar did when she watched it with her three-year-old but she notes that there's a slight "drawback". 

"Nahirapan lang ako mag explain bakit hindi nabubuhay yung toys niya. Haha. Pero Toy Story is part of my childhood too. Kaya sana he gets to appreciate it din someday."

PHOTO BY

/DISNEY MOVIES PH

ADVERTISEMENT - CONTINUE READING BELOW

4. Turning Red (2021)

Disney's recent release is also loved by parents because it's an "eye-opener".

Mom Shi Sabellano says, "Eye-opener siya sa lahat ng parents to help their kids to control or handle emotions. Para maging good listener tayo sa kanila at maging parent na hindi nakakasal, yung abide lang lagi sa rules but also willing to asses or understand them."

Read our spoiler-free review of Turning Red here: Generational Trauma And Breaking The Cycle: Why Turning Red Is A Must-See For Parents Too

MORE STORIES ON MOVIES:

 

ADVERTISEMENT - CONTINUE READING BELOW

 

3. The Book of Life (2014)

Here's a non-Disney pick that kept coming up in the comments section. Parents enjoyed how clear its lessons are on good and evil, right and wrong, and heaven and hell. 

The story revolves around a love triangle of childhood friends Maria, Joaquin, and Manolo and battling deities.

 

ADVERTISEMENT - CONTINUE READING BELOW

 

2. Trolls (2016) and Trolls World Tour (2020)

 "Hindi nakakasawang panoorin, dahil kahit adults need natin," says Jhem Duran Bon.

"Peronally I love Trolls. I love the friendship, the lesson, and yung sa happiness patok sa kids ko. Not to mention all their songs even in Trolls World Tour, kabisado nila." 

These two movies were runaway hits in Smart Parenting Village's thread on movies that help kids understand their emotions.

"Everytime we hug they'll say 'hug time'! Sobrang tumatak sa kanila yung story ni Trolls," says Jhem.
This movie series might be a fun watch for a family with kids of different ages because of its lesson, comedy, and music.

 

PHOTO BY

/DISNEY MOVIES PH

ADVERTISEMENT - CONTINUE READING BELOW

 

1. Encanto (2021)

Of course this movie would come out on top, right?

"Encanto brings out the reality of the family struggles and how we can positively address it, sa huli everyone admitted their mistakes and eventuallly it became the foundation of their new home which is trust," says Rayche Krishna SanFelipe C.

Read our review of Encanto here: No Family Is Perfect: 5 Lessons Disney's Encanto Teaches Parents And Kids Alike

Glaiza says it's hard to pick a favorite but Encanto wins in her book. "It depicts a true to life story na nangyayari sa isang typical na family. I love how they overcome at the end. Of course plus factor yung mga nakaka-LSS na kanta nila, sa lahat ng movie na yan."

 

ADVERTISEMENT - CONTINUE READING BELOW

 

1. Coco (2017)

Yup, we have two movie on the top spot! Coco still remains a family favorite and shares the spot with the recently-released Encanto.

The big families from both these Disney movies are easy to relate to for Filipino families who also put family above all. The dynamics of older and younger generations, including the little annoyances as well as the positive effects, have kept these on family playlists for years.

Trending in Summit Network