Bianca Gonzalez, Marian Rivera, Camille Prats And Other Celeb Moms' Screen Time Rules For Kids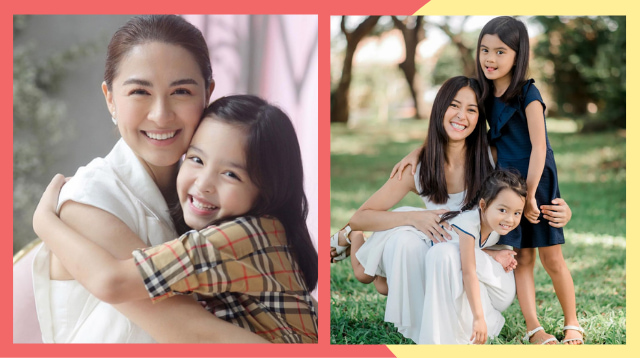 "Tama na 'yan." All parents probably say this at least once daily, after we've noticed that our kids have spent too much time on their gadgets.

The past two years where most kids' schooling involves technology doesn't help. CNN says kids' screen time has nearly doubled since the pandemic. 

But parents don't need a study to confirm these numbers because we see it every day. Instead, what we need are tips from fellow parents on how they manage their kids' gadget use.

5 celebrity parents tips on limiting gadget use

1. Watch only on the weekend, weekdays is for school.

Do you have a school-aged child? Bianca Gonzalez and Judy Ann Santos follow this traditional schedule that's similar to the TV rules our generation grew up with.

Weekdays is for our studies, weekends is for TV. Who can forget waking up early on Saturday morning to catch our favorite cartoon marathons?

For Bianca and JC Intal's girls Carmen and Lucia, educational content is allowed on weekdays, but for a limited time.

The Agoncillo kids on the other hand are allowed an hour of screen time on weekends. They are encouraged to read and engage in other activities throughout the week.

2. Remind them that screen time is a privilege.

PHOTO Via 

INSTAGRAM/CAMILLEPRATS

ADVERTISEMENT - CONTINUE READING BELOW

Camille Prats shared in a previous interview with pep.ph that "yung paggamit ng technology like iPad tablet, whatever, it's a privilege.

"It's not something that I owe to them and I always remind him of that." Compare it with food, shelter, or education, which are a parent's responsibilities to their child.

She explains that in their family, gadget use is not considered a necessity. "Kaya ingatan mo yung panahon na nagagamit mo siya, use it wisely, use it properly.

In the same interview, Camille says her son Nathan has learned how to discipline himself with his gadget use. He is able to realize when he's spent too much time in front of a screen and chooses to play with a ball or draw instead.

"Parang siya na rin yung naghahanap ng alternative rather than just using gadgets."

3. Help them find an alternative activity like playing together.

When Marian Rivera's eldest daughter Zia was four-years-old, she says she's resorted to telling her child that the iPad was broken just to keep her daughter from using it excessively.

What Marian actually did to keep her eldest from spending too much time in front of the screen is to play with her. "Maglalaro kaming dalawa, or maglalaro sila ng nanny niya or ng brother niya," she said in a previous interview with Smart Parenting.

Often times parents are quick to take away screens without redirecting young kids to another activity that they also enjoy.

4. Expect your child to oppose you, and be firm and calm when setting new rules.

PHOTO via 

INSTAGRAM/JENNICAGARCIAPH

This one may be difficult especially if no rules have been set in the past. But mom of two Jennica Garcia said weaning her daughter Mori back when she was three years old was a challenge that parents can overcome.

"All our efforts to make her enjoy the simple things in life, our deisre for her to know how to play on her own… it paid off!

"Worth it mga Inay. Kaya mo yan, be clear on what is allowed, what isn't while being calm and respectful to the child.

5.  Model the habits you want to see.

Both Bianca Gonzalez and Jennica Garcia recognize that cutting down on kids' screen time starts with parents. We must model what we hope our kids do.

"To be completely honest, my husband and I are guilty of not having screen rules for ourselves versus imposing screen rules on our kids, which is a conflict for me," says Bianca in a previous interview with Smart Parenting.

ADVERTISEMENT - CONTINUE READING BELOW

Jennica's reminder to parents in a previous Instagram post says "Most important of all is modelling the right attitude. You want to refrain from using your phone also when they are awake. 

She adds, "Read a book, do hand work, chores and they will mimic this without you asking them to do so."

Cybersecurity firm Kapersky reported that its research shows that kids copy parents' digital habits.

"As we see from the data–the more hours parents spend on gadgets, the more hours kids are likely to spend on theirs," says Marina Titova, vice president of Consumer Product Marketing.

For parents who face laptops and use the mobile phone while working from home, try starting with the rule of having no screens during meal times. 

Another doable change is to put the phone away when playing with or spending time the kids.

Trending in Summit Network