7 Celeb Ex-Couples Who've Figured Out Co-Parenting For The Sake Of Their Kids

Co-parenting is challenging enough. Add the public eye watching you, and it gets even harder.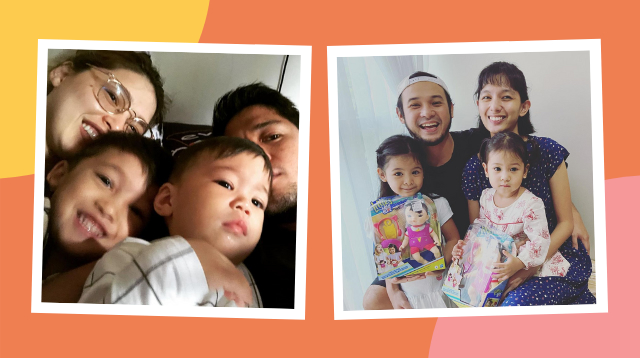 Co-parenting is when mom and dad agree to still raise their children together even when they've gone their separate ways. For some couples, this can be challenging, especially if they parted on less than friendly terms.

Filipino celebrities who make co-parenting work

For celebrities, co-parenting is extra challenging with the public's interest in them — but they have somehow made it work, putting the needs of their children first.

Jennica Garcia and Alwyn Uytingco

In a series of posts on Instagram, Jennica talked about a recent sighting of her, Alwyn, and their kids together. While it's clear that she and Alwyn are still separated, she wanted to get rid of the assumptions about their relationship status.

"Hindi ba pwedeng we are thriving to coparent healthily for our children… hindi kami boyfriend and girlfriend na dahil hiwalay, cut all ties. We have children to think of hindi pwedeng sariling kapakanan lang iniisip."

ADVERTISEMENT - CONTINUE READING BELOW

Jennica goes on to say in another post, "We are exerting all efforts to make the situation less painful for my children than it already is… his presence is welcome in my children's life forever."

Jennica and Alwyn have two girls together, Mori and Alessi. The couple just separated this year. 

Kylie Padilla and Aljur Abrenica

Kylie and Aljur have two sons together, Alas and Axl. The couple also just broke up this year, with Kylie confirming it earlier this month. According to Kylie's statement, "Aljur and I are working on a healthy co-parenting relationship together for our boys' sake."

While Kylie and Aljur are not seen in public or on social media together with their kids, it seems that they've found a way to make it work. In a series of posts from Aljur, their boys are seen spending time with him in Batangas.

Kylie also revealed on her Instagram that she and her boys will be living in a new house.

Andi Eigenmann and Jake Ejercito

Andi and Jake share a daughter, Ellie. In a Smart Parenting exclusive, Andi shared that it took a while before she and Jake came to good terms about how to co-parent Ellie. They would constantly fight, but eventually found a way to work things out.

Andi says, "It really was not always that easy and it took a lot of growing up for me...I needed to set my priorities straight and realized what I had to focus on."

ADVERTISEMENT - CONTINUE READING BELOW

Co-parenting usually means that you and the other parent are on the same page when it comes to rules, parenting styles, and the like. But if that isn't going to work for you, both parents can agree to disagree, and figure out a way to do things their way, for the sake of their kids.

Andi says, "Kahit na 'yung specific parenting styles namin ay magkaiba, basta Ellie feels loved and grows up to be kind, good, and responsible, okay kami."

Ellen Adarna and John Lloyd Cruz 

According to photos posted by Ellen and John Lloyd on their respective Instagram accounts, the adorable Elias spends time with both his parents. In a reply to a comment on one of her posts, Ellen revealed that Elias primarily stays with her, while John Lloyd has Elias for two nights in a week.

In an interview, Ellen revealed that she acknowledges how Elias needs her dad, too. She says, ""My son needs him as much as he needs me. I see their relationship and I see how happy my son is when he is around.

"So that's why I also have to work on myself. Because when I had my issues with JL, [I thought], okay, if I don't allow my son to see his father, how will I tell him [it's] because I had animosity towards [his] father? Damay pa yung bata sa mga issues ko."

Jodi Sta. Maria and Pampi Lacson 

ADVERTISEMENT - CONTINUE READING BELOW

Jodi and Pampi have a son, Thirdy. When their marriage ended, both parents decided to co-parent, all for the love they have for their son.

In an interview with Pep.ph, she says, "We may not be together as partners, but we can co-parent our child in the best way we can, to be able to give him not only a bright future…also to show him that despite the situation, kumbaga, magkakatuwang pa rin kami sa pagpapalaki sa kanya."

Jodi went the extra mile and is also friends with Pampi's partner, Iwa Moto.

 

When it comes to co-parenting, there is no "one size fits all" rule book. Each relationship is different because of the people involved.

While it can be difficult for exes to get along and figure out how to peacefully co-parent their children, focusing on the goal of co-parenting, which is to raise children in the best possible way, can help ex-partners resolve their issues and continue on being parents.

These celeb families prove that blended families can thrive! Click here.

Trending in Summit Network