Raise a Child to Have the Ability to Stand on His Own Two Feet

A psychologist shares nine ways to raise a confident Pinoy child with grit.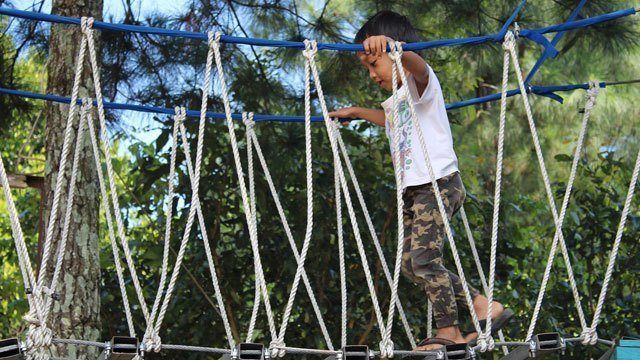 When we look around us, the world is full of stories of people surpassing pain and loss. The story of resilience is about as old as the story of human beings walking this planet -- without resilience, the species would not have survived. But resilience is not just about surviving and getting through the day. 

Let's take a look at what defines a resilient person.

Independent People who are resilient know who they are and what they want. It's a trait that helps them be clear about why they do what they do, and they are confident that they can achieve their goals.

Socially competent In the pursuit of their goals, they don't step on other people's toes. Resilient people show a lot of socially desirable skills -- they know that having healthy and positive connections with others is the way to go. They are kind, compassionate, and empathetic.

What other parents are reading

Optimistic Not one to wear rose-colored glasses, resilient people are realistic about how events may turn out, but they maintain their hope and belief in a bright and positive future.

Solution-oriented The previous is possible because resilient people can identify problems concretely and are not afraid to try out steps to solve them. Resilient people view failure as opportunities for learning to try out something else instead.

Resilience is a strategy for facing tough times.

Good self-control Resilient people are also in command of their thoughts, feelings, and actions. When they make mistakes, they own up and take reasonable steps to fix these. When they have been wronged, they do not blame or shame. Instead, they hold others accountable and accept that in the end, we cannot control others, we can only control ourselves. 

ADVERTISEMENT - CONTINUE READING BELOW

Good stress coping skills Though they may experience highs and lows from life's problems, they have different tricks up their sleeve for dealing with these in positive ways

Every parent wants their children to have resilience as a life skill. So how do we make sure that our children develop and use resilience throughout their lives? 

Resilience is the result of experiences built through time.

1. Make sure they have a lot of caring and supportive relationships. 
It is often said that having just one person in your life who believes in you can make a huge difference in how you turn out. In my work with children going through very difficult circumstances, I have found this to be true. Deprived of the usual love and support that many children have, they are still able to rise above their difficult circumstances by having just one person who actually cared for them and did not give up on them -- their social worker, teacher, priest/pastor, one relative, or even their best friend. We are all made to connect with other people. Children who know they can turn to someone in times of stress feel more secure and brave in the world as a result.

2. Model good and positive relationships.
Our children watch us all the time. Do we speak kindly to everyone we meet? When we have differences with our significant others, do we communicate in a way that is fair and just? Let them express all types of emotions. Feelings are neither right nor wrong, but we can choose how we will act. 

CONTINUE READING BELOW

Recommended Videos

What other parents are reading

3. Make them feel safe and secure at home and in their community.
Choosing the school that matches their temperament and learning style, letting them get involved in community child-friendly activities, and creating a network of different people in their neighborhood that they can interact with safely -- these are all ways that we can help our children feel connected to the world around them.

4. Teach them the value of serving others.
As parents, we can model generosity and helpfulness. Make sure that your child, no matter how young, feels that they are in some way contributing to the betterment of society. 

5. Nurture their sense of competence. 
Not everyone is good at Math. Not everyone will be the next big superstar. But perhaps your child has a soft spot for animals. Or the one who can plan fun activities with his younger siblings well. Make sure to notice these pockets of competence, and let them know these are appreciated.

Failure is viewed by resilient people as opportunities for learning.

6. Expect the best qualities from them.
In other words, it is all right to hold them to high expectations. They will not always be their best, but let them make their mistakes safely. Then communicate with them in brief, clear, and positive ways to lead them in the right direction. So let's say your child throws a tantrum in a fit of anger and frustration at not getting a high grade. Rather than shaming or lecturing your child for hours on end because he is "acting like a baby" and telling them "it's just a small thing," you can communicate clearly: I know you're really mad because you worked so hard. Breaking your pencils will not help. When you have calmed down, let's talk about ways to make sure you do better next time.  

7. Develop clarity. 
Prepare them to make wise choices. Instill good values so that they have a basic sense of right and wrong. This means that they need to understand that their actions and behaviors have an effect on others -- and this effect can be positive or negative. When they make mistakes, never shame them. Instead, simply lead them to the answers that will help them be clear about why they do what they do, and how they can choose differently next time, for the better.

8. Teach them good coping skills. 
When there is a problem, help them to calibrate it -- is this a real crisis or is it something that just feels like an emergency but really isn't? Knowing the difference between the two takes time and practice. So don't give up. 

There are at least two major ways that one can cope with problems. The emotion-focused coping skill helps manage feelings. Solution-focused coping skill  works for problems where it is in one's power to change something for the better. Doing something about it (apologizing for hurting your best friend's feelings, for example) is the best way to go. Again, differentiating between the two takes time and a lot of supervision and help from you, their parents. 

ADVERTISEMENT - CONTINUE READING BELOW

What other parents are reading

Different people have varying levels of "tolerance" for challenges in life. Some of us take disappointments and life's setbacks hard, while others may just skim through these moments. We are wired differently so we don't have the same approach to deal with different types of stresses. But a supportive environment can nurture your child's capacity to rise above problems.

9. Foster a good sense of control. 
It starts with good disciplining. Disciplining is not about punishing or controlling. Instead, it is about helping our children understand that their actions have direct, real world consequences. When they learn from the consequences of their actions, then they start to think for themselves. 

So, for example, they stayed up late watching TV on a school night when they know they're not supposed to. They end up late for school the next day, missing a class or a test.

Our job as parents is not to give them a long lecture about responsibility or "I told you so." Instead, we let them endure the consequence of this choice, and later on, talk to them about what they can perhaps do differently next time, so they don't end up in the same situation.

To foster a good sense of control in our children, we also need to foster a good sense of control in ourselves. Ultimately, our children become resilient when they know that they are in control of how their choices and decisions will come out -- because they have been taught to do so.  

ADVERTISEMENT - CONTINUE READING BELOW

What other parents are reading

We do not come into this world readily equipped with the skills to bounce back in the face of adversity. We learn how it is to overcome difficult times and manage crises if we are taught right by our families, schools, and larger communities. We develop resilience through time, as we mature and interact with the world around us.

So resilience is not a single event learning experience. It is something cultivated through time. Early experiences are crucial, but the beauty of parenting is that there are always opportunities for do-overs. We can always try to get it right as long as we are in our children's lives.

Ma. Araceli Balajadia-Alcala is a registered psychologist who holds both private and hospital based clinical practices. She has also recently become a part-time lecturer in the Psychology Department of De La Salle University in Taft.

References:
GoodTherapy, Fostering Resilience, Childmind.org

Rönnau-Bös, M. & Fröhlich-Gildhoff, K. (2009) The Promotion of Resilience: A Person-Centered Perspective of Prevention in Early Childhood Institutions. Person-Centered and Experiential Psychotherapies, 8, 4, 299-318

Liu, J.J.W., Reed, M. & Girard, T.A. (2017) Advancing resilience: An integrative, multi-system model of resilience, Personality and Individual Differences, 111, pp. 111-118

Benard, B. (1995). Fostering Resilience in Children. ERIC Digest. ED386327

What other parents are reading

Celebrate your pregnancy milestones!


Enter your details below and receive weekly email guides on your baby's weight and height in cute illustration of Filipino fruits. PLUS get helpful tips from experts, freebies and more!

You're almost there! Check your inbox.


We sent a verification email. Can't find it? Check your spam, junk, and promotions folder.

Trending in Summit Network