'My Child Wants His Own YouTube Channel' Here's What A Couple Did To Support Their Son's Interest

Both parents help out and make sure create a balance between his online and offline activities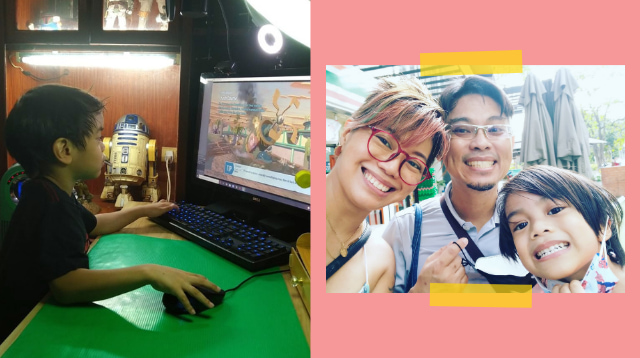 Is your five-year-old bugging you about creating his own YouTube channel? A decade or two ago, this was a concern out of most parents' radar.  

With YT taking over not only television but other social media platforms especially during the height of the Covid-19 pandemic, we expect this scenario between children and their parents to be more common. 

So how can parents navigate a child's request to create his or her own YT channel?   

Set limits before setting up

Meet Oneal and Regina Layug Rosero, parents of five-year-old YouTuber Lucas, content creator behind Giraffe Gaming. "Lucas always liked watching YT gaming channels where they show how a video game is played, and there is usually a commentary or tutorial throughout the video," shares Oneal.  

"At one point, Lucas asked if he could have his own channel, and it took a while before we decided to let him give it a try." 

At first, the Roseros were a bit wary about allowing Lucas to create his own channel. "Like many parents, my biggest apprehension is the danger of online predators," says Regina.  

On top of this, she also worries that he might get addicted to video games or watch videos on YouTube that will influence him negatively. "I already see it happening sometimes," she admits but adds that she and her husband make it a point to address this behavior. 

PHOTO courtesY of 

REGINA LAYUG ROSERO

ADVERTISEMENT - CONTINUE READING BELOW

Before setting it up, Regina and Oneal laid down the limits and ground rules for Lucas' channel. "He can only record and not livestream, so that there is no direct interaction with the public. This is so we can screen who he has contact with over the internet," shares Oneal.  

He also adds that Lucas can only play games and record after school so that it does not distract him from his routine. "Right now we are limiting him to only Plants vs Zombies games, so that his channel has a specific focus." 

Creating a YT channel for a minor

Being a minor, the Roseros had to set-up and create the YouTube channel for their son.  It is YouTube's rule that children under the age of 13 are not allowed to create their own channels or accounts, while those between the ages of 13 and 17 are only allowed to open them with parental permission. 

The Roseros also had to learn the technical side of setting up a channel. "A YouTube gaming channel takes a little more work because you need to have the proper gaming hardware to run the game and at the same time be able to record it," says Oneal. 

"You need a decent camera, software, and storage for the videos. Then you need editing software. The simplest way is to use a laptop with a built-in webcam," he adds.

It helps that Regina and Oneal are a tech-savvy. Both their work as communication practitioners involve using social media platforms often as well as content production tools.  

CONTINUE READING BELOW

Recommended Videos

READ MORE STORIES ON SCREEN TIME RULES:

Because of his exposure to his techie parents, Regina says, it was no surprise that Lucas enjoyed gadgets and online games. 

The couple says, they let Lucas record about an hour of video gaming every day after school so that there is always something to put online. "So far we have about 20 hours worth of content already available for editing and two hours already uploaded." 

Lucas' channel was only set up last March 2022 and to date most of his followers are family and friends. 

Regina and Oneal have been so involved Lucas' channel that it has become more of a family project. "Setting up the tech, editing, and uploading the videos are Oneal's task while Regina handles the promotion of the channel. 

The initial goal is to reach 100 subscribers so they can change the URL of the channel. "This is one of the rules of YouTube for channel creation," says Oneal. Once that's reached, their next goal is  getting to 1,000 subscribers. 

"Creating content is easy, just find something to talk about and record it. That means anyone can do it. But creating quality content is another thing altogether. You need quality equipment, you need to spend time doing research, editing, and promoting your content," says Oneal.

ADVERTISEMENT - CONTINUE READING BELOW

Creating a balance 

While the technical side can be a challenge, the couple says their biggest and most important task yet is managing their son's relationship with his channel and his games. 

"Together we do our best to provide balance, by regulating his play and screen time and making sure he has a lot of other offline activities to learn from and with which to entertain himself," says Regina.  

"We also do our best to carefully regulate what he watches and what he plays, and we quickly try to eliminate anything we feel is unacceptable, especially if it results in bad behaviors," she adds. 

They also make sure that one of them is nearby when Lucas plays video games just  'to make sure everything is okay.'

The Roseros' say they don't see anything wrong in allowing their child to have his own YT channel. The key for them is constant presence and setting limits. 

ADVERTISEMENT - CONTINUE READING BELOW

"As parents, we decided to do this because it was what he wanted, and because he thought it was fun. But also, as parents, we have to set the rules and the limits. 

"If at any time this starts becoming detrimental to his health or development, this all stops," Regina puts it firmly. 

What other parents are reading

Celebrate your pregnancy milestones!


Enter your details below and receive weekly email guides on your baby's weight and height in cute illustration of Filipino fruits. PLUS get helpful tips from experts, freebies and more!

You're almost there! Check your inbox.


We sent a verification email. Can't find it? Check your spam, junk, and promotions folder.
Trending in Summit Network