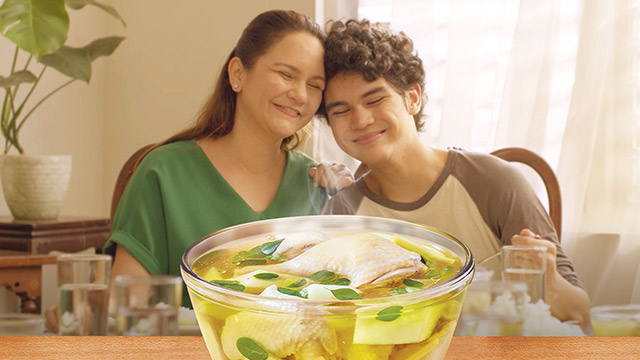 Problems will come and go, and that's a fact of life. Although we may have our individual ways of coping, it never hurts to turn to our moms to seek that particular kind of comfort only they can provide. A warm hug, a home-cooked meal, and encouraging words are just some of the many things moms give — they never fail to uplift our spirits.
We talked to moms to learn more about how they provide comfort for their families during bad days.
1. Make it a point to talk about problems
It will never be easy for moms to see their loved ones struggle with problems. But they know that more often than not, just a listening ear and a helping hand can already work wonders.
Lea Torres Yee's husband, a wedding videographer, was one of those whose jobs were severely affected by the current health crisis. As her husband sought alternative means to support their family financially, Lea made sure communication lines between the two of them are always open.
"We just comforted each other, talked about it, held hands, and prayed together to ask wisdom from the Lord which way to go and what to do," she said.
When her husband finally decided to study and start a woodworking business, Lea made sure to be there every step. She gave him a woodworking gift certificate on his birthday to help purchase tools and carved out space at home for his self-study. They brainstormed ideas while making sure he eats while he works.
"Within three months, a lot of orders were coming in...He already hired two workers to help him finish all his orders. The Lord definitely answered our prayers and gave us new business," she shares.
2. Help children cope with difficult situations by letting them do things they enjoy
The current health crisis has affected everyone in so many different ways, and children are no exception. Moms like Monette Dimasaka-Cristi are quick to notice the changes and act accordingly to help bring back a sense of normalcy at home.
"My daughter lost her routine due to [the] pandemic," Monette shares. "This caused her to be disoriented since she lost her exposure socially and physically with her classmates and playmates."
To help her daughter cope, Monette says she "comfort[s] her by coming up with indoor activities to ensure that she is still having fun while learning, despite the situation." Monette focused on activities that help develop her daughter's fine motor skills, such as clay molding, watercolor painting, and the "shoelace activity," which involves shooting strings to different holes.
3. Prepare home-cooked meals to bring comfort instantly
Homemade food has a knack for providing comfort during bad days and bringing families together. It doesn't have to be a feast either — sometimes, all you need to feel better is a warm, hearty plate or bowl of your favorite ulam.
"We strive hard to eat meals together as our bonding time, normally lunchtime," says Iah Cayetano. "We usually talk about a lot of things like school, future plans, events in the past, and sometimes even what they just dreamt of," Iah adds.
Faith Chiong, whose husband works the graveyard shift albeit from home, says her family "finds comfort and happiness that now, we are always able to eat together."
"We also formed a new bonding [experience by] cook[ing] and prep[aring] our meals together as a family," she says.
Meanwhile, Ivy Dela Paz-Asio takes advantage of the work-from-home setup she and her husband now follow "by cooking our favorite dish together" to take a breather from work.
For many Pinoys, one favorite dish is the classic tinola. Tinola is comfort food in every sense of the word as the soup helps warms the soul, fills the tummy, and comforts the heart. Sharing a home-cooked meal like tinola with loved ones can help bring comfort — a breather for whatever troubles one may be facing.
This short film by Knorr perfectly demonstrates the comforting power of tinola, especially one that is cooked lovingly by a mom. This film shows that even though mom, dad, lolo, and the children may have kanya-kanya ways of dealing with personal troubles, a warm bowl of tinola can help provide warmth and comfort.
Moms, as you give comfort to your partner and children, remember to recharge and give time for yourself, too.
As Monette puts it: "It is innate for mothers to be selfless, but with the overwhelming demands of today's world, it is necessary for moms to self-check at all times. As they say, you can't give what you don't have."
Follow Knorr Philippines on Facebook for more information.