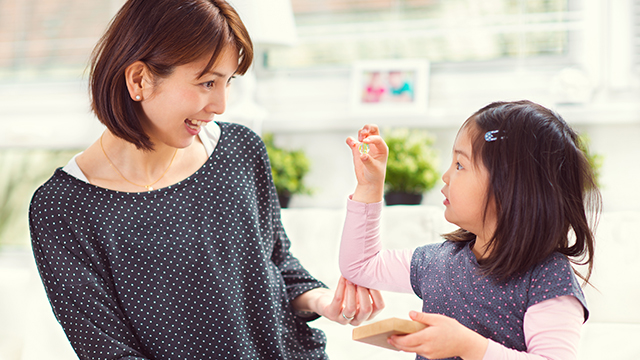 Language and speech are essential in a child's development. The first word, the first fully formed sentence, a knowledge of the alphabet—these are all significant milestones in a toddler's life.
But what if your 3-year-old isn't really talking yet? What if your preschooler is struggling to put words together? While it's true every child develops on his or her own pace, delays in speech or language development can have many parents wondering and worrying.
A speech development delay may involve stuttering or difficulty pronouncing individual letters. A language delay, on the other hand, indicates a child's inability to express himself or communicate what he or she needs or wants. In a toddler, common symptoms of a language delay include difficulty in speaking in short sentences by the age of 3 or trouble putting words together in a sentence.
Developmental speech or language delay needs early intervention, so it doesn't get worse, and your child learns to communicate. Parents will be crucial in this process, as Timmy Ybañez, 32, discovered with her daughter, Mavis.
[ads:3]
Timmy and her husband, who have two other younger daughters, saw a language development red flag when they enrolled Mavis in a daycare class. She was 4 at the time. Timmy recalled Mavis could name and recognize objects but found it difficult to create sentences.
"I know children reach certain milestones differently, and I guess I used that excuse to brush my concern under the rug," Timmy says.
Here, Timmy breaks down how she helped Mavis improve her communication skills.
1. Have conversations
Timmy, who is a graphic designer by profession, left the office setup and started working from home. "I was partly blaming myself for being away during her formative toddler years. She was left in the care of a yaya who isn't very talkative, and I think that had something to do with her delay, too," she says.
"When I started working from home, I encouraged her to speak more. I was always present to correct her use of words or to help her construct simple sentences. That helped improve her speech," the mom of three adds.
[ads:9]
Exchanging sentences can also add to the child's vocabulary. "I would always ask how her day went after school," says Timmy.
"Her school also became a big help, not just in the aspect of formal speech education, but also during her playtime with her classmates," the mom explains. Interacting with children her age encouraged Mavis to imitate what they were saying.
2. Combine learning with fun activities
"The biggest challenge was to always come up with a fun and creative activity," Timmy relates. She had to think of activities that would interest her toddler, engage her senses, and encourage her language development as well. "I read books aloud to her. We listened to children's songs, and I would encourage her to sing the lyrics."
3. Nurture your child's interests or talents
At a young age, Mavis was already showing a talent for drawing. "What Mavis lacked in speech, she made up for in visual arts. I focused on her talent in drawing instead of the needs to refine her speech," Timmy explains. This helped boost Mavis's self-esteem and self-worth, which are essential in a child's learning development.
[ads:15]
4. Be open to learning from your child
Learning became a two-way street for both mother and daughter. "My daughter taught me more valuable lessons than what I was able to teach her. I learned that there's no other way to cope with this kind of situation except by being a compassionate and understanding person," Timmy relates.
"There were times when I had to stop and check myself because the results I wanted to see were selfish. I wanted her to construct the sentences on her own. I wanted her to speak up confidently in school. I wanted her to do this, to do that. It was all about me. When I shifted the focus on her, I began to understand the situation better," she explains.
Mavis, now 8, has become, as her mother says, "a very talkative girl" to the point that her parents have to ask her to speak slowly and softly. "She still has a lot to improve on how she communicates with people, but we take it at her own pace."
[ads:19]
Timmy's actions may have worked for her daughter, but the case varies for every child. If you've become concerned about your child's language or speech development, it's best to consult with a speech pathologist or developmental pediatrician.
Know more about how you can help your child develop his or her communication skills by watching this video:
This article was created with NIDO 3+, a growing-up milk for kids ages 3 to 5 that contains DHA for the brain. It also has Lactobacillus Protectus with L. Rhamnosus, which is scientifically proven to support a child's respiratory defenses. Together with a balanced diet and an active lifestyle, it helps protect kids against pathogens that cause the common cough and cold, which children can be vulnerable to as they explore and play. NIDO 3+ also contains Prebio 3 for digestion and essential vitamins and minerals like calcium and protein for overall growth and development.
[ads:23]
Follow NIDO 3+ Protectus on Facebook to know more.
ASC REFERENCE CODE: N068P062119N