Denise Laurel Wants to Teach Her Son, 'The World Isn't Just About You'

She was raised without a yaya and no special treatment, and the solo mom wants to do the same with her son.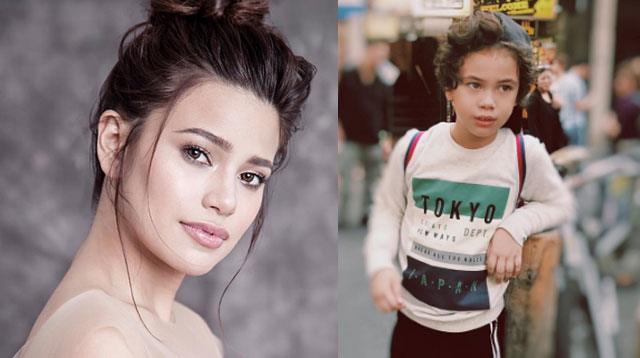 It's no secret that 29-year-old actress Denise Laurel has to do double duty to be both mom and dad to her son Alejandro, 6 years old, so being able to raise a considerate and mature child is no small feat. "I feel lucky to have a sensitive child, I feel like God blessed me with the easiest kid, maybe because I'm a working single mom," she told Smartparenting.com.ph during the Brainarium MFGM media event last August 29.

"He's such a happy child; my mom would always tell me when I was younger that she would know I was awake if there was humming, laughter, and singing. [Alejandro] is the same -- he just loves music, he loves people," she adds.

"When I'm going through something [difficult], he tries to parallel it with little things that he's gone through [to console me], and tell me, "You know, Mama, it's just like a stomach pain: it will come and then it will go away. You're gonna be fine in the end."

The value of education
Though she is yet to finish a college degree, Denise has always instilled in Alejandro the importance of education. "I always remind him that education is not for me, it's for his future, especially since I'm a single mom. At an early age, he knows that if anything happens to me, he has to be able to take care of himself."

She stresses, though, that it's not about the grades. "I don't want [Alejandro] to be pressured that he has to be an honor student. I'm not pressuring him to be the best, I'm giving him the decision to excel. It's his choice."

ADVERTISEMENT - CONTINUE READING BELOW

What other parents are reading

Keeping her son grounded
The Laurels are among the most prominent families in the Philippines, both in politics and the performing arts. Denise is the granddaughter of former vice president Doy Laurel, and the great granddaughter of former Philippine president Jose P. Laurel. Her uncle Cocoy is a distinguished theater actor, while aunt Iwi made a name for herself as a singer in the 80s. Needless to say, Denise is highly privileged in life, but that is no reason for her to just bank on the family name.

"I grew up without a yaya or a driver; I grew up without special treatment. I started in the industry as an extra, and because I really wanted it, I would [ride the] tricycle, jeep, or MRT (Metro Rail Transit) to where I need to be at 4 o'clock in the morning. My parents taught me to be independent. They taught me how to be sensitive and considerate of others, and growing up with three other siblings teaches you, 'Hey, the world isn't just about you.'"

She says she learned the value of hard work from her parents early on, and it's what she wants to pass on to her son. "Hard work makes you stronger and be more capable of whatever it is that you want to do." Indeed, whatever accomplishments the young mother has achieved, whether it be in her acting career or in parenthood,  can be attributed largely to her perseverance.

With her stature, it's challenging not to spoil Alejandro, but Denise is always quick to catch herself. "Our family had a trip recently and I wasn't able to go because I was working, but I told Bukie (Alejandro's nickname) that he's only allowed to get two things on this trip. When we had a phone call, he goes, 'Mom, I bought eight things.' I said, 'Wasn't the deal [to buy] only 2 things?' and he said, 'Oh, I forgot.'

CONTINUE READING BELOW

Recommended Videos

What other parents are reading

"I said, 'Did you really forget?' Then I showed him what toys I got for him at the Comic Con and I said, 'I know this is gonna be hard for you, but because you disobeyed me, you're not gonna get these until you deserve them,' so he said 'Why? I don't understand.'

"I said, 'You do good, you get good; you do bad, then there's consequences. You consciously made the choice to disobey me. I don't have to punish you because you created your own punishment for yourself.' 

Then he goes 'I understand, Mama, I'm so sorry, I won't do it again. It's okay, you can give back the toy.' Hindi kaya ng puso ko, but I have to." 

What other parents are reading

Picky eater
Like most kids his age, Alejandro can be quite difficult to feed and would rather munch on snacks than full meals. His ultimate favorite? "Oh my gosh, he likes French fries!

"You can blindfold him and he will tell you which fast food the fries are from just by smelling. We'll soon upload a video on his YouTube channel, @thebukiechannel, about it.

"It's not something I'm proud of, but I guess it's a talent in a way," Denise says, laughing. To supplement his nutrition, she makes sure Alejandro takes his daily vitamins and milk.

What other parents are reading

Future plans
Now that she has wrapped up her hit teleserye The Better Half on ABS-CBN, are there any plans of starting a family soon?

"It's so hard when I see that he's bored out of his mind na and naka-ilang imagination story na siya mag isa. I feel for him and I really wanna give him a family. I'm working on that." (laughs)

ADVERTISEMENT - CONTINUE READING BELOW

"I'm still young, so one step at a time. I need to think about my son's future. What I learned from what has happened to me and my ex-fiance (cager Sol Mercado) is that I can't force anything to be. I can only go with God's flow, use what he has given me, appreciate it, make it grow, and the rest will fall into place."

Celebrate your pregnancy milestones!


Enter your details below and receive weekly email guides on your baby's weight and height in cute illustration of Filipino fruits. PLUS get helpful tips from experts, freebies and more!

You're almost there! Check your inbox.


We sent a verification email. Can't find it? Check your spam, junk, and promotions folder.

Trending in Summit Network