Bea Alonzo And Angel Locsin Surprised Dimples Romana With A Peter Rabbit-Themed Baby Shower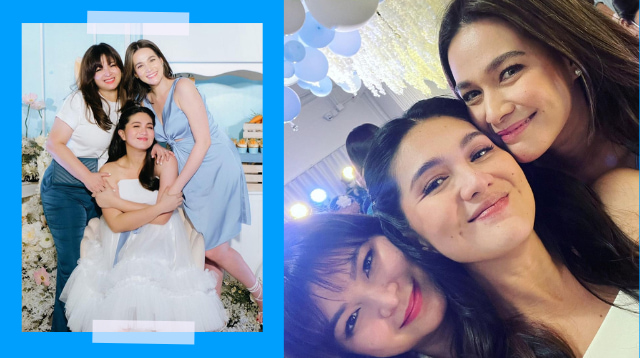 We can't help ourselves from soaking up all the good vibes and love from Dimples Romana's selfie with friends and fellow actors Angel Locsin and Bea Alonzo from her surprise baby shower.

The soon-to-be mom of three captioned her first post about the event, "How did I become this blessed to have the most amazing friends/sisters in this lifetime?"

"Mahal na mahal ko kayong dalawa," she writes. Dimples Romana and Bea Alonzo's friendship is known to have grown through the movie One More Chance in 2007. Dimples and Angel on the other hand became friends through teleserye Lobo in 2008.

Surprised by friends, 'the best people'

Dimples thought she was walking into a brand shoot but it turns out, it was the Peter Rabbit-themed surprise baby shower–"one of the most beautiful surprises to happen in my life". 

She says she wasn't wearing her contact lenses either so she could hardly make out what she was seeing.

Dimples thought she was walking into a shoot for a brand.

PHOTO BY

INSTAGRAM /DIMPLESROMANA

ADVERTISEMENT - CONTINUE READING BELOW

"To say that my life is filled with so much love, that my family is blessed to have the best people around us would be an understatement," the expectant mother writes.

Dimples says that from her friendships, she's happy with a simple text or phone call. "I would've cherished even just a simple phone call. A text would do it for me.

(From L-R) Neil Arce, Angel Locsin, Dimples Romana, Boyet Ahmee, Bea Alonzo, and Dominic Roque

PHOTO BY

INSTAGRAM /DIMPLESROMANA

Friendships "I can come home to"

"I'm not one who would ask for more, nor would I want anything beyond anyone would so willingly extend to me.

Sounds like Dimples is happy to be a low-maintenance friend. She goes on to talk about the kind of friendships that she treasures.

"A genuine friendship that I can rely on in times of loneliness and defeat would be more than enough for me. But somehow, the heavens decided to give me more than what I deserve, she writes.

"Real friendships. The kind I can come home to, friends who take the time to be with me and my family to honor our milestones. I mean, how many of us can really say that about our lives, right?

That touching selfie was caught on another cam.

PHOTO BY

INSTAGRAM /DIMPLESROMANA

What makes a family great

Dimples gives a fresh lesson on what makes a family great. "A great family isn't made up of perfect wives, husbands, not of perfect parents, what makes a great family is having people like our friends and families who love us beyond our imperfections, celebrate us and our many quirks.

"Those who lift us up and make our light shine even brights. She goes on to talk about the ladies who planned her baby shower, arguably two of the biggest stars in show business today. 

"My friends truly are the biggest stars in the universe not just because they are famous and respected in what they do, but ultimately because they know how to share their light to people like me who need a little bit more push in finding my own brightness each and every time.

ADVERTISEMENT - CONTINUE READING BELOW

Dimples ends her dedication with an encouragement to others."So to those of you like my dearest @therealangellocsin @beaalonzo who continue to make others shine brightly by sharing their own light. Love you all beyond words. Elio is well loved.

A momma needs her non-momma friends

What we loved about this celebration, apart from Dimples sharing how her friends were so generous to "share their light" is that parenthood didn't need to be the thread they shared to be able to celebrate each other.

Friendships can be a challenge to navigate when parenthood happens. Parents find comfort in other parents, and the shift can leave some friendships at a loss.

Here are a few reminders about maintaining healthy relationships with child-free friends

1. Don't assume. 

This goes both ways—moms, don't assume your non-mom friend is no longer interested in your life. Non-moms, don't assume your friend who just became a mom is too busy for you. 

Reach out and if it gets awkward or a bit uncomfortable, keep trying. You may have started out your friendship because you had things in common like school, a hobby, or work, but it's not a requirement to remain friends. 

You can still be friends despite being in different life stages, or even if you want different things. 

2. Let them know you need them. 

Babies and children take up a lot of space in a parent's life and a child-free friend is likely to be willing to be set aside. They might think their friends who have become new parents have "moved on", says Motherly. 

ADVERTISEMENT - CONTINUE READING BELOW

When parents communicate their need for their friends, they are reminded that your friendship is a two-way street you are willing to uphold even if you might not be able to commit a lot of time to them right now.

Give what you are able to even if it's just a message, a video call, or a few interactions online.

3. Accept that they might not get it and that's okay.

Motherly also reminds moms that before becoming a mother, we most likely didn't "get it". "So don't expect them to 'get it' now. However, just because they can't necessarily relate doesn't mean they can't or don't support you.

RELATED: 'Kami Naman!': Isabelle Daza, Anne Curtis, Solenn Heussaff And It Moms Reunite For Moms Night Out

Push yourself to find things to talk about outside of motherhood–it may also be a refreshing change for you. And one that reminds you that you are still the same person you were before becoming a mother.

May Dimples', Angel's and Bea's friendship inspire you to celebrate the key friendships in your life, baby or no baby.

Trending in Summit Network