This Is What Sunday Family Day Looks Like for This Mom and Her Daughter

The couple's child arrived exactly a year after they became together.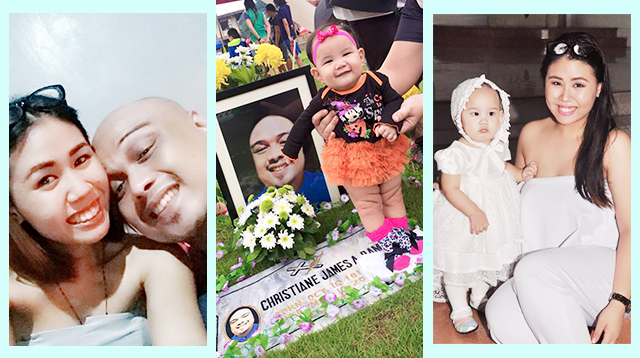 Being a new parent is overwhelming, but it becomes bearable when you have a partner who can navigate the challenges with you. That's why when Micole Alcantara, and her partner, James Ramos found out that they were expecting in 2016, they couldn't be happier even if the pregnancy came as a surprise.

"I got pregnant after his birthday in October, but we only found out in December," Micole, who was 22 at the time, tells SmartParenting.com.ph. She was studying for the nursing board exams and dismissed her symptoms as stress-related and not because she was pregnant.

Micole shares, "When we finally found out that I was pregnant, James quickly got to his feet and started dancing and singing to It's the Most Wonderful Time of the Year."

What other parents are reading

Things fall into place

Micole and James met in early 2016 and soon became a couple.

PHOTO BY

courtesy of Micole Alcantara

ADVERTISEMENT - CONTINUE READING BELOW

Micole and James met through a common friend, but Micole admits that she was attracted to James' best friend first. It was only when she got to know James that she started liking him back. "We started to spend more time together. He made me laugh easily, and he was so smart," she shares.

They had also just gotten out of their respective toxic relationships. "I think we were exactly what each other needed," she says.

It was on June 13, 2016 when they became official. "I remember that day vividly. His mom had cut out butterflies in different colors and decorated their home with it. He took the purple one (my favorite color) and gave it to me out of the blue. Because of that one silly, childish and very sincere gesture, he got me to confess that I felt the same way about him," Micole shares.

What other parents are reading

Losing James

James suffered two brain aneurysm attacks before he passed away.

PHOTO BY

courtesy of Micole Alcantara

CONTINUE READING BELOW

Recommended Videos

In January 2017, Micole was three months pregnant when James suffered a brain aneurysm that put him in a coma for two hours. He stayed in the hospital for a couple of months where he waited for clearance to undergo brain surgery. That gave him the chance see Micole's tummy get bigger and to make the decision not to learn the baby's gender yet.

"We agreed that our baby would have two names and would start with both our initials," Micole shares. "We also wanted the names to be gender-neutral."

But in March 2017, James, who was only 30 years old, suffered another brain aneurysm, fell into a coma, and never woke up. Micole, who was six months pregnant at that time, recalled, "His family was saying their goodbyes, reassuring him they would look after me and our child. But I couldn't accept it. All I could say was for him not to listen to any of them. He should listen to my voice, and he should come back."

Micole doesn't know how she managed to survive that period, but she knew she had to set aside her grieving to focus on her baby. "My mom reminded me that even though James is gone, our baby is still with me and that our baby is still alive. So, even though I was grieving, I should also keep in mind that my emotions will greatly affect my child," Micole shares. "Our child also sacrificed for her dad — my child was called an ICU baby because everyone [in the hospital] saw my tummy grow every day."

ADVERTISEMENT - CONTINUE READING BELOW

What other parents are reading

Welcoming their baby

On June 13, 2017, exactly a year since she and James became an official couple, Micole gave birth to their daughter, Christiane Mikkel, nicknamed Chami.

"When James fell into a coma for the second time, I decided to finalize our baby's name, thinking that maybe with divine intervention, he would wake up when he finally hears our baby's name," she shares.

Christiane is part of James' first name, and Mikkel, which is a gender-neutral name sounded like her nickname.

ADVERTISEMENT - CONTINUE READING BELOW

What other parents are reading

"Days before he died, I was whispering our baby's names on his ear, hoping that he would somehow wake up. I also recorded this through voice message and sent it to his Facebook Messenger," Micole explains. "I thought that when he wakes up he would want to hear that moment. It was the one thing 'we did together' for our baby when he was still alive."

Micole thinks that Chami's birth on their anniversary is James' gift to her. "I think it's his way of giving me no choice but to celebrate and enjoy the day instead of becoming sad," Micole shares. "June 13 has a new meaning — I miss James in a good way, now."

What other parents are reading

Introducing James to Chami

Chami calls her visits to James' grave as 'Sunday Family Day.'

PHOTO BY

courtesy of Micole Alcantara

Every Sunday since James passed away, Micole visits his grave and spends time talking to him, giving him updates on her pregnancy and taking photos, and it did not stop with Chami's birth. She fondly calls it "Sunday Family Day."

ADVERTISEMENT - CONTINUE READING BELOW

"Whenever we visit her dad's grave, I will explain to her who he is. I will show her his picture on his tombstone," Micole shares. "I also have the same photo on my desktop so whenever she sees it, she would shout 'Dad!' and won't stop until I bring her close to the screen so she can hug and kiss his photo."

What other parents are reading

Better days are coming

Chami, 1 year and 7 months old, she calls out 'Dad' during these Sunday visits. She also calls out 'Dad' when she sees a bald man.

PHOTO BY

courtesy of Micole Alcantara

Being a new parent and raising a child all alone is no doubt difficult, but Micole gets by thanks to a strong support system — her friends, family, and even James' friends and family that Micole has never met before. "Everyone just fell in love with her, and they are always there to help her with whatever we need," the mom explains. "But when it comes to taking care of my baby, I've always preferred a hands-on approach."

ADVERTISEMENT - CONTINUE READING BELOW

Micole knows that she can take whatever life throws at them because James is always watching over their family.

PHOTO BY

courtesy of Micole Alcantara

To say that she has completely gotten over her loss would be a lie. "Every day, I still imagine scenarios where James is still with us — what he will say, how he will act, what he's wearing," Micole shares. "But these moments aren't depressing at all. I just try to live as happy as I can for my daughter, imagining that James is alive, healthy, and with us is part of my happiness."

Micole is just taking things one day at a time. "I want to be a good role model for my daughter. Not as a perfect woman, but a woman who is strong yet loving," she shares. "My only wish is that she be healthy and for her heart and mind to always be happy despite any hardship that may come her way."

Micole says that she doesn't want to look at everything that happened as a sob story. "It taught me a lot and gave me the strength to endure what I never could have imagined that I can endure."

What other parents are reading

ADVERTISEMENT - CONTINUE READING BELOW

Celebrate your pregnancy milestones!


Enter your details below and receive weekly email guides on your baby's weight and height in cute illustration of Filipino fruits. PLUS get helpful tips from experts, freebies and more!

You're almost there! Check your inbox.


We sent a verification email. Can't find it? Check your spam, junk, and promotions folder.
Trending in Summit Network