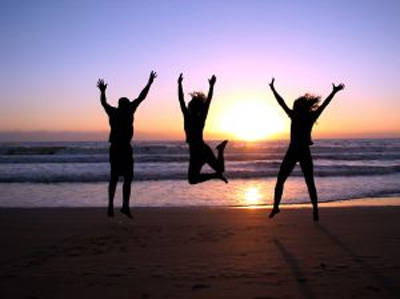 There is a verse in the Bible that goes like this:

Where there is no vision, the people perish. (Proverbs 29:18)

If you really think about it there is a lot of truth in the statement above - whether you actually believe in the Bible or not. In order for one to be able to "live life to the fullest," one must first know the "why" of one's existence on earth. This applies to individuals and families alike.

Why does my family need a vision statement?

Lisa Scott, a mom of three, and parent coach and mentor to parents of preschoolers and elementary-aged children, has been working with families for 20 years. On her blog/website, www.WisdomPursuit.com, Lisa explains why all families need a family vision statement:

"Do you know why your family is here? How do you want your family to be remembered?... The members of a family cannot thrive without a clear direction and purpose.

You may have heard the phrase "If you don't know where you're going, any road will get you there."  If you don't like the idea of your kids following just any road, then know where you are going as a family.

A family vision statement provides unity and clarity in a fractured world that is often seen in shades of gray. The simple act of sitting down together to talk about your vision can bring a family closer. Family members feel respected and heard, and find a sense of purpose in being part of something bigger than themselves."  
[previous|page|next]

Creating your family vision statement
Establishing the direction and purpose of your family is also known as creating a family vision. According to the website www.FamilieswithPurpose.com, "the family vision is an articulation of your ideal family life and what you want your family to be.  It is that picture you see in your mind when you think about how you want your family life to be."

Things to keep in mind:
• Before you get started, decide on who you will include in the family vision drawing-process. Some families prefer to include the grandparents, especially if they are living together under one roof.

• Families that have both parents present should remember to consider marriage when completing the vision, as it is a vital aspect of every family. (You could say it is the "glue" of every family.)

• Each family consists of different people who each have their own needs and wants. Be sure to include everyone's needs, wants and opinions.

• Children (even the little ones!) also have needs and wants, though they might not be able to express these verbally. Assist them.

• Everyone involved in the process should be honest with one another. Be honest with yourself too.

• Refrain from judging others' opinions and thoughts. Every family member has a right to their own thoughts and feelings and shouldn't be judged for their ideas.

• If you consider faith and religion to be an important part of your family life, you may want to pray together as a family before creating your family vision drawing. Catholic families may even opt to attend Holy Mass together prior to doing the activity.

Creating the family vision
Step 1:
Start with a clean sheet of paper. Ask each family member these questions:

What makes you happy? What are the things in life that put a smile on your face and get you through your difficult days?

(Examples: family bonding sessions; being kind to one another; sharing meals together; playing with friends; weekly dates with our spouse; etc)

Give everyone some time to think about their answers, then choose a family member to go first. (Or ask someone to volunteer.)

Step 2:
The family member then chooses a spot on the blank paper to draw a picture of what makes them happy. The rest of the family then follows suit.

Step 3:
Once all the family members have drawn out their answers, get another sheet of blank paper and ask the next questions:

What makes us fulfilled? What are those things in life that bring us the most satisfaction and leave us with the feeling of completeness?

(Examples: Learning new skills; volunteering at a favorite charity; getting promoted at work; getting good grades in school; doing well in sports; etc.)

Younger kids may respond better to these questions: "What makes you most proud?" or "What things do you do that make you most want to tell Dad and Mom about?" Kids this age [preschool and below] usually get their sense of accomplishment from the basic needs of life e.g. love, safety, accomplishment.
[previous|page|next]

Step 4:
Repeat the process described in Step 2, where each family member draws pictures to symbolize their answers.

Step 5:
Once that's done, get a new blank sheet of paper, and ask this question:

What do we want for ourselves and for our family?

Answers to this would usually include our hopes, dreams and aspirations not just for our family, but for ourselves as well. These are the things that we would most like to have in our lives – and are not necessarily material goods. (Examples: growing in our faith; retiring early; having a successful business; building our family dream home; etc)

While some people create this family vision by making a written statement; others prefer to be more "visual" by making a "vision board" or using family artwork and drawings.

For families with younger children, creating a family vision drawing may be more ideal, as kids can absorb more easily the meaning behind each element of the drawing. Families that wish to take their vision drawing one step further may opt to express it in a written family mission statement that can be framed and placed in a prominent part of their homes.

Here's what you'll need for your family vision drawing:

• Markers, pens, and other coloring materials. If you want, you may also use other art and craft materials, such as those you would normally use for scrapbooking.

• A tabletop easel pad or a notepad (not too small though; it should be at least A4 or Letter-sized). You could also use a drawing pad (easily available in most bookstores).

• Approximately 1 to 2 hours of your family's time

Extra tip:
Families who prefer Bible-based family vision statements may want to check out this PDF file from www.familyvisionnow.com. Although it is supposed to be used primarily by participants of the Family Vision workshops promoted on the website, families may still benefit from it somehow.

At the end of these steps, you should have, more or less, a completed family vision drawing, which includes the elements of happiness, fulfillment, and aspirations. From these, you will be able to identify themes, which you can use to write a family mission statement and family goals, and motivate you to make changes in your family life as needed.


Watch out for Part 2 of "How to make your family vision and mission statement" – coming soon!

Sources:
www.wisdompursuit.com
www.familieswithpurpose.com
www.familyvisionnow.com
Photo from sxc.hu