Pinay Stay-At-Home Mom Opens 'Home Quarantine Store' To Teach Her Kids Responsibility

The kids need to accomplish household chores to earn money and buy from the store!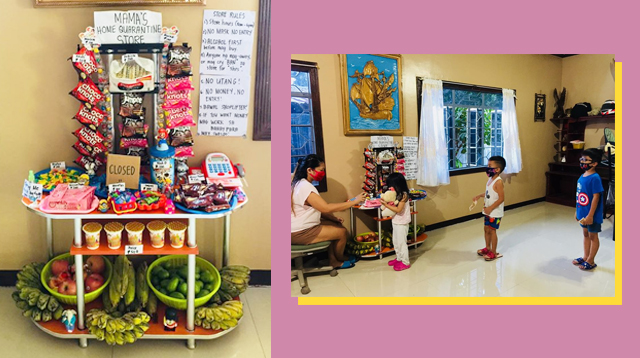 The enhanced community quarantine may be testing the patience and wit of parents everywhere, but they've proven themselves creative when coming up with indoor activities and games to keep their children entertained while at home. In fact, one stay-at-home mom is taking advantage of this period to teach her kids to be more responsible by opening a "home quarantine store."

Hycinth de Arta, 27, tells SmartParenting.com.ph that she was inspired to open the mini- store after noticing that her kids — Ethan, 7, Hera, 3, and Coco, 1 — were spending the quarantine period glued to their screens.

Hycinth with her husband, Jessari, and kids Ethan, Hera, and Coco.

PHOTO BY

courtesy of Hycinth de Arta

ADVERTISEMENT - CONTINUE READING BELOW

CONTINUE READING BELOW

Recommended Videos

"Since the suspension of classes, they have spent most of their time watching TV, Netflix and browsing YouTube. There's enough food stored in our fridge and they can just eat whatever and whenever they want to," shares Hycinth. "So, [my husband and I] came up with an idea that would change their daily routine."

Just like in Manila, only one person is allowed to go out of the house for supplies in Davao del Norte, where Hycinth and her family are based. So Hycinth's husband, Jessari Dumok, did the grocery run for the supplies that will be sold in the store. They had their "grand opening" yesterday, March 23, 2020.

Mama's Home Quarantine Store

ADVERTISEMENT - CONTINUE READING BELOW

In a Facebook post that has gone viral, Hycinth shared photos of their mini sari-sari store at home, including the "store rules" and the different ways their kids can "earn money" to buy stuff from the store. Some of the chores include:

Walis sa kusina, Php200
Walis sa sala, Php200
Arrange slippers, Php200
Tapon basura, Php500
Arrange cover, Php200
Walis sa labas, Commission based
Bantay [kay] Coco, Php200
Arrange bedroom, Php500
Hipos (Ligpit) ng plates, Php200
Other sugo (tasks), Php200

"Siyempre walang libre ngayon. You have to teach them how to earn money and how to work to get the things they want," Hycinth writes on Facebook. She shares that the kids get paid using play money.

 

Mama's home quarantine store is filled will all sorts of goodies!

PHOTO BY

courtesy of Hycinth de Arta

ADVERTISEMENT - CONTINUE READING BELOW

 

With their "salary," the kids can buy all kinds of food from the store, like fruits, biscuits, candy, and drinks. Each snack has a corresponding price, and Hycinth jokingly shares that the goods are "overpriced," because they use play money.

Hands-on learning

 

Hycinth is also teaching her kids about social distancing. They need to line up and stand one meter apart when buying items!

PHOTO BY

courtesy of Hycinth de Arta

ADVERTISEMENT - CONTINUE READING BELOW

 

Apart from teaching the kids to be more responsible, buying from the store is also a way to teach the kids about the importance of proper hygiene and social distancing as a way to curb the spread of the coronavirus disease 2019 (COVID-19). Before they can buy from the store, the kids must first spray alcohol on their hands, and they need to be at least one-meter apart when lining up. 

The store also teaches the kids about consequence. One of the rules state that if the siblings fight, they will be "banned" from entering the store for three hours. They also cannot steal or borrow money from the store and are instead encouraged to work for their keep.

ADVERTISEMENT - CONTINUE READING BELOW

Though the store has only been opened for a couple of days, Hycinth shares their strategy for hands-on learning is going well. "Since this morning, they were excited to get up and are proactive to do house chores to earn money," Hycinth tells Smart Parenting. "They have a better understanding of social distancing, they listen, and follow rules."

Hycinth and Jessari believe that activities such as this are not only great for bonding as a family, but it also teaches their kids to be more responsible and independent. "We won't have a chance to do much outdoor activities because of the quarantine, so this is an opportunity for them to learn household responsibilities and it's also one way to teach them financial literacy," Hycinth shares. "They will learn how to save their hard-earned money and spend it wisely."

More from Smart Parenting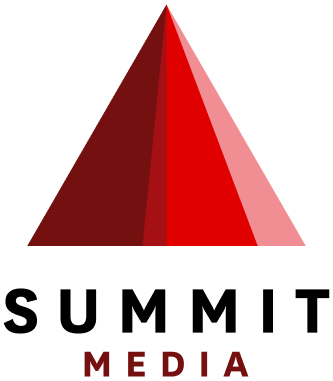 Get the latest stories on COVID-19.
All you need to know from your trusted Summit Media network. Sign up here for regular updates delivered to your mailbox.
The email address you entered is invalid.
Thank you for signing up. We'll send updates directly to your inbox!
Trending in Summit Network