Mom Shares Discipline Technique For Tantrums From Her Child's Therapist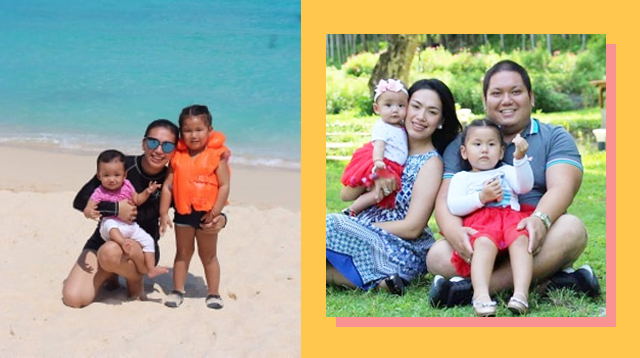 Throwing a tantrum is part of toddler development, but it doesn't make it any less frustrating when you see your child crying and screaming. Overwhelmed, exhausted parents can sometimes resort to yelling or punishment, but guilt quickly sets in because they know there's always a better discipline approach.

For parents Jan Heather and Kim Aguila, disciplining their firstborn, Arya, was extra challenging since she was diagnosed with speech delay, separation anxiety, and attention deficit hyperactivity disorder (ADHD). "My kid is a tornado. I can't teach her anything because she doesn't have any focus," Jan shares in our parenting community, Smart Parenting Village.

Jan says that she and Kim sought the help of a developmental pediatrician (dev ped) after noticing that their toddler was behaving differently than most 2-year-olds (read more about Arya's behavior and how she was diagnosed here). They attended occupational therapy (OT) with her for six months and learned how to better manage Arya's condition.

"They taught us how to get her attention. How to calm her, how to make her sit for five minutes without distractions," Jan writes in her post. Thankfully, after six months, Arya's condition showed a huge improvement.

"She started talking really well. So we decided not to have speech therapy after that. The dev ped no longer recommended to continue the OT since, during the evaluation, there is a big difference from our first visit. She said na we should just continue the things we learned from her OT at home," Jan tells SmartParenting.com.ph.

ADVERTISEMENT - CONTINUE READING BELOW

How to calm tantrums at home

Jan with her husband, Kim, and kids Arya and Alexandria.

PHOTO BY

courtesy of Jan Muro Aguila

One of the discipline techniques that worked for their daughter is introducing her to a "quiet place." Jan describes it as "isang corner sa bahay na safe, [where she knows] na hindi siya masasaktan kahit magwala siya."

In the quiet place, Arya just sits down, without facing the wall. "Hinahayan naming umiyak hanggang kalmahin niya ang sarili niya," Jan explains. "[Then, I say,] 'When you are ready to talk to mommy, come to me.'"

Jan adds that when Arya is in the quiet place, they don't talk to her. Her 4-year-old daughter will eventually calm down. "'Pag nailabas na niya frustration niya, naiiyak na niya ang kaya niyang iiyak, tumitigil din. She pacifies herself. Then, she will come to us and say sorry," Jan shares.

From her experience, Jan has learned to just let Arya vent her anger. She also echoes learnings that experts have said before about toddlers and tantrums. "Babies have frustrations, too. Lalo na't di pa [sila] nakakapagsalita. Tayo na matatanda, naiinis 'pag na-fu-frustrate, ganun din po ang mga bata," she says. "Kung gusto niya magwala it's okay. That's their way of expressing themselves, that's the only way they can communicate."

Jan admits that she and Kim are not perfect. Yelling or raising your voice is not avoidable, "lalo na pagod na tayo maghapon sa kakaalaga sa bata," she says. "Kahit ako, nasisigawan ko ang toddler ko most of the time. It is normal."

But she also acknowledges that it is important to try hard and practice calming yourself down. "The calmer you are, mas madaling makapag-handle ng tantrums ng bata, because they can sense your love kaysa makita kang galit."

She adds, "You need to know your child. Learn and know why they're acting out para you will know how to handle them."

How to approach your child after a tantrum

Jan says that she is using the 'quiet place' discipline technique with her daughter, Alexandria, who is 16 months old.

Once your toddler's tantrum has subsided, talk to your child calmly. Avoid using negative words, like "Bad 'yun or bad ka," according to Jan. Explain and point out what your child did wrong instead.

ADVERTISEMENT - CONTINUE READING BELOW

"Say, 'It's not nice to hit someone,' rather than saying 'bad 'yun.' Sa paglalaro, 'pag nandaya ang bata, refrain from saying 'You're cheating.' Instead say, 'You are not playing fair," Jan shares. "Correct the wrongdoings dahil iba ang connotation sa bata if you say 'bad' siya. Aakalain niya, siya 'yung bad instead na i-point out mo na ang mali ay ang ginawa niya."

Jan shares that taking your child to a quiet place has been working for them for two years already. She acknowledges it's "not 100% successful all the time," but it has helped change Arya's behavior. "Minsan 'pag alam niyang magtatantrums siya, pumupunta na siya ng kusa [sa quiet place]," Jan explains.

Trending in Summit Network