How to Raise Your Daughter With a Fearless Mindset

It's a wonderful time to be a girl!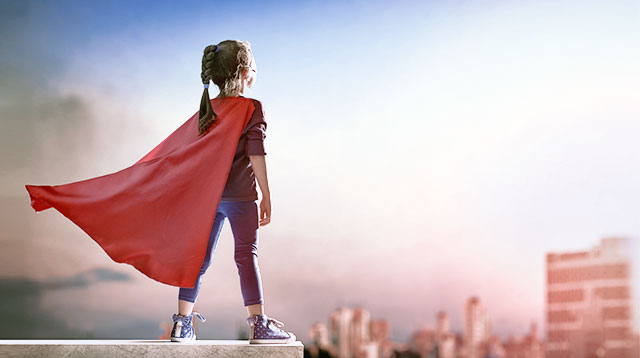 Over the years, women all over the world have felt more empowered — they have lent their voices to more movements and have shown the solidarity and strength of womanhood. There is still a long way to go before women get out of the stereotypes they have been cast, and the work starts at home with our daughters (and sons)! We need to show them the way to become brave and fearless, so they are not held back from all the possibilities available to them. How can you cultivate that fearless mindset? Here are five ways:

1. Show your daughter how she can be whoever she wants to be.
We've said that women now have more opportunities to become whoever they want to be, but does your daughter know that?

In a recent study, it was found that girls as young as 6 years old believe that men were smarter and more talented than women. Researchers of the study say this can have an impact on the career choices that girls make in the future. "These stereotypes discourage women's pursuit of many prestigious careers; that is, women are underrepresented in fields whose members cherish brilliance," the authors wrote. These areas include mathematics, physics, and philosophy.

ADVERTISEMENT - CONTINUE READING BELOW

What other parents are reading

Some girls are still being raised with a particular kind of expectation — they should act accordingly (sweet, feminine, etc.) or only like toys and activities made for girls. Most of this stems from how we were brought up, but it's time to encourage our daughters to follow their passion, even if it goes against what society perceives as 'normal.'

If you need a push in the right direction, let your daughter watch this Russian ad created for Nike — it's a great example of what girls are really made of.

What other parents are reading

2. Build your daughter's self-esteem by making sure she has a positive body image. 
Women are beset by so many insecurities especially when it comes to our looks and body. Your daughter will likely compare herself to other girls — she's too fat, too thin, too light, too dark. You need to show your daughter that she isn't alone because mom has the same insecurities. And then find her a role model like Ashley Graham, who does professional modeling even if she is considered a "plus size." 

Ashley, who was the first plus-size model to be featured in Sports Illustrated's annual Swimsuit Issue, said this about loving what you have been given: "I got most of my confidence by having a mother who never said 'I don't like this or this.' It was just, 'You've got to love what you have because it is the only body that has been given.' I know that is where a lot of my confidence came from."



What other parents are reading
3. Tell your daughter never to be afraid to speak up — let her voice be heard.
In a 2008 survey by the Girl Scout Research Institute, one-third of girls surveyed said that they did not want to be leaders because they were afraid of being laughed at, making people mad at them, coming across as bossy, or not being liked by people. It's a confusing culture for our girls because while some are opening doors for them, other people are shutting it.

How do we raise a daughter who is not afraid to speak her mind then? Start at home, and make it a safe space to let her voice be heard. Allow her to make choices, to be assertive and share her feelings. Listen to what she has to say and express how proud you are because she's choosing to talk instead of keeping it all to herself.

You also don't have to look too far for courageous young women. In the Philippines, 14-year-old Shibby de Guzman showed bravery by taking a stand against the government's war on drugs. She led her fellow students in a protest and was not afraid to clap back at those who questioned her intentions. "Please do not underestimate the youth. We completely know and understand the injustice we are protesting against," the 14-year-old wrote in response to people who implied they were brainwashed to participate in the protest. Her actions did not go unnoticed as she was named one of Time Magazine's Most Influential Teens of 2017.
ADVERTISEMENT - CONTINUE READING BELOW
What other parents are reading
4. Tell her there is nothing wrong with failing.
In a previous article, we spoke to Michelle Poler, a motivational speaker who became known for her #100DaysWithoutFear project where she attempted to conquer at least one fear in a day. Michelle said that a lot of us hold ourselves back from taking risks because we know that failure is a possibility, and it's something that we don't want to be held accountable for.

It's the same way with kids, and perhaps especially girls, who think they have more to lose. Instead of facing their fears, most kids will first weigh the consequences in their heads. If the chances to fail are greater than chances of success, they'll just let the fear weigh on them instead of conquering it.
By teaching your daughter that failure is an 'okay' option, you are relieving her of the pressure always to succeed (especially because kids would always want to please their parents). This way, she'll also be able to learn from her experiences and realize that she will have other chances to do better next time.
ADVERTISEMENT - CONTINUE READING BELOW
You can tell your daughter everything you want about being brave, but you have to be the role model she can look up to. If she's able to see you conquer your fears, then it will be a source of inspiration. Show her that instead of denying the fears, it's better to face and overcome them. Show her that you are pursuing your passions. Show her the benefits of being able to conquer fears. The more you do that, the more fearless she will become.
What other parents are reading

Trending in Summit Network