This Working Mom Of Two Kids Asks For Help: 'I Don't Like The Monster I'm Turning Into'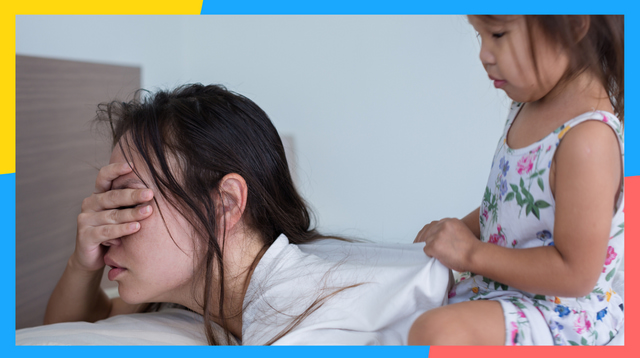 An anonymous mom shared with the parents at the Smart Parenting Village about her woes as a working mom of two who feels like she's not supported.

"Pa-vent. Working mom rage. I have 1 toddler and 1 preschooler," she wrote. 

"Nababaliw na ako. Ilang araw na kong puyat. My hormones are a whack because I had to skip my birth pills. My two children are clingy with me all day long even when I work. Lately, they won't sleep easily and they wake easily. May magising lang na isa, gising na pareho. I walk on eggshells every night one of them wakes up. I wake up to breastfeed. I try to put them back to sleep in the middle of the night three times on average."

"I love my children with all my heart and soul and I will lay my life for them, but sometimes, my mind and my body just can't take it anymore."

"My husband decided his parenting style is to play with them for brief moments then go back to playing computer games after his work-from-home shift ends."

"I shared my pain with my husband, but he said I was just taking it out on him and it was my fault for not sleeping when I have the chance."

She said they have two stay-in kasambahays. However, she still feels alone, "I feel like I'm not getting enough support. My supposed support system is not very helpful since my children wouldn't want anyone else besides me, especially when I'm working from home."

"Tonight, my two children are inconsolable. Naubos na pasensya ko. I threw a fit. I slammed my phone on the wall and turned our entire bedroom upside down. My preschooler witnessed my entire mental breakdown episode. I am resentful of my husband. Now I am not just tired and hormonal. I am also feeling guilty and depressed. Meanwhile, my husband plays computer games."

ADVERTISEMENT - CONTINUE READING BELOW

She added it doesn't help that her job is mentally exhausting. However, she says, "My workload seems to be more manageable and so much easier now compared to the troubles I have at home."

Finally, she said, "I love my children with all my heart and soul and I will lay my life for them, but sometimes, my mind and my body just can't take it anymore. I don't like the monster I am turning into, but no one at home seems to be taking me seriously. What else should I do to make things better?

How to manage mom rage

Parents at the Smart Parenting Village were quick to console the mom and offered suggestions that might work for her, and you, if you are also in the same boat as the anonymous mom. 

First of all, as one mom pointed out, having these feelings of sadness and breakdowns is valid. There's no judgment here, but there's always, always something we can do to make things better. After all, there is no perfect parent.

1. Connect with your husband

Most of the parents in the comment section suggested that when this happens in your own home, the first thing to do is to talk to your husband about your troubles and discuss how you can manage the household better.

While this is easier said than done, Dr. Michele Alignay, a psychologist and a member of the Smart Parenting Board of Experts advises that you find time to connect with your spouse. "Get to know more about what happens to him. Have a regular couple time. That way, you can align better and give each one a chance to have emotional deposits as a couple."

ADVERTISEMENT - CONTINUE READING BELOW

Recommended Videos

She explains this might be a better way for you to gauge your spouse's perspective about helping (or not helping) with your children's needs and home chores. "It will also set the tone for "couple connectedness." This is critical for establishing effective communication and feedback," she said.

One mom told her she should have that conversation with her husband before it's too late. 

2. Take a break.

When things get overwhelming at home, we are reminded that we are not superhumans. And just like any other human being, you also have to take care of yourself. 

If you are a working mom who still has leave privileges, take them. Have some me time, and come back as a more relaxed mom.

READ ALSO: This Mom Of Six Explains Why Your Life Shouldn't Revolve Around Your Children

Dr. Alignay tells the anonymous mom to be kinder to herself. "Choose what you can focus on. Since she has yayas, assign kids tasks and home tasks if possible. When she gets home, find time to [take a] break first, then have playtime with your kids. Delegating tasks can give her precious time with kids."

She adds, if you feel like you are too rigid with home chores and standards, adjust. And when you feel it more challenging to expect that your partner will change their behavior, this is her tip: "Focus on giving more to yourself and the kids."

3. Check in on your husband.

If you feel like your spouse is not being himself, say, he is playing computer games more often than what's usual or acceptable, then you might want to check in on his digital well-being. 

ADVERTISEMENT - CONTINUE READING BELOW

READ ALSO: 5 Ways to Save Yourself from Device Addiction

Dr. Alignay suggests talking to your husband, "If you need to discuss this with him, make sure you are doing it in a tone of concern and not blame. Your goal is for you to establish a better couple relationship so you can both manage the home, and raise kids better."

4. Join support groups for parents.

The anonymous mom posted her rant on the night she felt like she's had enough. Having a space where you can pour your heart out and ask for advice is sometimes what we all need as tired and exhausted parents. The Smart Parenting Village welcomes all moms and dads, and we will navigate this parenting journey together.

5. Seek professional help.

As a maternal mental health advocate, if asking for professional help has crossed your mind at least once, then do it. Having feelings of extreme sadness and inability to sleep are symptoms of postpartum depression.

One mom at the Smart Parenting Village said it best, "Take care of your well-being first so that they will have a mom who is stable and healthy."

What other parents are reading

Celebrate your pregnancy milestones!


Enter your details below and receive weekly email guides on your baby's weight and height in cute illustration of Filipino fruits. PLUS get helpful tips from experts, freebies and more!

You're almost there! Check your inbox.


We sent a verification email. Can't find it? Check your spam, junk, and promotions folder.

Trending in Summit Network