Is Your Child A Bully? 8 Warning Signs You Might Be Missing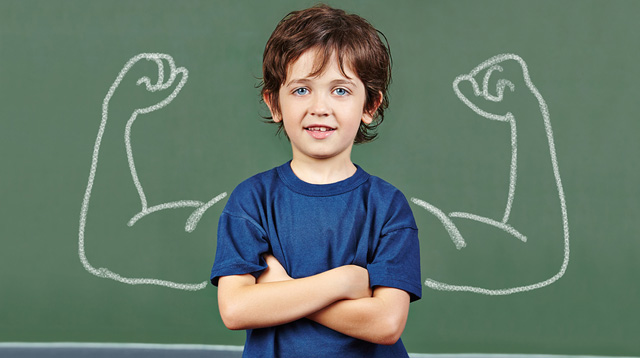 Bullying is a serious issue that deserves attention and can have long-term effects on children. Unfortunately, it is a common problem among children of all ages. No matter where your child is, he can easily experience bullying from other children (and sometimes even adults!).

While many parents may be on guard against their child being bullied, what some parents might not easily admit to themselves is when their child is behaving like a bully. However, most children know that bullying is wrong, which is why they often don't exhibit bullying behavior when their parents or other adults are around.

What other parents are reading

It is important for parents to understand that among children, the one being bullied and the one with bullying behavior both need help. Just as it is important to watch out for signs of your child being bullied, you should also be vigilant about looking out for signs that your child is behaving like a bully, such as these:

1. Your child shows aggression towards people around him.
Does your child behave aggressively towards other children, his siblings, or even animals? Some examples of aggressive behavior are yelling, hurting others, deliberately excluding others, insulting others, and name-calling.

2. Your child has friends who bully others.
If your child has a friend who shows bullying behavior towards others, then your child might do the same. Your child might have learned how to behave like a bully because of pressure from his friends to act the same way or because he himself is being bullied by his friends.

3. Your child views violence and aggression positively.
Watch out for your child's reaction towards violence and aggression whether in real life or in movies and videos that he gets to see.

ADVERTISEMENT - CONTINUE READING BELOW

What other parents are reading

4. Your child is easily frustrated, impulsive, and quick to lose temper.
A short temper is something that most bullies have in common. If your child is quick to react negatively to situations and to other people around him, it is best to find out and understand why.

5. Your child wants to control and dominate people around him.
Does your child always insist on what he wants when interacting with other people? Does he always ignore other people's opinions? Does he like to put down others for being different?

6. Your child puts the blame on others.
Although trying to get out of small jams is quite normal for a lot of kids, be watchful for when your child always puts the blame on other people and other things for his mistakes and mishaps.

What other parents are reading

7. Your child has unexplained items or money.
Be wary if your child regularly goes home with a new item or if his money always seems to be more than what you gave him.

8. Your child shows little sympathy or concern for others.
If empathy, compassion, and respect always seem to be lacking in how your child treats and interacts with other people, then due attention is necessary.

It is good to nip any bullying behavior in the bud by trying to understand why your child may have exhibited some of the things listed above. Keep in mind that bullying may be a sign that your child is having some emotional or psychological problems. Your child is probably mirroring bullying behavior that he is experiencing from someone else.

Sometimes parents may not be aware that their child's behavior is a reflection of how they treat their child. If you notice many of the warning signs above, it is good to stop and think about your relationship with your child. If you have a healthy and loving relationship, it might be time to think about your child's relationships with other people around him. Is he being bullied by older siblings or his group of friends? Does he have teachers or coaches who may be showing aggressive behavior by yelling or humiliating your child?

ADVERTISEMENT - CONTINUE READING BELOW

Recommended Videos

What other parents are reading



What to do
Recognizing that your child might be behaving like a bully is the first step in changing the behavior. It is not acceptable to ignore such behavior in children and it is your responsibility as a parent to do something about it.

If your child is behaving as such, resist the urge to behave like one. This is a time when your child needs not just your firm discipline, but your compassion as well. Here are some of the things you can do to address your child's bullying behavior:

• Talk to your child.
Sometimes these behaviors start as 'harmless fun' for some kids without realizing the effects of their actions. Help them see the effects of their behavior on others. Also, try to find out why they are behaving that way but do so in a very open and non-judgmental way. Ask about how he feels before, during, and after behaving like a bully.

• Work with your child in changing the behavior.
Don't expect immediate changes, however. Behavior does not change overnight -- it needs work and perseverance. To make any effort to change the behavior successful, it is good to enlist your child's help in coming up with a plan on how to stop the bullying behavior. However, make it clear that bullying behavior will not be tolerated. Together with your child, agree on consequences whenever he behaves like a bully.

• Model good behavior.
Be your child's primary ally in changing the bullying behavior by making sure that you show him good behavior through your own.

ADVERTISEMENT - CONTINUE READING BELOW

What other parents are reading


• Recognize his efforts.
Reinforce good behavior by recognizing them and his efforts. Express your appreciation of his efforts and encourage him to continue his efforts.

• Enlist other people's help.
It is important to ask help from other people that your child encounters on a regular basis such as his teachers, relatives, and other people in your household. They can make sure to identify any bullying behavior they might see and to remind your child not to behave like a bully.

References:
http://www.stompoutbullying.org
http://www.prevnet.ca/bullying/signs
http://www.stopbullying.gov

Celebrate your pregnancy milestones!


Enter your details below and receive weekly email guides on your baby's weight and height in cute illustration of Filipino fruits. PLUS get helpful tips from experts, freebies and more!

You're almost there! Check your inbox.


We sent a verification email. Can't find it? Check your spam, junk, and promotions folder.

Trending in Summit Network