Different Is OK: Valuable Lessons From a Family Who Embraced Son's Homosexuality

Their story shows how embracing differences is the first step toward living in a world of diversity.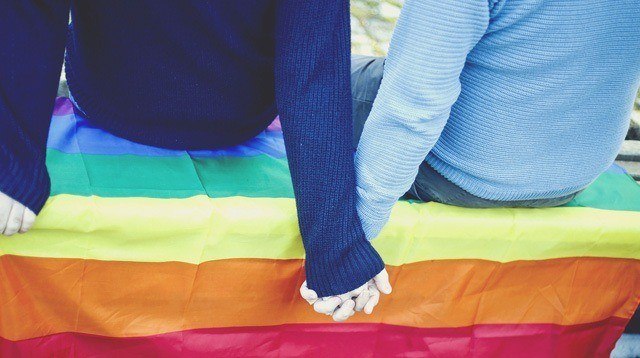 Marco Abuyuan Llanes is incredibly articulate for a 12-year old. Those who love him dearly say he is a 40-year-old soul trapped in a 12-year-old's body, and I believe them. He loves his dogs, is in the midst of learning French, and is absolutely fascinated by obscure, elegant music—the kind which came out before the classical era.When I met with Marco, he was feeling a bit under the weather. Once we started talking about a subject dear to his heart, however, he slowly caught fire. At one point, his eyes lit up and he triumphantly declared: "I don't care whatever people think of me. I want to continue what makes me happy. I want to be what makes me me."

Marco Abuyuan Llanes is gay.

One boy's story
Marco was around eight or nine when he started getting just a bit confused. When he met with friends and they started talking about liking this or that girl, he couldn't quite relate. But when he came upon a boy who stirred in him some feelings, he could finally relate to what his friends were talking about.

What followed was months and months of studying what it means to be gay—not an easy feat for a nine-year-old who didn't want anybody to know his nagging confusion. Marco looked at how gay men were portrayed in local media and couldn't quite see himself either as a tragic figure or a comic relief.

Like most tweens, he gravitated toward the Internet and found Tyler Oakley. An American YouTube and podcast personality, Oakley actively supports LGBT (lesbian, gay, bisexual, transgender) youth and LGBT rights. He is a staunch supporter of The Trevor Project, an organization for the prevention of suicide among LGBT youth. It is from Oakley that the young Filipino learned more about what it means to be gay and what challenges may come his way.

ADVERTISEMENT - CONTINUE READING BELOW

But knowing is different from being, and it took time for Marco to process everything he was feeling. "First, I went through that phase where I was bisexual. It lasted for a year. It was like I was lying to myself. I felt like a fraud," he recalls. "It takes a lot of time to come out. It's not just, 'Oh, okay.' It's mostly pressure from yourself, not from other people."

What other parents are reading

When Marco finally decided to come out, he became antsy. As he remembered it, it was like something was building up inside of him. He says, "I was so anxious. It was the only thing that I could think of... I thought everybody would get angry."

And who could blame the poor boy? Although there has been an increasing acceptance of lesbians, gays, bisexuals, and transgenders in the country in recent years, there are enough anecdotal tales of LGBTs being disowned by their families to stir fear in a little boy's heart.

Luckily, his family rallied around him: his twin brother Mateo, who already knew that Marco was gay even before he said anything; his sister Simone, who had said time and again that she always wanted a gay friend; his mother Regina, who was proud to have a child who was so firm and resolute about his identity; and his stepfather Derek, who became his biggest fan and supporter.

"When I came out, everything went away. I didn't know what I was so worried about... After I came out, everything was really, really free. Everything just went better. It was nice," Marco says.

CONTINUE READING BELOW

Recommended Videos

But of course, not everything was hunky-dory. Marco encountered people who judged him, who had preconceived notions about him, and who just didn't like him. And to this, he says, "I do feel bad, not for myself, but that the world is like that."

What other parents are reading

What the world is like
Children like Marco, whose sexual preferences are different from the norm, face a tough road ahead of them. Apart from having to deal with stereotypes and discrimination, a good number of them also experience varying degrees of bullying.

In "Bullying of Lesbian and Gay Youth: A Qualitative Investigation," a study published in The British Journal of Social Work, researchers found that the bullying of lesbian and gay youth is quite pervasive and occurs across different locations, with their peers and adults as perpetrators.

The pervasive bullying has brought about psychological effects on the bullied, from low self-esteem and anxiety to depression. In more severe cases, victims of bullying have resorted to substance abuse and made suicide attempts.

One respondent reported: "You would begin to feel that you weren't worth being protected if you weren't protected by your school or your parents or the other kids. You would begin to feel that being different was bad."

In some cases, coming out has become a major risk for gay and lesbian youth. The study observed: "Often youth are victimized further when they disclose their sexual orientation—to peers and adults, and are at risk of losing social support."

It's unfortunate that societal institutions contribute to the bullying of gay and lesbian youth by not acknowledging, or even negating, their existence. The study noted: "This powerful institutional context, based on entrenched sexual prejudice—for example, in schools, sports, religious institutions, and shelters—and enshrined in laws and social policies that exclude, negate, or discriminate on the basis of sexual orientation, is a crucial factor that may render victimization of lesbian and gay youth distinct."

ADVERTISEMENT - CONTINUE READING BELOW

What other parents are reading

Changing the narrative
When Marco came out to his mom Regina, one of the first things she asked him was, "Are you sure, anak?"

A journalist and managing director of Blended Learning Center-Manila, an educational institution which provides personalized learning experiences through homeschooling support and enrichment programs, Regina knew how the world worked and how difficult it could get for her son. But she also knew that if she wanted to make the world a better place for him, it had to start at home.

If today's parents want to change the narrative and effect real change when it comes to how LGBT individuals are viewed and treated by society, the conversation has to begin at home.

1. Define the terms.
Marco says, "It's not really hard to understand: Men who like men, women who like women, and people who like both genders. That's it!"

When children start asking questions about LGBT, life coach Anna Victoria Isles says parents should be as direct as possible in their answers. Keep words plain and simple. Isles, whose sister recently married a woman, advises parents to just say that people have different preferences.

What other parents are reading

The Centers for Educational Justice & Community Engagement (EJCE) at UC Berkeley in the U.S. provides a definition of terms for subjects relating to gender.

Lesbian: A woman attracted to a woman.
Gay: A man attracted to a man.
Bisexual: Also bi. A person who is attracted to two sexes or two genders, but not necessarily simultaneously or equally.
Transgender: One whose psychological self differs from the social expectations for the physical sex they were born with. For example, a female who identifies as a man.

ADVERTISEMENT - CONTINUE READING BELOW

"Bottomline: When the situation arises, be honest with them. Speak to them direct to the point," says Isles. "There's no better way than being truthful to your children. I am sure you would rather explain to them than let them learn from other people or circumstances because you do not have control over other people's values, right?"

2. Create an environment of love and respect at home. 
Build a home environment characterized by love, respect, and acceptance. Practice what you preach. If you want your children to be open-minded and accepting of others, then you have to widen your horizons, too. 

Regina points out, "The modeling must come from us. We have to be careful about what we say and how we express our prejudices. Those things, they come from us."

Isles goes further, encouraging parents to teach children how it is to love someone. She says, "To love means to accept a person wholeheartedly, however he or she is dressed or regardless of his or her sexual preference. We respect them and accept them as they are. That's why it is very important to fill your kids with love because the only love they can give away is the love that they know and have."

Referring to her sister and her wife, Isles says, "We teach the kids to call them Auntie because they are females."

Parents have to be a source of love and acceptance, she adds.

What other parents are reading

3. Process your children's media consumption.
Children are exposed to different forms of media on a daily basis, and they are bound to encounter mentions of LGBT. It is thus important to orient them on these terms as soon as they are able to understand.

ADVERTISEMENT - CONTINUE READING BELOW

If there are controversial issues, talk them through with your children. Listen to their questions and answer accordingly. If you don't know the answer, then be honest. Tell them that you don't know, but you will find out for them—and do get back to them with an appropriate answer.

For example, Isles, upon hearing the news about Ian King—TV host and model Joey Mead King's husband, who recently came out as a transwoman—started a discussion at home. Isles wanted to process the incident with her family before they got exposed to its many permutations in media.

4. Do not tolerate bullying.
LGBT individuals are made fun of all the time. This causes pain on the recipients and is certainly one form of bullying. Let your children know that words can be hurtful, and perpetuating negative stereotypes about LGBT individuals is never okay.

Encourage empathy. Ask them how they'd feel if somebody made fun of them—all the time. You can also ask them to advise you of any acts of bullying that they witness at home or in school, and take appropriate action. If parents remain silent and look the other way when they see acts of bullying, they unconsciously contribute to its perpetuation.

What other parents are reading

5. Encourage critical thinking.
These days, it's very easy to just go with the flow, to click the like button because everybody else is doing the same. Encourage your children to think for themselves, and back them up when they go against the tide.

ADVERTISEMENT - CONTINUE READING BELOW

The objective of Blended Learning Center, says Marco's mom Regina, is to develop children who are tolerant, universal, and critical thinkers. She would like to see more kids who read, watch, listen, and discern first before making judgments, decisions, and opinions.

"We don't have enough of that: discernment. I am not sure whether people just settled, or students just became more accepting of what the teacher says," she adds. It's important to realize though that sometimes, it's not just about what the teacher says, but what the student thinks.

6. Nurture and celebrate your child's uniqueness.
Parents should embrace their children—all their strengths and weaknesses, their talents and foibles, their pursuits and interests, their quirks and antics—wholeheartedly. Regina says, "Parents should accept their kids. Do not move them into what they perceive as proper or accepted by society. Who's to say what is acceptable?"

But more than accepting the wholeness of their children, parents must celebrate them. Regina for one would love to see more children like Marco speaking up about their struggle to make the issue more palatable to a larger audience.

As for Marco, he is pursuing a "Pursuit of Interest" school project aimed at bringing more awareness about LGBT. He explains, "When I was coming out, I wished people taught me these things. That's why I want to do this project."

Asked to envision his future self, Marco hesitates in giving a concrete answer, saying he doesn't know where life will lead him, although he hopes to work in the fields of language and music. But if there is one thing that he is absolutely sure of, it's this: Marco wants to make a mark as an LGBT individual. Marco wants to make a difference in this world.

ADVERTISEMENT - CONTINUE READING BELOW

What other parents are reading

LGBT awareness
Raphael O. Inocencio, a counseling psychologist with specialization in child and adolescent psychology and founding partner of Better Steps Psychology, Inc., gives the answers to common questions  regarding LGBT.

How old is old enough for a child to understand LGBT ?
"This depends on many factors. Consider if your child is mature enough to understand the concept. We have seen children as young as five or six asking questions. When or how much you tell them is determined by how comfortable you are with the situation."

How do I introduce the topic?
"Again, this depends on the circumstances. If your child has questions, then be as honest and as open as you can be. Try your best to answer questions without judgment or bias for or against the issue. It may  also be useful to research first and reflect on your own stand."

How do we reconcile LGBT acceptance with strict Catholic teachings?
"Catholic teachings tell us to respect and love one another. We can teach our kids to be respectful and to treat them just as they are: human beings."

How do I explain same-sex marriages?
"With honesty and openness. Do not appear judgmental. Explain the facts, for example, that it is not legal in the Philippines but it is legal in other countries. If you aren't sure if you are comfortable, then just express an opinion, but don't share your judgments. Kids pick these up and carry these with them. We'd like our kids to be raised open and non-judgmental."

ADVERTISEMENT - CONTINUE READING BELOW

This story originally appeared in the November 2016 issue of Good Housekeeping Philippines magazine. 


Minor edits have been made by the Smartparenting.com.ph editors.

Celebrate your pregnancy milestones!


Enter your details below and receive weekly email guides on your baby's weight and height in cute illustration of Filipino fruits. PLUS get helpful tips from experts, freebies and more!

You're almost there! Check your inbox.


We sent a verification email. Can't find it? Check your spam, junk, and promotions folder.

Trending in Summit Network