3 Lunch Baon Ideas That Will Make Your Kids Eat Their Food Without You Spending Much

We know the feeling, moms!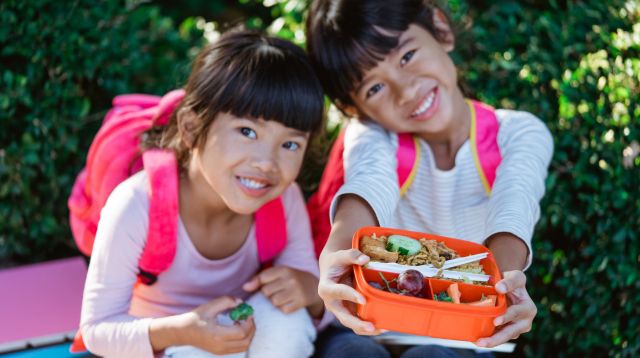 Aside from easy ulam ideas, moms with school-age kids are also in constant need of lunch baon ideas. That's why whenever a member of our online community, Smart Parenting Village, asks for help, many reply because they know the feeling.

For instance, one mom posts this concern: "Just to gain an insight of what baon you prepare for your children (ages 7-11). Ano po iyung madalas niyo pong ipabaon sa kanila na lunch? Any tips on how to prepare healthy baon?"

Another member has an additional request: "Any suggestions for healthy lunch baon for kids 5 and 10 years old. Na pwede rin pambaon for dads?"

She explains, "Puro dried foods/prito lang talaga palagi para di tumapon and also gysto kasi ng mga bata, mainit pag sabaw. Even for hubby, di ko mapabaon ng masabaw dahil hindi office based ang nature mg work niya."

Lunch baon ideas

Moms say that the key to having kids eat their baon is in making their meal enjoyable and satisfying. Here are some tips:

ADVERTISEMENT - CONTINUE READING BELOW

Bento baon

This Japanese-inspired way of putting together a homepacked meal takes effort and imagination, but all worth it, according to many moms who make bento baon for their kids.

Mom of three Regine Paz Malong turned to making bento lunches to help her daughters, who are picky eaters, to become "magana kumain." (Read her recommendations here.)

To get started, get some sample bento baon inspirations here and lunch boxes recommendations here.

RELATED: This Mom's Baon For Hubby Says It All: 'Yung Galit Ka Pero Kailangan Lutuan'

Kimbap

One mommy commenter suggested making kimbap, also called gimbap, for kids' baon to school. This Korean sushi roll is basically boiled short-grain rice seasoned with sesame oil that is cooled and rolled in a seaweed wrapper with stir-fried vegetables and other cooked ingredients.

Example ingredients: thin slices of sautéed beef, scrambled egg, canned tuna, crabmeat, or your kids' favorite food items. Then, a cylinder-shaped roll is created and sliced into bite-size pieces. There are easy-to-follow kimbap samples on Pinterest.

Food pairings

Another mommy commenter admitted to not having the time and patience to make a bento baon for her her 9-year-old. So she simply gives a twist to the usual kanin and ulam pairing.

"What we do is add little veggies," she said and gave a few examples: tocino and cucumber, tapa and tomatoes, nuggets and frozen mixed veggies. "Or sa sandwich naman, laging may lettuce. Ham, Spam, Maling, lluncheon meat, tuna, chicken spread, laging may lettuce. Pag nanawa, fruits naman for desert."

How to make your kids eat their schoo baon

Despite her busy schedule, Marian Rivera makes it a point to personally prepare the school baon of her children Zia, 7, and Sixto, 3. The actress-TV host shared her experiences as a hands-on mom with Smart Parenting in an interview during an event.

"Minsan nadi-disappoint ako na, halimbawa, ire-ready ko s'ya, 'Oh, anak, bakit parang konti ang nakain mo?' 'Ah, Mom, maybe I don't like this one.' 'O, sige.' So, sabi ko, 'Ah, gano'n,'" she said.

ADVERTISEMENT - CONTINUE READING BELOW

Marian then thought up ways to make sure her daughter and son eat their baon. Here are her tips:

1. Include your kids in planning the menu for their baon the whole week.

Marian said she asks Zia and Sixto every Saturday about the food they'd like to have for their school baon. "So nagre-request sila, nagsasabi naman sila. Although is Sixto, snack lang. Si Zia ang importante kasi meron s'yang lunch and meron s'yang snack, 'tapos may snack pa ulit. So dalawang snacks ka, 'tapos may lunch."

She added, "So mahalaga talaga na i-involve sila na para walang rason kung di nila magustuhan kasi, 'Sinabi mo 'yan sa akin, so you have to eat that.'"

2. Make a weekly list of pambaon items.

Marian said she shares many moms' usual problem: "Minsan pag nagpapabaon tayo, nauubusan tayo ng iisipin. 'Ano ba ang ibabaon bukas?'" That's why she ensures making a list as early as Saturday. "Para hindi 'yung gabi, matutulog ka na, 'Ano nga ba ang ibabaon ng anak ko?' At least ready ka na the whole week, nailista mo na."

ADVERTISEMENT - CONTINUE READING BELOW

Here are tipid tips that will keep your expenses within budget:

1. Instead of buying ready-to-eat food as pambaon, make it yourself.

2. Buy nutritious food.

3. Prepare home-cooked meals and home-made juice.

4. Prepare bite-size portions.

5. Prepare ahead of time.

6. Be resourceful.

7. Use water jugs and food containers.

8. Buy food items in bulk.

9. Be creative in thinking up lunch baon ideas.

Read a simplified baon guide for growing kids here.

Trending in Summit Network