Maricel Laxa On Son Benj's Past Health Ordeal: 'Nakinig Kami Na Patignan Kaagad Sa Puso'

Maricel and her husband Anthony Pangilinan's fourth child underwent a heart surgery at 4 years old.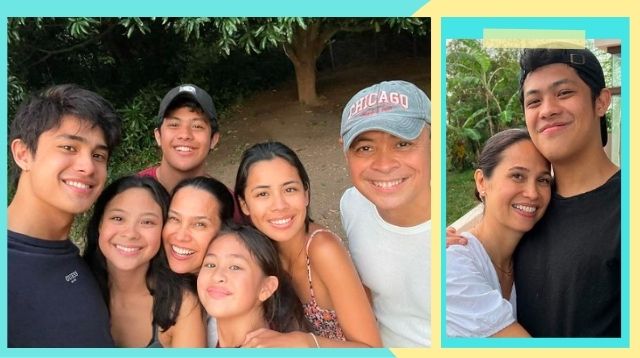 Welcome to Real Parenting, a space where parents can share the joys, pain, and the mess of parenthood. Want to get something off your chest? Share your parenting journey? Email us at smartparentingsubmissions@gmail with the subject "Real Parenting." Click here to read more 'Real Parenting' stories.

The one thing that Maricel Laxa and her husband Anthony Pangilinan learned from their fourth child Benjamin's childhood health ordeal is to listen to the advice of doctors.

Maricel and Anthony recall in Karen Davila's vlog that Benjamin, nicknamed Benj, was around 4 years when he suddenly complained of a stomachache. The couple thought their son was suffering from indigestion or food poisoning, so Maricel brought the boy to the doctor.

"Tiyan ang pinunta namin, sa puso n'ya narinig," the actress says, referring to the boy's attending physician Dr. Philip del Carmen. "Nakinig kami na patignan kaagad ang puso." Maricel then brought Benj to a heart specialist.

ADVERTISEMENT - CONTINUE READING BELOW

Till this day, Anthony still can't forget how he learned of Benj's health condition. He remembers he was in a seminar held in a hotel. As he was going down the staircase, his phone rang and he expected it to be Maricel to give him an update. But it was Benj on the other line.

Father and son talked a bit. When Anthony asked about Benj's aching stomach, the boy said, it's fine, and went on adding, "But I have a hole in my heart." Anthony was taken aback, so he asked again. Benj replied, "Yes, Dad, I have a hole in my heart. Can you fix my heart?"

Anthony pauses his narration to tell his interviewer: "Doon pa lang naiyak na 'ko. Sobrang bilib ng batang 'to sa tatay n'ya. You know kids, they think their dad can do everything."

He then recalls telling his son, "No, Benj, I can't fix your heart. But God who made you can." He goes on with his story: "The moment I said that, sabi ni Benj, 'Then I'm the healest boy of all.' Maricel couldn't face it, kaya binigay niya kay Benj ang telepono."

Overcoming an ordeal with the family

Anthony goes on saying in Karen's vlog that he later on found out from his son's doctor that Benj's main artery to the heart was very narrow. To fix it, the boy had to brought to a hospital in the United States to undergo a surgery.

He now admits that he and his wife only had "one percent of the resources," while the remaining 99 percent "came from all over." They were able to bring Benj to the U.S., with their three older kids in tow: Ella, Donny, and Hannah. (The youngest of their brood, Solana, wasn't born yet at that time.)

Maricel recalls how Ella, Donny, and Hannah reacted: "Nang malaman ng mga kapatid 'yung kailangang mangyari, they just bonded together and made themselves available. Batang-bata pa sila."

She also recalls that Donny Pangilinan, who's the kuya in their brood and now a popular 24-year-old actor, offered to help with his savings amounting to USD3. But he hesitated when he realized he would also need a pocket money.

ADVERTISEMENT - CONTINUE READING BELOW

So she told his older son: "Anak, if the Lord already told you to give it, pakawalan mo na. The Lord will take care of what you need, tenfold, a hundred. Just trust me. Gano'n si Lord mag-work."

She goes on narrating that Donny's aunts got wind of the boy's charitable act, so they gave him a total of USD30. "Ibig sabihin tenfold na 'yung kanyang 3 dollars. Doon na-realize ni Donny na it is really true what the Bible says. The Lord will indeed bless you tenfold, a hundred fold. If you trust in Him, He will be there for you."

Meantime, Anthony notes that on the night of Benj's surgery, his wife was having second thoughts. "Maricel was saying, 'Hon, wala siyang sakit. Umuwi na tayo.'

Maricel now gives her side: "Kasi tinignan ko si Benj, eh. Lively, energetic, and everything. There's nothing wrong with him. He's completely fine. Ando'n na kami, ooperahan na s'ya. Hinahanda na lang.

ADVERTISEMENT - CONTINUE READING BELOW

"'Tapos tinignan ko, 'No, uwi na tayo.'Hindi natin gagawin 'to kasi baka mamaya, may mangyari. Hindi ko mafo-forgive ang sarili ko."

But Maricel still listened to reason. She recalls Benj's doctor giving this explanation: "Kung hindi natin gagawin at this time, ganito ang mga sitwasyon na akala mo na okay 'yung bata. Pag laki n'yan 'yun ang mga namamatay sa soccer field, basketball court. Very, very faint lang talaga ang signals na maririnig mo sa heart kung hindi mo talaga siya hahanapin at mapapakinggan."

At the same time, Maricel was then having a spiritual experience. She recalls, "I really felt the presence of the Lord. Pushed me down in my chest, and then the voice in my ear was 'He is mine, who are you?''

She went on having this conversation: "Lord, forgive me, sino nga ba 'ko? Ikaw ang lumikha sa kanya. Taga-alaga lang ako. Sa 'yo s'ya, pero puwede ba, Lord, ibalik n'yo after the surgery? Ikaw na ang bahala." And the surgery was successful.

ADVERTISEMENT - CONTINUE READING BELOW

Moving forward

Maricel says that some years after Benj's heart surgery, she and Anthony got into triathlon, along with Ella, Donny, and Hannah. She points out, "Lahat ng mga anak namin, pina-train namin, except si Benj. Kasi takot ako. Baka mamatay, di ba?"

"Sabi ni Benj, 'Why can't I do that?' 'No, Benj, you cannot do that because something might happen to you. Remember your heart?' Sa isang race, sabi ko, 'Benj, ikaw, just walk slowly to the finish line. Everybody would run, you walk just to finish.

"Mamaya, nakikita ko, nauuna sa finish line. Benj! Benj! Galit na galit ako. Nang matapos, nanalo, galit na galit ako. Sabi n'ya, 'Mama, what did I do?' 'I told you not to hurry up. Oh my God, baka mamatay ka!'"

Maricel turns to her interviewer, "I'm sure 'yung mga nanay d'yan, may lampin pa nga sa likod. Eto na-surgery."

ADVERTISEMENT - CONTINUE READING BELOW

She then goes on with her story of Benj: "Sabi niya, 'Mama, I wasn't in a hurry, promise. I'm sorry. I was just hungry. I see people, and they all look chicken to me. I want to eat already. Teka, sabi ko, papatignan ko ito sa doktor."

Benj's doctor's assessment: "Wala ng ka-trace-trace 'yan. Pa-triathlon mo na 'yan."

Maricel adds in awe: "Completely, as in, parang walang nangyaring surgery. He was 6 or 7. Because of that revelation, he became a champion in triathlon, aquathlon…He was the fastest. Because all he wanted was to eat." That why, the proud mom was inspired to write a children's book titled Super Benj.

Read here the story of a 6-year-old heart disease survivor.

Trending in Summit Network